UN Human Rights Council establishes committee to probe Israeli violations of Palestinian rights in OPT and inside Israel
This marks first time UN council addresses root causes of systematic Israeli racial discrimination against Palestinians on both sides of the Green Line.
The United Nations Human Rights Council held a special session on Thursday, 27 May 2021, on Israel's serious human rights violations against Palestinians both in the Occupied Palestinian Territory and inside Israel proper.
Twenty-four of the council's 47 member states voted in favor of a resolution submitted by the Organization of Islamic Cooperation calling for the establishment of an ongoing commission of inquiry into the grave human rights situation in the OPT and in Israel.
Adalah – The Legal Center for Arab Minority Rights in Israel issued a response to the UN Human Rights Council's decision to establish an ongoing commission of inquiry into human rights violations in the OPT and Israel:
Adalah welcomes the decision of the United Nations' Human Rights Council (HRC) tonight (27 May 2021) to open an ongoing commission of inquiry (COI) that will examine, in-depth, the human rights violations committed by the State of Israel against Palestinians on both sides of the Green Line. The mass killing of a civilian population in Gaza, along with the attack on worshippers in the Al-Aqsa mosque compound and the imminent forced displacement and dispossession of Palestinian refugee families in Sheikh Jarrah necessitate an independent and independent investigation. This decision marks the first time that the HRC has also given a mandate to a COI to examine the root causes of these violations, including those taking place within Israel against Palestinian citizens of the state. The COI will also be required to consider the deep connection between the constitutional anchoring of Jewish supremacy in the Jewish Nation-State Basic Law, and the Israeli government's use of law enforcement agencies to oppress and use extensive force and violence against Palestinian citizens of Israel, as well as the free hand it gives to far-right Jewish Israeli groups to attack them during the recent events. This decision also follows on the call made on 14 May 2021 by the High Follow-up Committee for Arab Citizens of Israel for international intervention to protect the safety and human rights of the Palestinian community in Israel.
In a pre-recorded video statement before the United Nations Human Rights Council on 27 May 2021, Adalah placed heavy emphasis on the recent organized violence by Israeli Jewish extremist groups, Israeli police violence, and incitement by government officials, politicians, and decision-makers against Palestinian citizens of Israel.
The latest escalation comes in the context of Israel's Jewish Nation-State Law, enacted in 2018, which legally enshrines Jewish supremacy and long-standing systemic discrimination against Palestinians.
CLICK HERE or below to watch the short video statement by Adalah Deputy General Director Attorney Sawsan Zaher.
Below is the full transcript of Adalah's oral intervention:
Madam President,
Over the past month, Palestinian citizens of Israel and Palestinians in the OPT have suffered grave human rights violations by Israeli authorities. Adalah's main concerns regarding Palestinian citizens of Israel are:
Organized violence by extremist ultra-right-wing Israeli Jewish groups against Palestinian citizens and their property, with police protection and collusion.
Excessive use of force and violence by Israeli police against Palestinian peaceful protestors and mass arrests and detentions.
Incitement by Israeli government officials against Palestinian citizens, including by Prime Minister Netanyahu.
Selective enforcement of curfews and lockdowns against Palestinian citizens in mixed Jewish-Arab towns in Israel.
The Israeli police also announced on 23 May a mass arrest campaign aimed at repressing Palestinian dissent by employing thousands of police forces to raid homes, to intimidate citizens and to "settle scores". These escalations come in the context of the 2018 Jewish Nation-State Basic Law, which enshrines in law the decades' long systematic, institutional discrimination and domination over Palestinians. It is crucial for this Council to address these root causes, so we call for a vote in favor of the proposed resolution which, for the first time, can inquire into the root causes of the conflict on both sides of the Green Line.
CLICK HERE to read the UN council resolution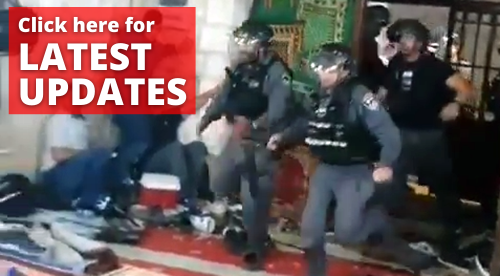 (Photo: UN Photo/Jean-Marc Ferré)
Read more: