Adalah leads tour for Palestine Works law fellows to Palestinian villages threatened with displacement on both sides of the Green Line
Participants visited Susiya in the South Hebron Hills, and then Atir, Umm al-Hiran and Khashem Zaneh in the Naqab.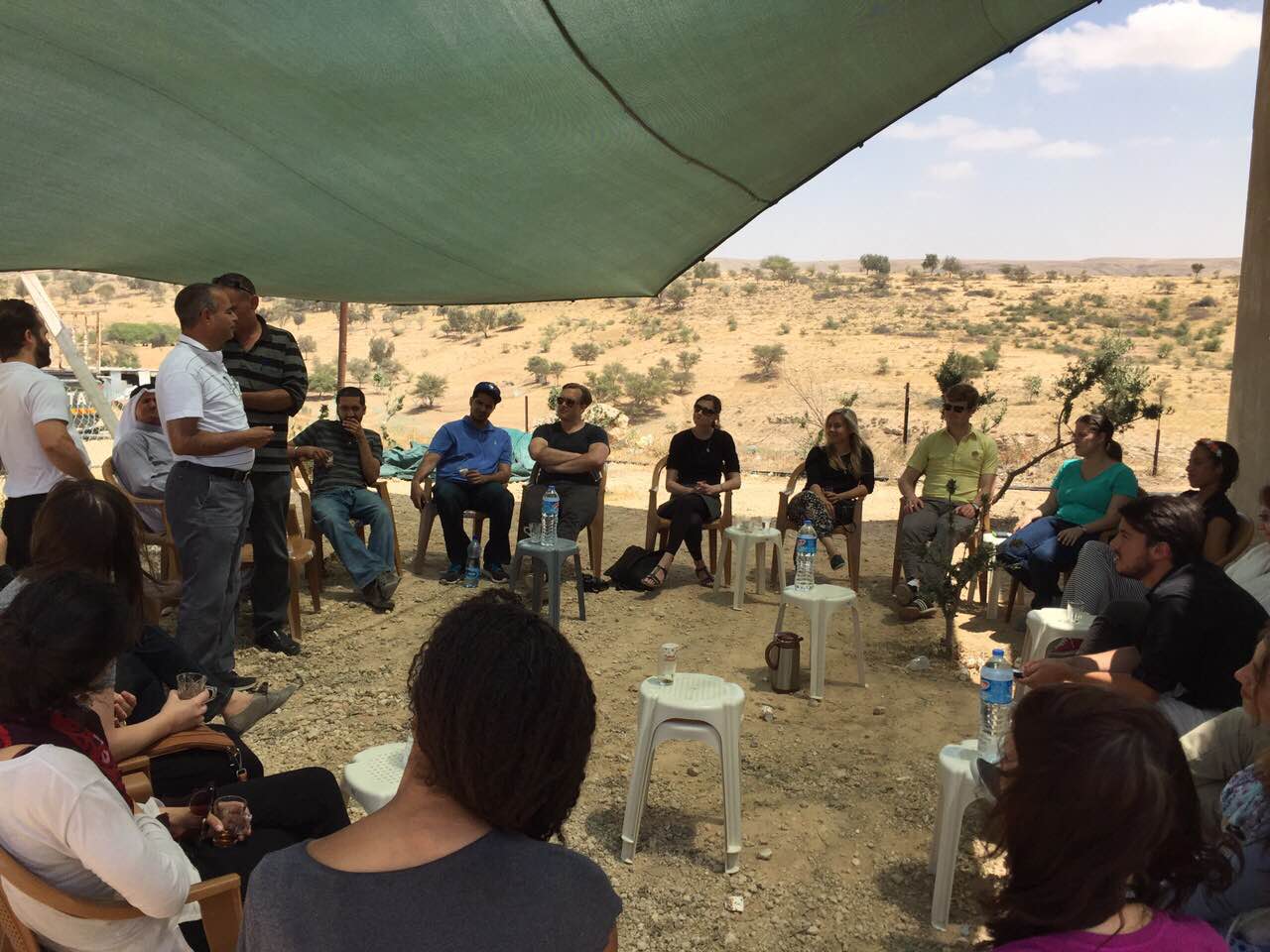 Palestine Works speaking with Bedouin residents in the protest tent of Umm al-Hiran.
On 10 June 2015, Adalah led a tour for a Palestine Works delegation of 16 law students from the US and Canada to Palestinian Arab villages facing demolition in the occupied West Bank and in the Naqab (Negev) in the south of Israel. The participants met with village residents and community leaders to hear their stories, while gaining a broader legal perspective into Israel's policy of forced displacement on both sides of the Green Line.
The participants first visited the village of Susiya in the South Hebron Hills of the occupied West Bank, whose 340 residents live under imminent threat of eviction by the state and endure frequent harassment and attacks by Israeli Jewish settlers from illegal settlement/outposts. In May 2015, in ruling on case filed by Rabbis for Human Rights on behalf of the villagers, the Israeli Supreme Court refused to freeze home demolition orders.
From there, the group proceeded across the Green Line to meet with the residents of Atir and Umm al-Hiran, Bedouin citizens of Israel, whose families were originally displaced from their ancestral lands and moved to their current lands by Israeli military order in 1956. The villages are now threatened by demolition by the state, to expand the man-made, JNF-funded forest of Yatir over Atir, and to build a new Jewish town called 'Hiran' over Umm al-Hiran. In May 2015, the SCT rejected Adalah's appeal on behalf of the villagers against the state's eviction orders, paving the way for the demolition and evacuation of the villages. The residents explained that despite their 60 years of lawful residence – which the SCT acknowledged in its ruling – the Israeli government has refused to recognize the villages and connect them to water or electricity supply. This is in stark contrast to what the delegation observed in a nearby Israeli Jewish settlement of caravans, whose inhabitants intend to move into 'Hiran' once Umm al-Hiran is destroyed, and who have already been provided with the basic services that have been denied to the Bedouin villagers for six decades.
The tour concluded with discussion in Khashem Zaneh, an Arab Bedouin village established before the founding of the State of Israel in 1948, whose 2,300 residents are now threatened with displacement by the planned extension of Road 6.
Read more: