Israeli police reveal new open-fire regulations in response to Adalah's court petition
New regulations permit officers to use deadly force as a first option against Palestinians throwing stones or shooting fireworks.
Israeli police revealed primary sections of its updated open-fire regulations on 29 June 2016 in response to a court petition by Adalah – The Legal Center for Arab Minority Rights in Israel submitted in December 2015.
The regulations were updated and distributed to officers in December 2015 but remained classified and police refused to reveal them to the public until now.
The new regulations, vetted and authorized by Israeli Attorney General Avichai Mandelblit, permit officers – as an initial option, preceding any earlier attempt to employ non-lethal weapons – to open fire with live ammunition on those throwing stones or firebombs, and on those shooting fireworks.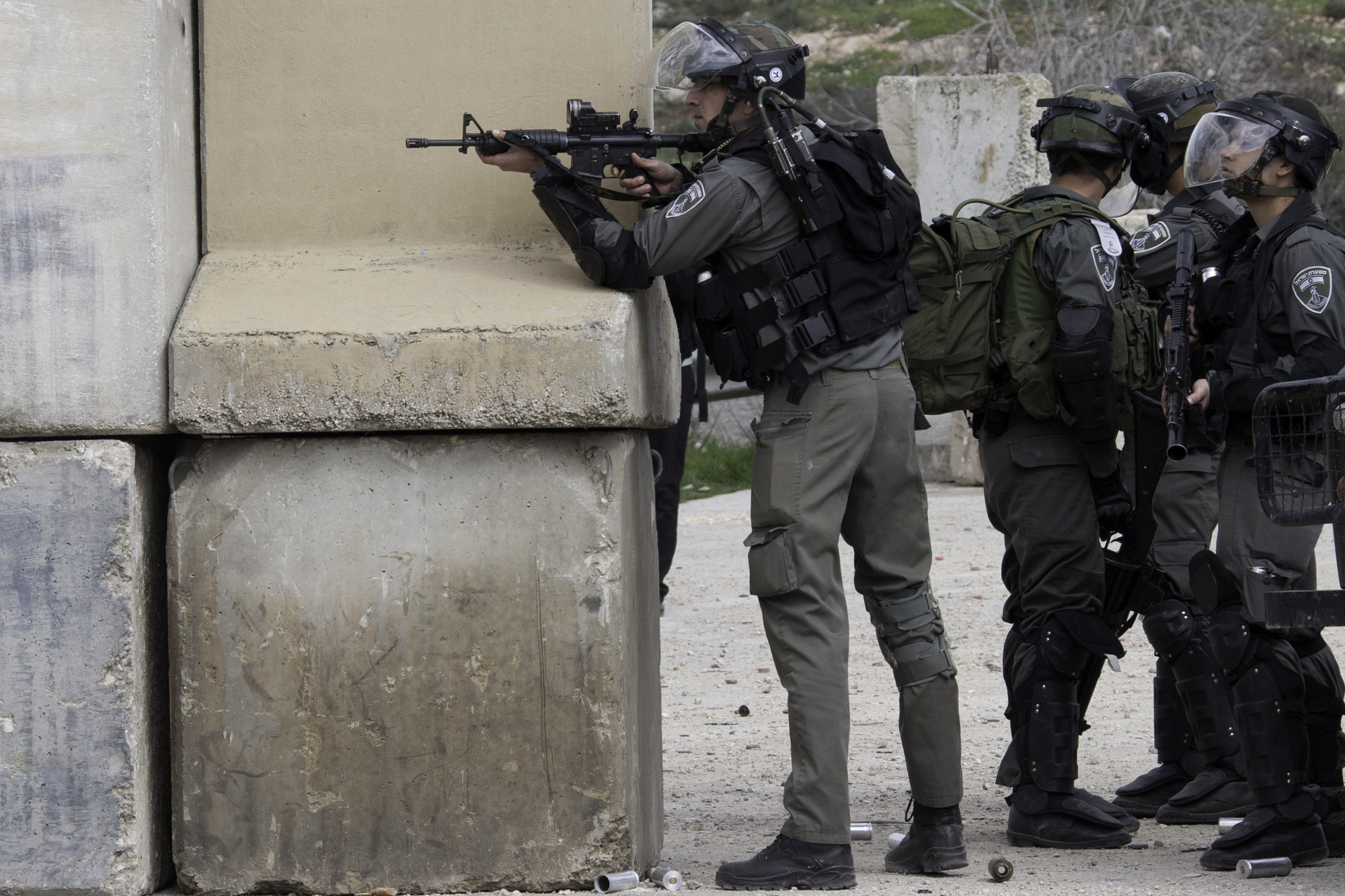 An Israeli police officer aims his weapon at Palestinians during a protest near Jerusalem. (Photo by Mati Milstein)
According to the new police regulations, "an officer is permitted to open fire [with live ammunition] directly on an individual who clearly appears to be throwing or is about to throw a firebomb, or who is shooting or is about to shoot fireworks, in order to prevent endangerment." It is further specified that, "stone throwing using a slingshot" is also an example of the sort of situation, which would justify the fatal use of live ammunition.
Despite releasing parts of its updated open-fire regulations to Adalah, the police still nevertheless refuse to reveal significant sections of the regulations. These censored sections likely deal with regulations concerning the use of the Ruger rifle and with the handling offenses categorized as security-related in nature.
Adalah stated that as long as the Israeli police do not reveal its open-fire regulations in their entirety, it would continue to demand a court hearing and decision on the matter.
Adalah Attorney Mohammad Bassam, who prepared the petition demanding that the police reveal its open-fire regulations, emphasized that, "The new regulations allow officers to act in an unchecked and criminal manner. The chances that actions such as stone throwing or shooting of fireworks would present a life-threatening danger are extremely slim and there is no doubt that it is possible to handle such situations using non-lethal means. Nevertheless, the new regulations relate to such actions as if they were acts of war and grant legitimacy to light-trigger fingers [among officers], thus posing a fatal danger to the lives of young Palestinians. The new regulations contradict existing general guidelines according to which the use of a deadly weapon by officers is permitted only when there is substantiated fear of danger to the life of an officer or other individual, and only if there is no other means by which this danger may be prevented. In addition, it is clear that the regulations do not refer to just any stone throwers but that they were written specifically regarding Palestinian youths."
On 10 December 2015, Adalah filed an administrative petition with the Lod District Court demanding that the Israeli police publicly reveal its updated open-fire regulations.
The court petition came in the wake of the police's earlier refusal to release to Adalah certain details of its open-fire regulations, including: regulations according to which officers operate when confronting demonstrations in East Jerusalem and the Naqab/Negev; regulations dealing with the use of live ammunition against minors; and regulations dealing with use of the Ruger rifle as a protest-dispersal weapon.
"Following the alteration of the open-fire regulations – and potentially as a result of such – there were a number of cases in which it is suspected that police personnel fired lethal weapons in situations that did not justify their use," Attorney Bassam wrote in the petition.
Case Citation: Administrative Petition 23001-12-15, Adalah v. Israel Police (case pending).
Related Press Releases: