Israeli police illegally preventing Umm al-Fahem residents from praying at Al-Aqsa mosque
Adalah calls for immediate halt to police ban on residents of Arab city in central Israel from entering Jerusalem holy site; police cannot legally justify sweeping human rights violations.
Adalah – The Legal Center for Arab Minority Rights in Israel sent a letter to senior Israeli officials on 10 August 2017 demanding that they order Israeli police to halt the illegal practice of preventing Arab residents of Umm al-Fahem – all Palestinian citizens of Israel – from praying in Jerusalem's Al-Aqsa mosque.
According to media reports, on 8 August 2017, police prevented four busloads of Muslim residents of Umm al-Fahem, located in central Israel, from entering Al-Aqsa mosque and subsequently forced them to leave Jerusalem.
Prior to that incident, on 29 July 2017, Israeli police prevented female worshippers from Umm al-Fahem from entering Al-Aqsa mosque. According to the women, Israeli police officers told them they were prevented from entering the mosque because they were members of the Jabareen family.
The three men involved in the 14 July 2017 shooting attack at Al Aqsa that resulted in the deaths of two Israeli police officers were members of the Jabareen family from Umm al-Fahem.
In his letter to Israeli Attorney General Avichai Mandelblit and Israeli police legal advisor Ayelet Elissar, Adalah Attorney Mohammad Bassam stressed that the police practice of preventing Umm al-Fahem residents from praying in Al-Aqsa is illegal:
"Banning the entry of worshippers from Umm al-Fahem – which has 55,000 residents, 16,000 of whom share the family name Jabareen – is illegal. This policy infringes upon freedom of worship, religion, and movement and it violates the worshippers' right to dignity. Given the ban's sweeping nature, it is disproportional, irrational, and causes significant harm to its victims."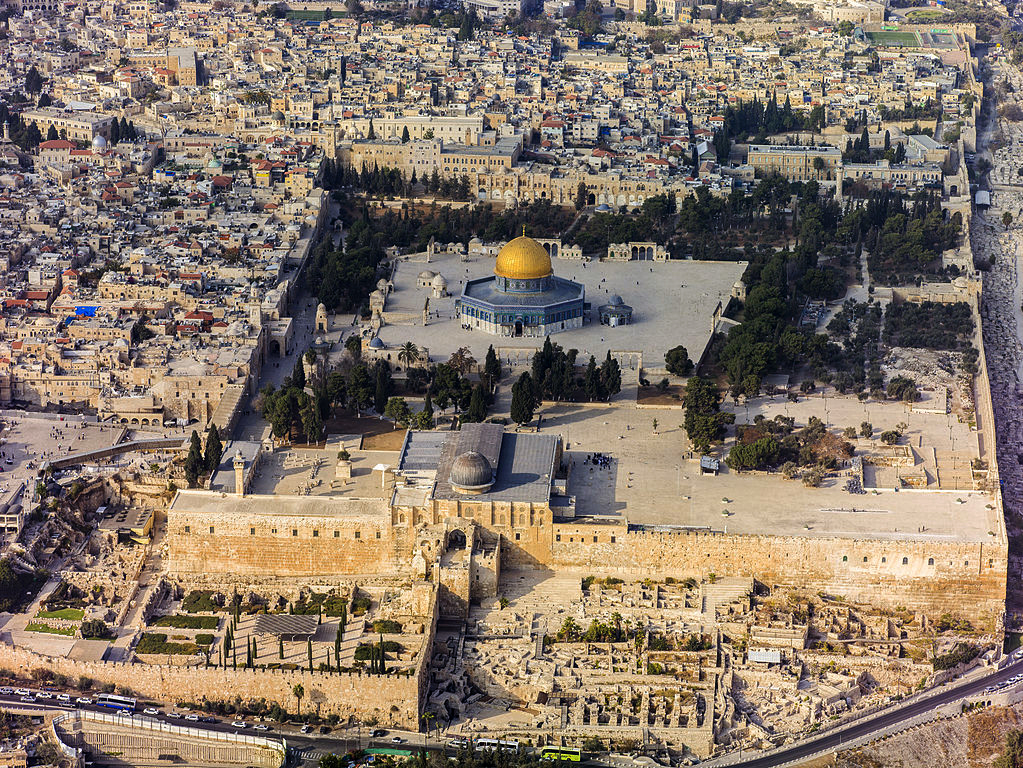 An aerial view of Al-Aqsa Mosque and surrounding area in Jerusalem's Old City. (Photo: Andrew Shiva/Wikimedia Commons)
Attorney Bassam also wrote that the Israeli police cannot justify such a sweeping violation of human rights:
"The claim that information exists indicating that worshippers on buses are organizing to disrupt public order is baseless… The police have not notified any individual worshipper that a decision has been made in advance to prevent their personal entrance into the mosque, but rather have placed a sweeping ban on every worshipper who arrives at the mosque area by bus.
"Israeli police are not authorized to implement a policy that prevents entry into certain locations based upon one's group affiliation, and without any individual checks."
CLICK HERE to read Adalah's letter [Hebrew]
Read more: