Adalah demands Israel open high school in unrecognized Bedouin village of Al Zarnouq
450 high school students in Al Zarnouq have to travel to other villages in order to get to and from school; extended daily treks amount to denial of the right to education.
Adalah – The Legal Center for Arab Minority Rights in Israel has sent a letter to Israeli authorities demanding that they move to open a high school to serve Bedouin students in an unrecognized Bedouin village of Al Zarnouq.
Al Zarnouq, located in the southern Naqab (Negev) desert region, has some 5,000 residents, all citizens of Israel – including some 450 high school-age pupils – but it remains unrecognized by Israeli state authorities.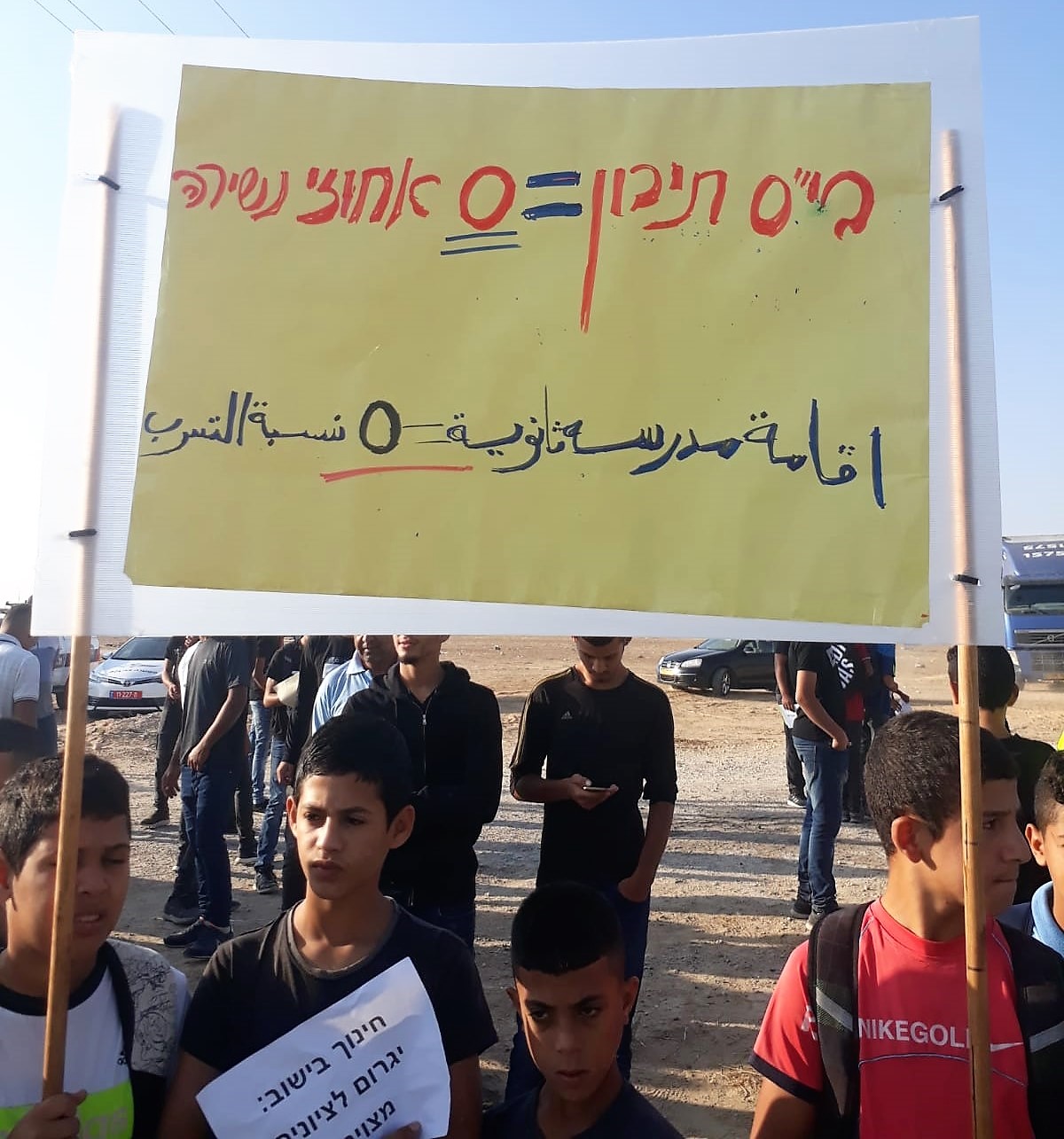 Al Zarnouq students calling for the construction of a high school in their village. Their sign reads: "High school = 0 dropout rate". (Photo by Jaber Abu Kweidar)
On 8 November 2018, Adalah sent a letter on behalf of Al Zarnouq Local Council Chairman Jaber Abu Kweidar to Education Ministry Southern District Director Ram Zahavi and to Neve Midbar Regional Council's Education Department Director Hanan Affouta demanding the establishment of a new high school in Al Zarnouq.
In 2000, an elementary school opened in Al Zarnouq that today serves today some 1,000 students from grades 1 through 8, and another 470 kindergarten students age three to five. The school is connected to the electrical, water, and sewage grids; it has a paved access road and organized school bus stops.
The school's high academic standards are a testimony to its success but, once students graduate from 8th grade, they are forced to leave Al Zarnouq and study at high schools in other often-distant villages – in some cases up to 90 kilometers from home.
Thus, in order to complete their high school studies, students are forced to travel every day dozens of kilometers, in difficult and sometimes even life-threatening conditions, to leave their homes in the early morning and return to darkness. This long trek to and from school is in addition to studying in overcrowded classrooms and in sub-standard conditions.
These factors have led to a sharp decline in Al Zarnouq students' scholastic achievements and to a worrying dropout rate. This, in turn, severely affects the ability of students to later integrate into the workforce.
Al Zarnouq residents have in the past approached Israeli authorities regarding this pressing issue but have received no response.
In her letter, Adalah Attorney Nareman Shehadeh-Zoabi stressed the state authorities' obligation – under the Compulsory Education Law - 1949 – to allow citizens to exercise their right to education and to provide official educational institutions in order to do so.
According to Israeli Supreme Court caselaw, the right to education constitutes an essential and inseparable part of the right to human dignity as defined by Israel's constitutional Basic Laws. The court has also held the state responsible for finding solutions for those denied this right.
Attorney Shehadeh-Zoabi also argued in her letter that there is a location in Al Zarnouq suitable for the construction of a high school, and that there are no zoning or planning obstacles that would prevent this building.
Bedouin villages generally lack schools. According to a Knesset Research and Information Center report from October 2017, the number of classrooms approved by the ministry annually serves just 20 to 60 percent of the communities' needs, as acknowledged by the Israeli Education Ministry of Education.
In 2005, Adalah petitioned the Israeli Supreme Court to order the Education Ministry to open a high school in the newly-recognized Arab Bedouin village of Abu Tlul. Adalah argued in that the case that a school was needed to solve the phenomenon of the extremely high drop-out rate, particularly for girls, among other contentions. After seven years of litigation and a Supreme Court order, the state finally established a high school in the village that remains operational today. (HCJ 7562/09, Fatmeh Abu Sbeli, et al. v. Ministry of Education, et al.)
Read more: