Israel forcing high school students to pass government propaganda course before going on overseas class trips
Adalah demands Israeli Education Ministry immediately halt online course; Nazareth school cancelled exchange program to Sweden rather than having its students learn racist ideology.
Israeli authorities are requiring all high school students – Jewish and Arab – to pass an online government propaganda course that promotes racist ideology before they are allowed to participate in overseas class trips. Adalah – The Legal Center for Arab Minority Rights in Israel is now taking legal action to fight this racist practice.
The mandatory online course requires students to watch a series of videos after which they must take a multiple choice exam, the correct answers of which promote racist ideology.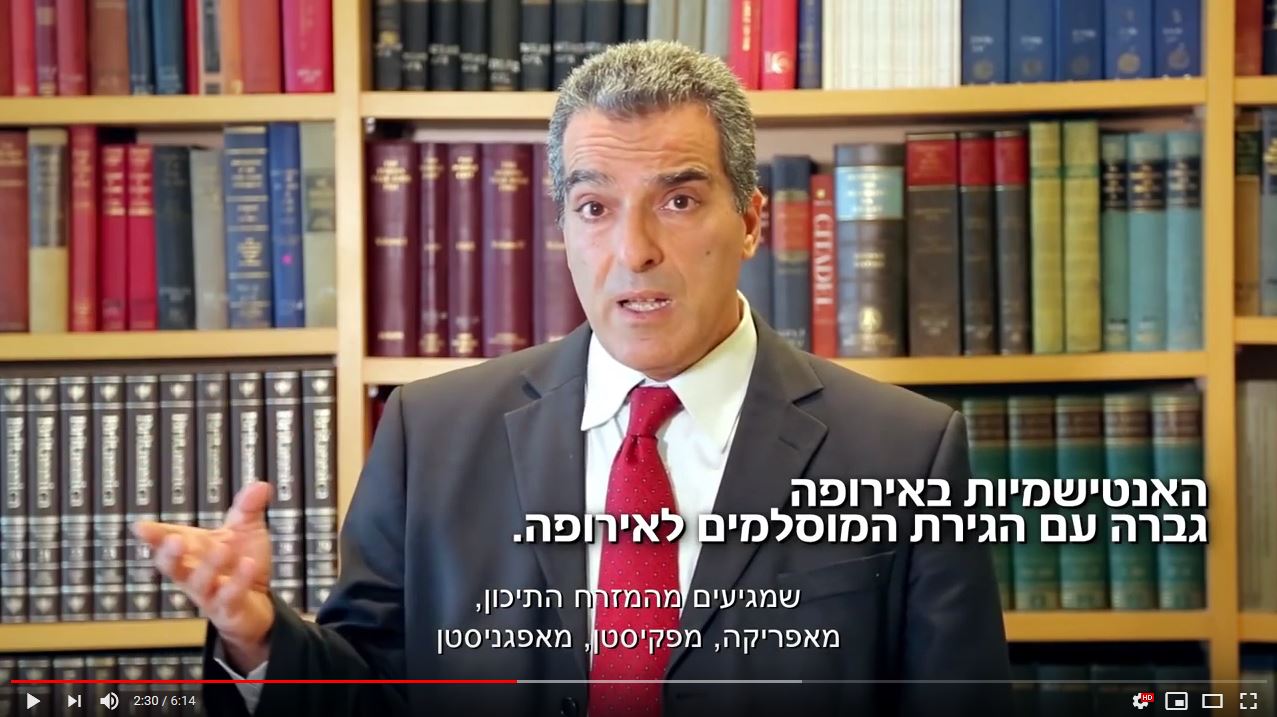 A screengrab from a section of the online course in which students are told that "anti-Semitism in Europe increased with the immigration of Muslims to Europe… from the Middle East, Africa, Pakistan, Afghanistan..." (MOOC במערכת החינוך)
One question asks, for example: "How do Palestinian organizations use digital social networks?" The correct answer of four possible choices is "encouraging violence".
Another question asks students to identify the origins of modern anti-Semitism. The exam's correct answer is "Muslim organizations" and the BDS movement.
Adalah Attorney Nareman Shehadeh-Zoabi sent a letter to the Israeli Education Ministry on 18 June 2019 on behalf of the Masar Association and the parents of children studying at the association's Nazareth school. The school cancelled its annual student exchange mission to Sweden during the academic year, after the ministry's regulations went into effect, as it refused to allow its students to sit for such an exam which promotes racist propaganda. Some 25 Arab students, all citizens of Israel, participated in the exchange every year.
Adalah's letter stressed that the Education Ministry's propaganda exam focuses on core issues of the Palestinian-Israeli conflict that are the subject of deep political controversy, and students are required to choose specific "correct" positions, as though they reflect an objective factual truth. The course presents a racist ideological perspective that creates an equivalence between Palestinian, Arab, or Muslim identities and violence and terrorism.
Palestinian Arab high school students in the Israeli school system are being asked by this exam to assimilate its racist values.
This mandatory propaganda course violates the values of educational pluralism and contravenes provisions of Israel's Education Law, which requires consideration of the uniqueness of the Arab minority, citizens of Israel, recognizing its language, culture, and heritage.
The exam's questions and answers also violate the principle of equality, contradict Israel's Basic Law: Human Dignity and Liberty, and constitute particularly blatant humiliation of Arab high school students.
In its letter, Adalah demands the Israeli Education Ministry immediately cancel the mandatory course and exam and allow students to freely participate in overseas school trips with the start of the 2019-2020 school year. Adalah also called on the Education Ministry to respond within 30 days.
Adalah Attorney Nareman Shehadeh-Zoabi commented:
"The Israeli Education Ministry is trying to turn high school students into agents of propaganda charged with spreading extreme racist ideology. This is especially grave for Palestinian Arab teenagers who, with this exam, are being forced to internalize humiliating statements about themselves and their families. This is outrageous and illegal. Political and ideological coercion of citizens radically contradicts the goals of education. Adalah will take all necessary steps to abolish this course that is repugnantly offensive to Arab citizens and students."
CLICK HERE to read Adalah's letter [Hebrew]
Read more: