Adalah demands expansion of Public Housing Committee mandate to also address public housing shortage in Palestinian towns in Israel
The Housing Ministry assigned the Committee to review the rules on eligibility for public housing, while there is almost no public housing in Arab localities. According to the State Comptroller, the ministry's policy was originally designed to serve only new Jewish immigrants
Update: Following Adalah's legal intervention, the Ministry of Housing and Construction will purchase apartments for Arab residents.
On 15 March 2022, the ministry sent a response to Adalah stating that it will purchase apartments in mixed Arab Jewish cities and in Arab localities, and that it plans in 2022 to increase the stock of apartments designed for Arab residents in Nazareth, Jdaida- Makr, Haifa, Jerusalem and TelAviv-Yafo.
On 30 January 2022, Adalah - The Legal Center for Arab Minority Rights in Israel sent a letter to the Minister of Housing and Construction, Ze'ev Elkin and the Attorney General (AG) Avichai Mandelblit, requesting the expansion of the mandate of the Public Housing Committee to address the lack of public housing in Palestinian Arab towns in Israel. In a letter, Adalah's Legal Director, Attorney Suhad Bishara argued that in light of the ministry's current policy and the fact that it is not dealing with public housing in Arab towns, the Committee's mandate will not provide any solutions to the severe shortages in public housing for Palestinian citizens of Israel. Adalah further demanded that the minister ensure adequate representation of Palestinian citizens of Israel in the committee; currently, no Palestinian Arab experts have been appointed to the committee. Arab experts should be appointed in order to ensure equal representation and to guarantee that the public housing crisis in Arab society is put on the committee's agenda.
CLICK HERE to read Adalah's letter [Hebrew]
According to a statement issued by the Ministry of Housing and Construction, the committee is assigned, among other things, to review the rules on eligibility for public housing. These rules include the eligibility criteria for housing for senior citizens (the elderly) and for temporary housing, along with alternative long-term rental options. Adalah stressed that while this review is important, it does not solve the severe problem of public housing shortages in Arab towns and villages in Israel. The State Comptroller, in a report issued in 2020 found that as of 2019, there were approximately 53,000 public housing apartments in 110 localities, the vast majority of them in urban Jewish Israeli cities. This is due to the Ministry's policy of not purchasing new apartments in Arab localities because, historically, public housing in Israel was intended to serve only new Jewish immigrants.
The ministry's policy has resulted in a situation in which there is almost no public housing in Arab localities, despite the extremely high poverty rates among Palestinian citizens of Israel. According to the National Insurance Institute, in a report published in December 2021, 56.6% of Palestinian citizens of Israel fall below the poverty line.
According to the Israeli Knesset Research and Information Center, in 2016 out of all public housing apartments, only 145 were located in Arab towns, which constituted 0.3% of all public housing (See table below, Public Housing by towns).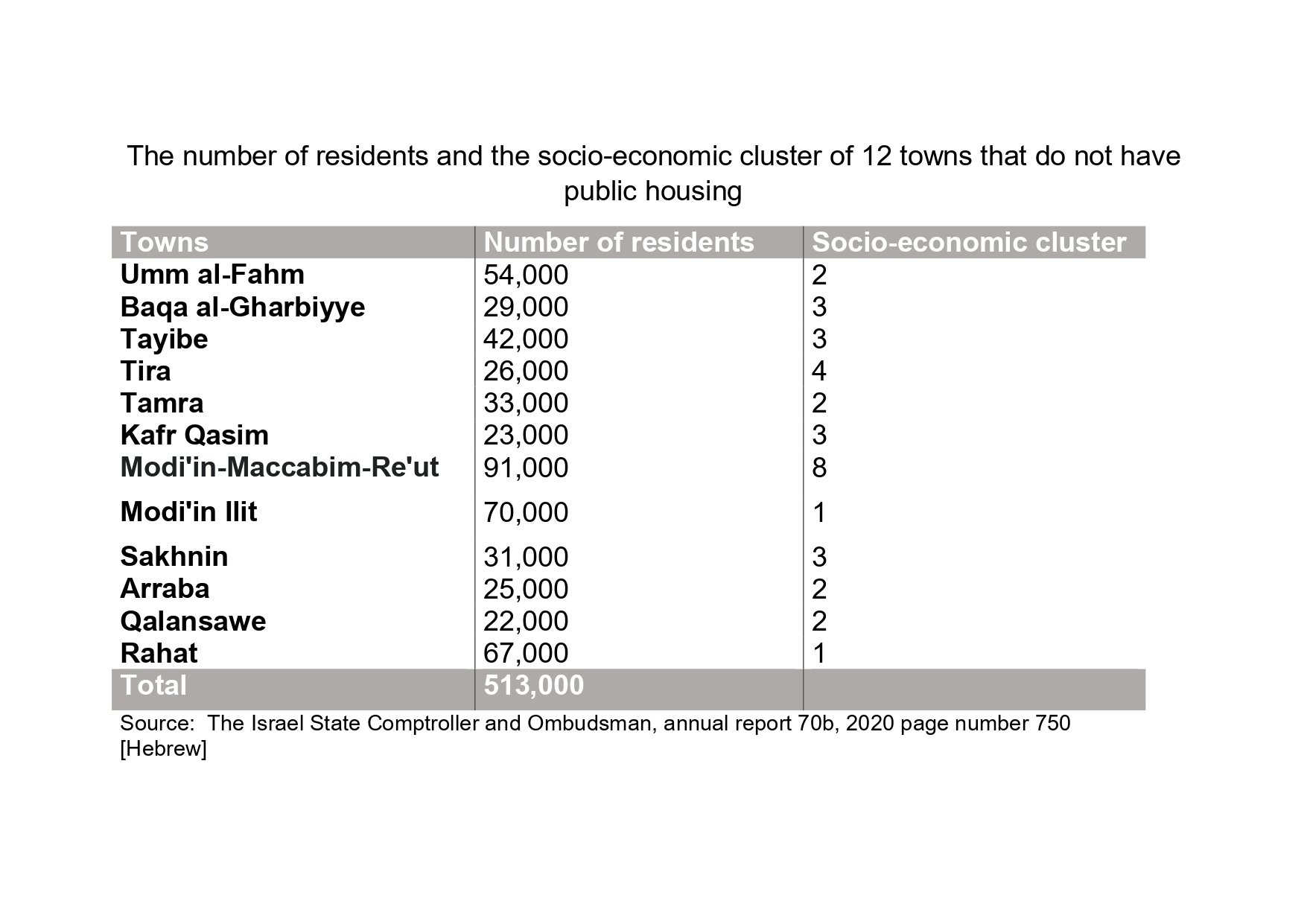 As of 2017, in 10 Arab localities classified in the lowest socio-economic cluster with 352,000 residents, there is no public housing. (See table below, of 12 towns, two are Jewish Israeli, and 10 are Arab)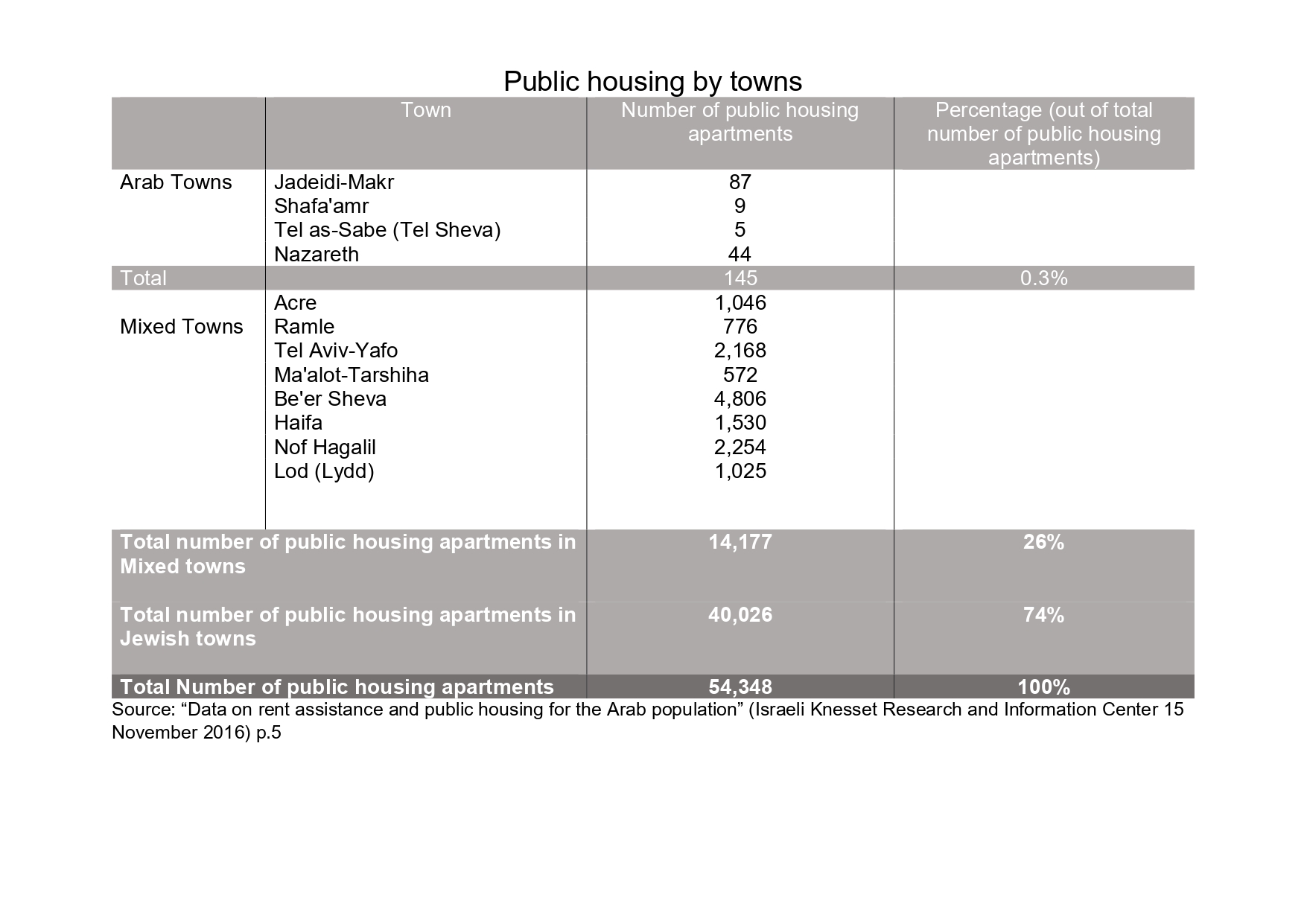 Adalah Attorney Suhad Bishara stated:
"There is no value to Minister Elkin's statement that the 'purpose of the committee is to advance a solution to the needs of the various populations' if the committee is not empowered to review ways to advance the public housing needs of Palestinian citizens of Israel and Palestinian towns in Israel. The committee, even if adequate representation is ensured, may discuss and re-shape the criteria for eligibility for public housing to improve eligibility, however, this will not benefit the thousands of Palestinian Arab citizens who need apartments that simply do not exist in their localities."