US Embassy in Jerusalem
Plan to Construct US Embassy on Illegally Confiscated Palestinian Land
The US government and Israeli authorities are pursuing a plan to establish a US embassy in Jerusalem on land that was unlawfully confiscated by Israel from Palestinian landowners. The US government submitted the plan, referred to as Plan 101-0810796 - Diplomatic Compound - USA, Hebron Road, Jerusalem, to Israeli planning authorities in February 2021. The decision to pursue this plan followed on from former US President Trump's 2017 announcement to relocate the US Embassy to Jerusalem, recognizing it as the capital of Israel.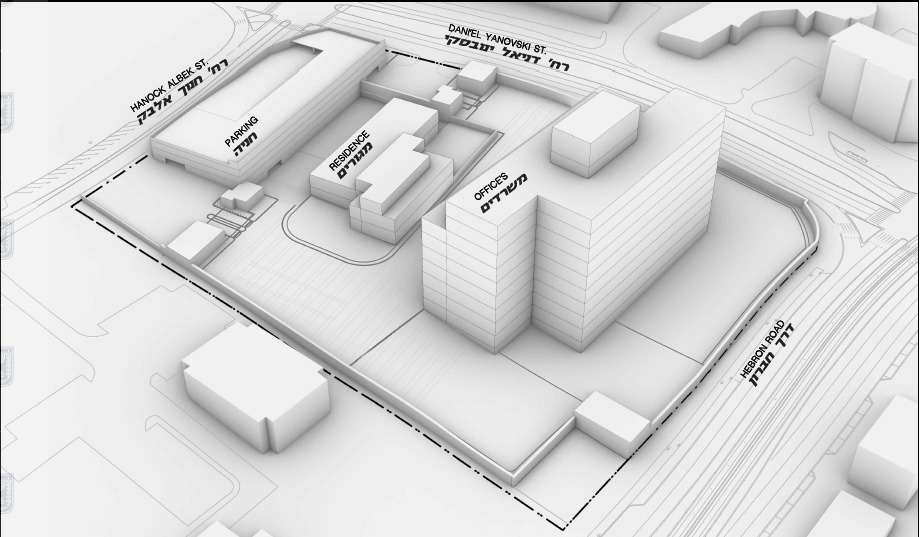 The above image showcases a 3D representation of the planned embassy in Jerusalem, designed by the Israeli firm, Yigal Levi, and architects from Krueck Sexton Partners in Chicago.
The State of Israel illegally confiscated the land from Palestinians, using the 1950 Israeli Absentees' Property Law. This law was used by Israel widely to dispossess Palestinian refugees and internally-displaced Palestinians from their property in the years following the Nakba and again in 1967. Both Human Rights Watch and Amnesty International, in their recent reports on Israel, identified the Absentees' Property Law as a major tool of Israel's oppression and domination of Palestinians.
Archival records, found in the Israeli State Archives by Adalah and published in July 2022 clearly prove that the land was owned by Palestinian families and leased temporarily to British Mandate authorities before the establishment of the State of Israel in 1948.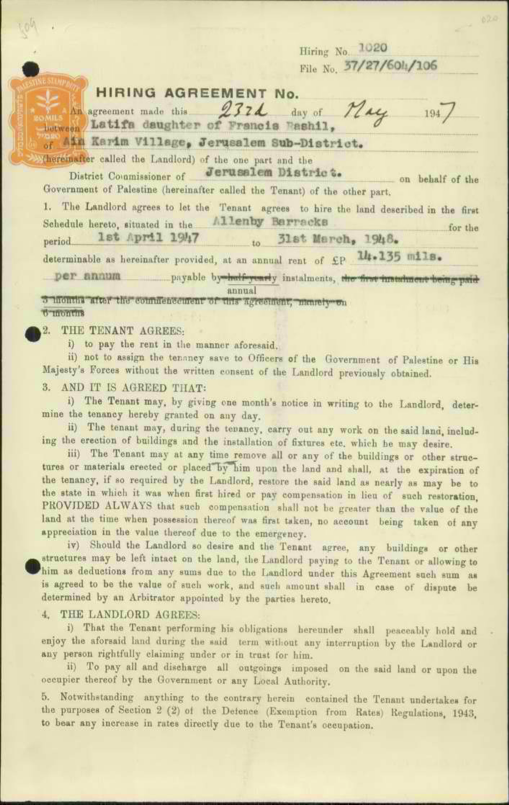 CLICK HERE or on the above image to view the archival materials
In November 2022, Adalah – and our US-based partner organization the Center for Constitutional Rights – sent a formal letter to US Secretary of State Antony Blinken and US Ambassador Thomas Nides, outlining the ways in which this plan violates the property rights of Palestinians, and demanding that the US government cancel the plan to build the compound. The letter explained that, if the US were to proceed with this plan, they would be giving an unequivocal endorsement of Israel's use of unlawful means to dispossess Palestinians of their land.
In January 2023, Adalah filed an objection with the Israeli planning authorities on behalf of 12 descendants of the original Palestinian landowners, including US citizens, Jordanian citizens, and Palestinian residents of Jerusalem, objecting to the use of the land by the U.S. Government for the embassy compound. On 21 June 2023, the Jerusalem Planning Committee rejected the objection and approved the plan. Adalah will submit a motion for permission to appeal to the National Council for Planning and Building.
Press Releases and Related Documents:
Adalah reveals new evidence that joint US-Israeli plan for embassy in Jerusalem is located on Palestinian private property 10 July 2022
Adalah and Center for Constitutional Rights demand US cancel its plan to build embassy compound in Jerusalem on private Palestinian land 10 November 2022
Palestinian Landowners File Objection Against US Plan for Jerusalem Embassy on their Stolen Property 30 January 2023
CLICK HERE to read an English translation of the objection
See the Plans for the US Embassy
https://www.adalah.org/uploads/uploads/US_Embassy_compound_JM_3d.pdf
Webinar:
How the US Is Planning to Build Its Embassy on Stolen Palestinian Land in Jerusalem | Institute for Palestine Studies, 31 January 2023
SPEAKERS:
Rashid Khalidi (IPS) Suhad Bishara (Adalah) Diala Shamas (Center for Constitutional Rights - CCR) Josh Ruebner (IMEU - Institute for Middle East Understanding)
Media
Palestinians Campaign against Proposed US Embassy Site on Stolen West Jerusalem Land, Jerusalem Story, 27 May 2023
Prof. Rashid Khalidi, Will the U.S. Embassy in Jerusalem Be Built on Confiscated Palestinian Land?, New York Times, Guest Essay, 15 January 2023
IMEU Policy Analysis #8: US Plans to Build Jerusalem Embassy on Stolen Palestinian Land, 8 December 2022
The U.S. is planning to build a new embassy in Jerusalem. Palestinian families say the area is stolen land, NBC News, 16 July 2022
Palestinians say a planned U.S. Embassy site in Jerusalem is on confiscated land The New York Times, 15 July 2022
As Biden Visits Israel, Palestinians Urge U.S. Not to Build Jerusalem Embassy on "Stolen Property"Democracy Now, 14 July 2022
Report: U.S. Planning to Build Israeli Embassy in Jerusalem on Land Seized from Palestinians Democracy Now, 11 July 2022
Rights group slams Israel-US plan to establish Jerusalem 'diplomatic compound' on Palestinian land The New Arab, 11 July 2022
Land for New U.S. Embassy in Jerusalem Was Owned by Palestinians Before 1948, Files Show Haaretz, 10 July 2022
Documents show land for new US embassy belonged to Palestinians before 1948 i24 News, 10 July 2022
US to build diplomatic complex on illegally confiscated Palestinian land – rights group TRT World
I tracked down the house Israel stole from my grandfather Aljazeera, 28 August 2022
Palestinian families urge US to cancel Jerusalem embassy plans on stolen land Middle East Eye, 11 November 2022
Biden Moves Ahead With Embassy on Stolen Palestinian Land The Intercept, 15 December 2022
Read more: