Israeli Justice Ministry refuses Adalah's request to investigate fatal police shooting of incapacitated Palestinian suspect
Mohammad Abu Khalaf was lying on his stomach when police shot him multiple times; 'Police Investigative Division essentially gives green light to police violence'
The Israeli Justice Ministry's Police Investigative Division (Mahash) responded on 15 May 2016 to an Adalah request saying that it will not investigate the incident in which Israeli police officers shot to death a Palestinian suspect in Jerusalem while he was already incapacitated and no longer posed any potential threat.
On Friday, 19 February 2016, Israeli Border Police officers shot and killed Mohammad Abu Khalaf, 19 years old, adjacent to Bab el-Amud (Damascus Gate) in East Jerusalem. Abu Khalaf was shot multiple times with live ammunition by multiple officers who said that he attempted to stab a Border Police officer with a knife.
A video of the incident shows that the gunfire was directed at Abu Khalaf's upper body while he did not pose any physical danger to the officers.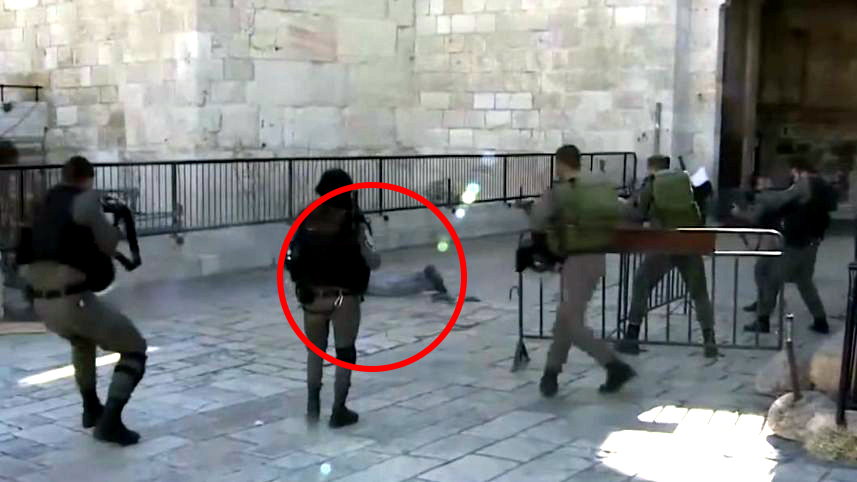 Israeli Border Police officers open fire on Mohammad Abu Khalaf (circled) as he lay face down on the ground in Jerusalem on 19 February 2016. (Screen shot from Al Jazeera)
In its response to Adalah, Mahash stated that it would not investigate the shooting.
"These are the instincts of Border Police officers," Mahash wrote in its response (emphasis added). "We did not find in the evidence or testimony suspicion of a criminal offense on the part of the officers present at the scene, even if conduct on the sidelines of the scene might have possibly been perceived by observers as unprofessional or exceeding that which is required to neutralize danger. It was therefore decided to transfer further evaluation of the incident from an operational and professional standpoint – as well as all the evidence collected during the investigation – to appropriate parties in the Israel Police."
On 28 April 2016, Adalah Attorney Aram Mahameed had sent a letter to Mahash requesting the opening of a criminal investigation to examine the circumstances of the killing of Abu Khalaf.
"In this case, the police officers had other options that they were obligated by law to implement – which any reasonable officer facing the same circumstances would be obligated to fulfill – that would have prevented the unfortunate results seen here ... They could have adopted alternative means to make an arrest or eliminate danger, if it in fact existed," Attorney Mahameed wrote. "In exceptional cases they could shoot at the lower extremities in order to prevent the suspect from taking action. It should be emphasized once again that there was definitely no reason for the use of lethal force as was the case."
In his subsequent response to Mahash's refusal to open an investigation, Attorney Mahameed stressed that: "This is yet another case in which the Police Investigative Division essentially serves as a green light to police violence and, in this particular case, it is clear that there was a very light trigger finger. We see in the video that the fatal shots were fired at Abu Khalaf's body after he was already lying on the ground and presented no life-threatening danger to anyone. We therefore believe this to be a serious violation of [police] open-fire regulations. Despite this, Mahash didn't even find it necessary to open an investigation. We are now considering the option of appealing [Mahash's] decision to close the case to the State Prosecutor.
[Mahash issued its response to Adalah's initial request on 15 May 2016 but it was only delivered 19 June 2016. Adalah subsequently issued this press release at the conclusion of legal discussions on the case.]
READ: Adalah's request to Israeli Justice Ministry's Police Investigative Division (Hebrew)

READ: Israeli Justice Ministry's Police Investigative Division's response to Adalah (Hebrew)
Read more: