Adalah: Conditioning budgets for repairing East Jerusalem schools on adoption of Israeli curriculum is illegal
Israeli Ministry of Jerusalem Affairs has no authority to condition budget transfers on changes in educational content.
Adalah – The Legal Center for Arab Minority Rights in Israel sent a letter on 10 August 2016 to Israel's Minister of Jerusalem Affairs and Heritage Ze'ev Elkin and to Attorney General Avichai Mandelblit demanding that they revoke their decision to condition transfers of budgets to Palestinian schools in East Jerusalem on adoption of an Israeli-authored school curriculum. This decision marks a further step toward the "Judaization" of occupied East Jerusalem.
According to media reports, the Israeli Ministry of Jerusalem Affairs is expected to transfer some NIS 20 million (US $5.28 million dollars) earmarked for the renovation of existing Arab school buildings and the development of other Arab educational structures in East Jerusalem. However, reportedly, the ministry is making the budget transfer conditional on the Arab schools' adoption of an Israeli Education Ministry curriculum. Most of the schools currently use the Palestinian Authority curriculum.
Adalah Attorney Sawsan Zaher wrote in her letter to Elkin and Mandelblit that conditioning the transfer of educational budgets in this manner is illegal.
"The law prohibits unequal [budget] allocations and discrimination between institutions dependent upon government ministries or local authorities and rules that government and municipal budgets must be allocated equally and according to clear and written criterion. In addition, the fact that this stipulation is imposed only on Arab schools in Jerusalem results in an unequal budgetary allocation between schools and thus impinges upon the constitutional right to equality, constituting wrongful discrimination on the basis of nationality. Only Arab schools in the city will be harmed by implementation of this decision," Zaher wrote.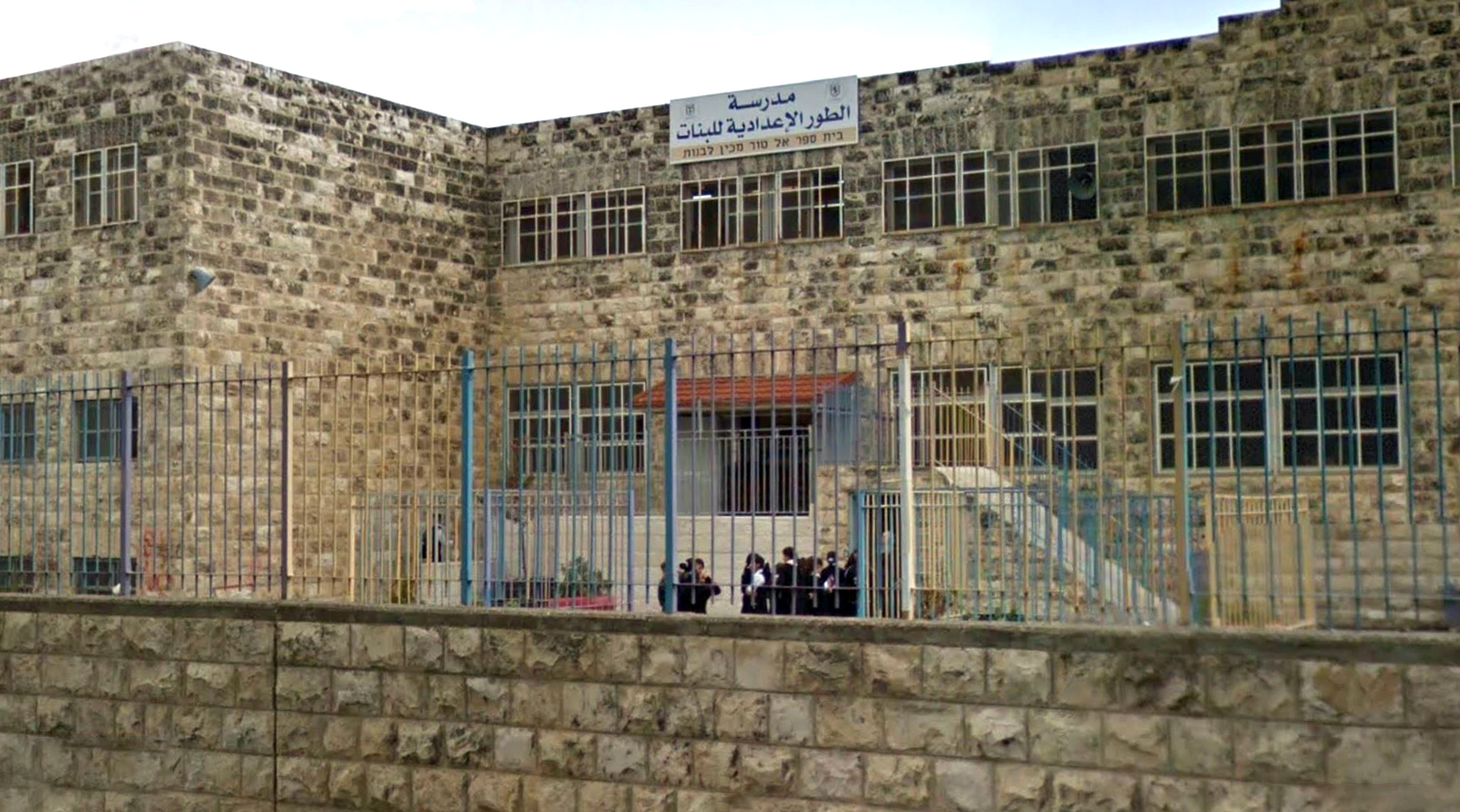 A Palestinian school in occupied East Jerusalem. (Google Maps)
Adalah also emphasized that, "in all similar cases relating to discrimination in the East Jerusalem education system that reached the Supreme Court, the State Attorney never indicated that eradication of discrimination is conditional upon altering curriculum. The Supreme Court likewise also relates to discrimination as an issue that is not conditional on any political demands that seek to alter the status quo as it relates to the educational curriculum in east Jerusalem Arab schools since 1967."
Regarding the right of students to obtain education in sound and intact school buildings, Adalah stressed: "The fact is that these stipulated budgets are meant to be transferred and earmarked for the renovation and development of classrooms and educational facilities in general. This therefore means that students will continue to learn in inferior and ramshackle structures, affecting the quality of education they will receive and impinging upon their constitutional right to education."
Attorney Zaher further noted that this decision lies beyond the authority of the Ministry of Jerusalem Affairs and Heritage.
"This decision to make the budget conditional is not just illegal but also exceeds the authority of the Ministry of Jerusalem Affairs. This ministry is not authorized to involve itself in curriculum content, a matter which falls under the authority of the Education Ministry. And this ministry is certainly not authorized to harm constitutional rights in the absence of a law specifically permitting it to do so," Adalah wrote. "The utter lack of connection between this budgetary stipulation and the actual purpose of the budget further emphasizes the issue: The budget is intended to cover the costs of renovations and development of educational facilities and this has nothing to do with the essence or content of educational materials."
In light of this, Adalah demands that Elkin and Mandelblit revoke their decision to make the renovation of schools conditional upon the adoption of an Israeli curriculum.
Read more: