In unprecedented move, Israeli attorney general moves to indict Palestinian Arab MK – without first affording hearing
Adalah to Israeli AG: Announcement of intent to indict Knesset Member Dr. Basel Ghattas before holding hearing is illegal and a discriminatory violation of his right to due process.
In an unprecedented move, the Israeli attorney general has decided to indict Palestinian Arab Knesset Member Dr. Basel Ghattas for alleged offenses relating to smuggling mobile phones to Palestinian prisoners held in an Israeli prison – without first affording him a hearing as guaranteed by law and customarily granted to public figures.
MK Dr. Ghattas was interrogated by police and arrested on 22 December 2016, detained for five days – over his Christmas holiday – followed by 10 days of house arrest. These acts of arrest, detention, the search of home and office, and house arrest of a sitting MK are exceptional and unprecedented. While numerous other Knesset members, ministers and public figures face investigation (and eventual prosecution and punishment) in Israel, none have been treated in this severe manner and denied their right to due process.
Adalah – The Legal Center for Arab Minority Rights in Israel sent a letter to Israeli Attorney General (AG) Avichai Mandelblit and State Prosecutor Shai Nitzan on 10 January 2017 requesting a hearing before the AG, the State Prosecutor, and Justice Ministry officials without any conditions for MK Dr. Ghattas (National Democratic Assembly/Balad), prior to the issuance of any criminal indictment against him.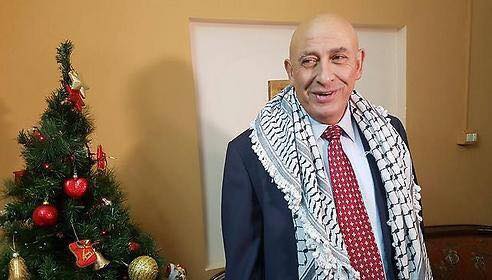 Knesset Member Dr. Basel Ghattas (Facebook)
On 5 January 2017, the Attorney General submitted a notice to the Speaker of the Knesset that he decided to indict MK Dr. Ghattas, and called on the Knesset to begin the process of revoking his parliamentary immunity for purposes of indictment. Adalah, on behalf of MK Dr. Ghattas, argued that the AG's process is flawed, and that he must withdraw his announcement and provide MK Dr. Ghattas with a hearing before deciding on whether or not to indict him.
The state had even sought to further extend MK Dr. Ghattas' detention and then his house arrest beyond the initial 10 days. However, Rehovot Magistrate Court and Lod District Court both ruled to release MK Dr. Ghattas from house arrest, noting that there was no reason to keep him in custody any further and disrupt his parliamentary activity.
News of the allegations against MK Dr. Ghattas was leaked to the media even before he was ever called for a police interview, and an intense campaign of de-legitimization against him began immediately.
Adalah Attorneys Hassan Jabareen and Mohammad Bassam argued in their letter that the announcement of an indictment against MK Dr. Ghattas without giving him the opportunity and the right to a hearing constitutes a violation of his right to due process, and is discriminatory as other public officials are afforded this right: "This announcement has no legal effect and should be repealed because it was made without giving due process guarantees, mainly by providing an equal right to a hearing before making a final decision on the indictment as is the case of MKs ... This is the first case in which the Attorney General appeals to the Knesset without offering to provide a hearing within a period of time sufficient to the MK. This is contrary to the [AG's] usual policy towards members of the Knesset, ministers, the President, and heads of local authorities. This practice [of affording a hearing] applies even to [cases] that raise suspicions that are more severe than those attributed to MK Ghattas ... "
Former Israeli President Moshe Katsav, who was charged and later convicted of rape and other sexual offenses, and former Israeli Prime Minister Ehud Olmert, who was also charged and later convicted on a number of serious finance-related charges, are the most high-profile examples of Israeli public figures who were granted hearings before indictments were filed against them. MK Tzachi Hanegbi, who was similarly eventually convicted of perjury, was also afforded a hearing before an indictment was filed against him.
Adalah argued that the AG should retract his announcement regarding his decision on the indictment, and he should give MK Dr. Ghattas a period of at least 30 days before holding a hearing: "Your original decision to refuse to grant MK Ghattas the right to a hearing with time enough to prepare for it - at least 30 days - is illegal and discriminatory, and it follows that the announcement to the Speaker of the Knesset is invalid."
In addition, Attorneys Jabareen and Bassam argued that the AG's approval of the indictment and its delivery to the Speaker of Knesset before holding a hearing is inconsistent with the protections of immunity afforded to Knesset members: "Even if the Knesset would vote in favor of lifting the immunity of MK Ghattas for the purpose of indictment, this decision [of the Knesset] would contradict the Law of Immunity. This law provides that an MK is entitled to immunity, in part, because the indictment against him may be in bad faith or is discriminatory."
Adalah emphasized that if the AG decides to file an indictment against MK Dr. Ghattas without giving him the right to a hearing, it would petition the Israeli Supreme Court.
Related Press Releases:
Read more: