Adalah, Public Committee Against Torture demand Israel probe wounding of MK Odeh by police in Umm al-Hiran
Arab Joint List leader Ayman Odeh hit by sponge-tipped bullets, struck and cursed by police officers after shooting incident in which local Bedouin resident Ya'akub Abu Al-Qi'an was killed.
The Public Committee Against Torture in Israel (PCATI) and Adalah – The Legal Center for Arab Minority Rights in Israel on 22 January 2017 asked the Justice Ministry's Police Investigations Division (Mahash) to investigate the circumstances of the wounding of Knesset Member Ayman Odeh by the police in Umm al-Hiran on 18 January 2017.
MK Odeh, chairman of the Arab Joint List, suffered a head wound and back wound when he was attacked by Israeli police officers during a protest against a violent house demolition operation in the southern Bedouin village after 50-year-old resident Ya'akub Musa Abu Al-Qi'an was killed in a police shooting incident in the same location.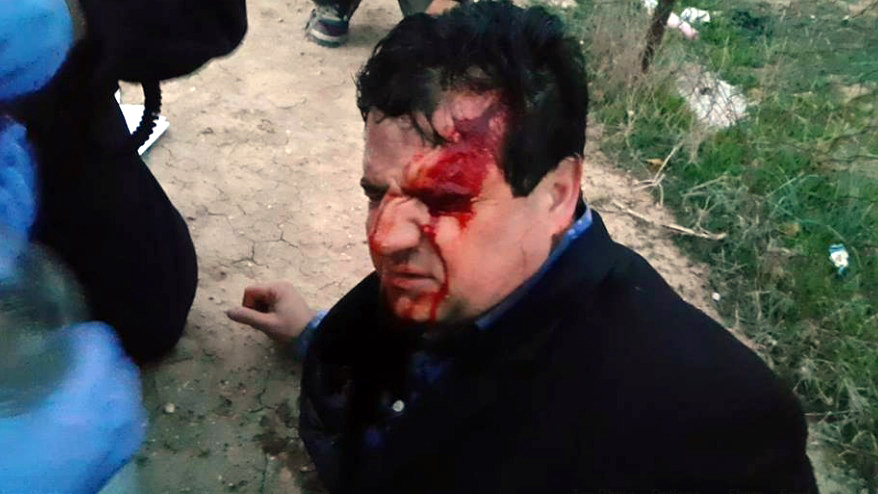 MK Odeh after being wounded in Umm al-Hiran. (Courtesy of MK Ayman Odeh)
In their letter to Mahash, PCATI Attorney Noa Levy and Adalah Attorney Nadeem Shehadeh explain that when MK Odeh and activists heard the sound of live gunfire they sought to make their way towards the scene of the shooting in order to understand what was happening. They were blocked, however, by police officers who cursed and struck them even after it was made clear that a Knesset member was amongst the group. One officer sprayed MK Odeh in the face with pepper spray at point blank range.
Subsequently, as MK Odeh and the activists were retreating from the village, police fired sponge-tipped bullets and illumination flares at them, at which time MK Odeh was struck in the head and back.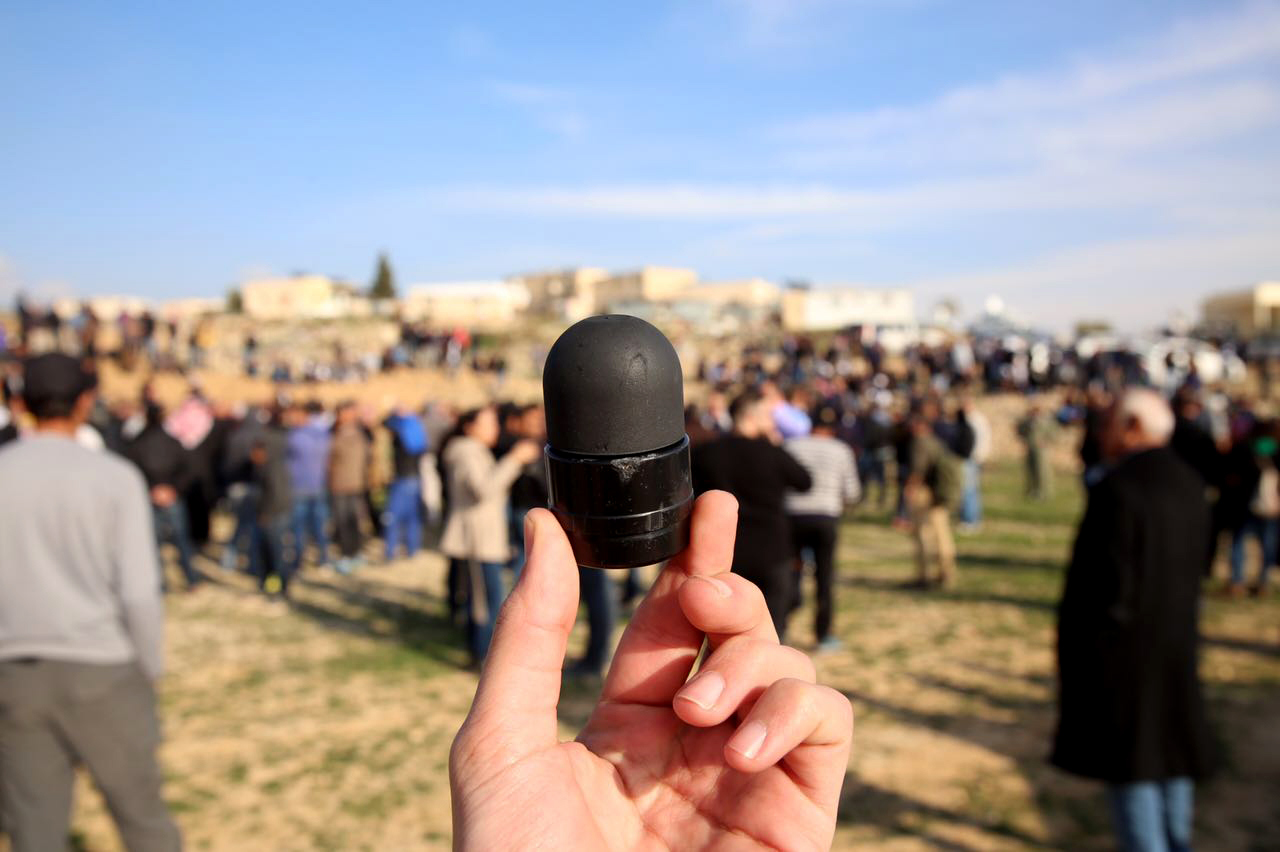 A sponge-tipped bullet of the variety fired at MK Odeh, displayed in Umm al-Hiran on the day of the incident.
The photographs of the wounds to MK Odeh's head and back, which were included in the letter Adalah and PCATI send to Mahash, appear to match the sort of wound caused by a sponge-tipped bullet. Sponge-tipped bullets were later found in the area where MK Odeh and the activists were standing during the incident.
The following day, 19 January 2017, MK Odeh was examined at the Abu Kabir Forensic Institute in an effort to determine if he was indeed struck by the police-fired projectiles.
The results of his medical report have not yet been released.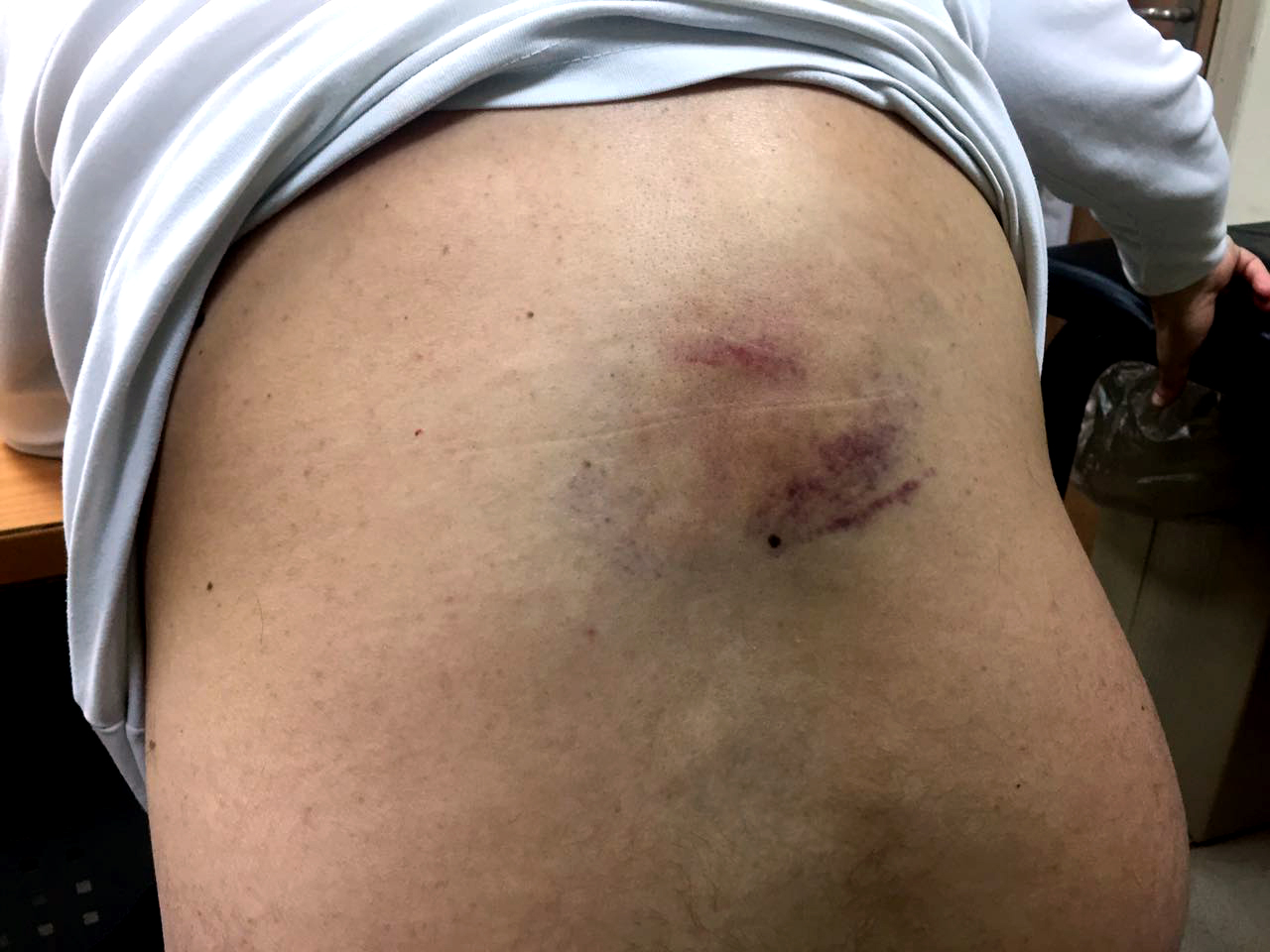 MK Odeh's back after being struck by a sponge-tipped bullet in Umm al-Hiran.
In the PCATI-Adalah letter, Attorneys Levy and Shehadeh stress that accounts of the incident clearly indicate a direct attack on a sitting member of Knesset.
"The acts described above indicate unlawful excessive use of force and unlawful use of weapons. The police officers' actions violated Israeli laws [and police regulations], as well as the Basic Law: Human Dignity and Liberty."
PCATI and Adalah demand that Mahash immediately open a criminal investigation against all officers involved in this incident, and also request a probe of the police spokesperson unit for incitement.
"The police's release of utterly baseless claims maintaining that MK Odeh was hit by stone throwers, and that he was involved in or assisted in the alleged car-ramming attack, is deceitful and borders on incitement."