Israeli police illegally threaten, intimidate Arab school children seeking to protest
Police pressured school principals to prevent students from protesting; students received Whatsapp messages falsely indicating protest was illegal, warning of clashes with officers.
Israeli police are illegally threatening and intimidating Palestinian Arab school children in an effort to deter them from participating in street protests, a practice that Adalah – The Legal Center for Arab Minority Rights in Israel is now seeking to stop.
Adalah sent a letter on 24 January 2017 to Attorney General Avichai Mandelblit Israeli Police Commissioner Roni Alsheikh, and Amos Ya'akov, commander of the Israeli police's Coastal District, demanding that they order officers not to threaten or intimidate Arab school children.
Police threats and intimidation of school children are the most recent incarnation of more widespread police tactics aimed at stifling the free political expression of Palestinian citizens of Israel.
On that same day, Palestinian Arab school children protested in Haifa against the state's policy of home demolitions in Arab communities. In the days leading up to the protest, police attempted to prevent it from taking place using illegal means.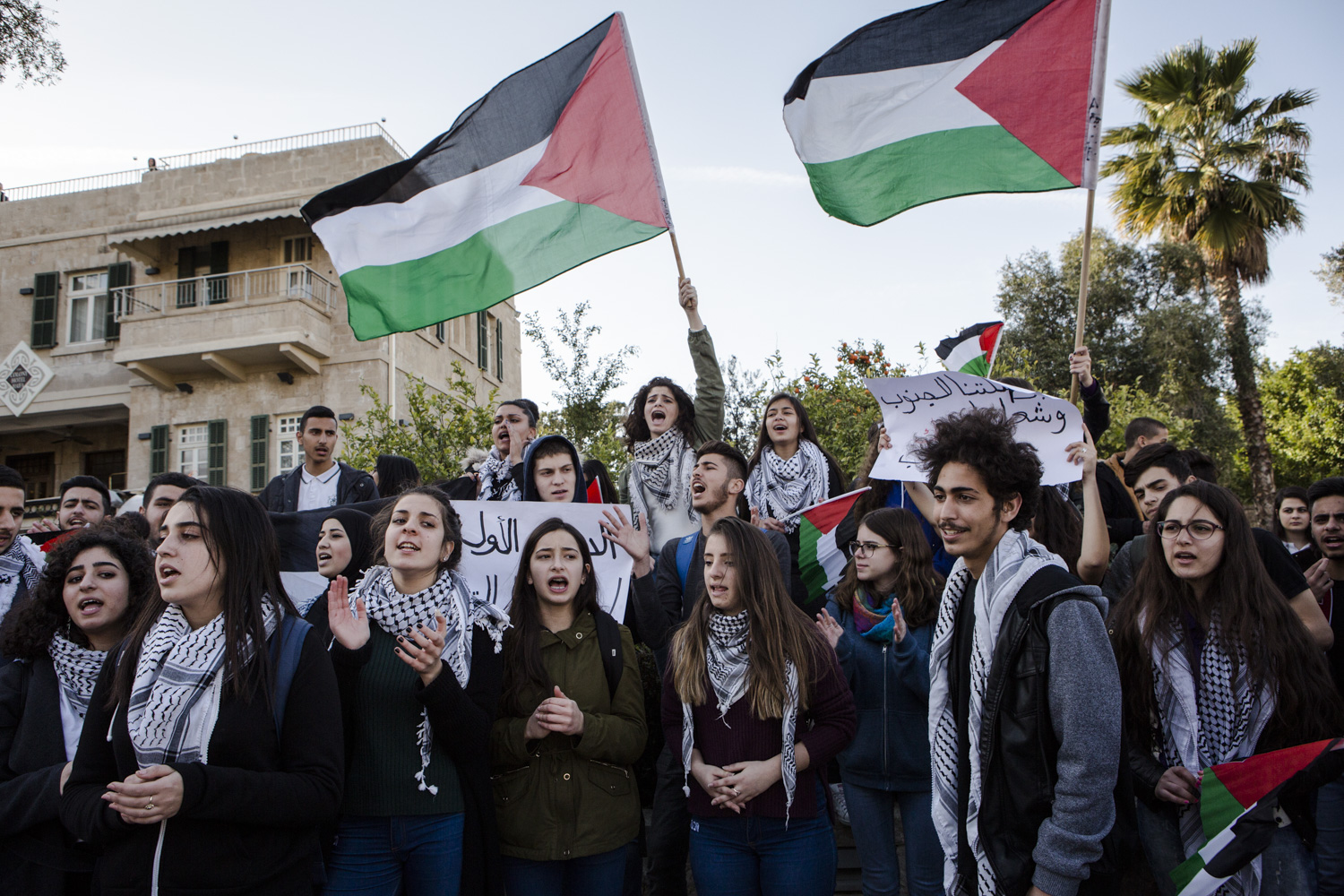 Students protesting in downtown Haifa on 24 January 2017. (Photo by Mati Milstein)
Plain-clothed police officers paid visits to local Arab school principals in an effort to pressure them to stop students participating in the protest. Officers also summoned school principals to a Haifa police station to discuss the protest.
In addition, police sent Whatsapp messages in Arabic to individual school children telling them – falsely – that the protest was illegal and that there would be clashes with police in case they went forward with it.
In the letter, Adalah Attorney Mohammad Bassam stressed the illegality of these police tactics, which amount to intimidation: "Police operations regarding this protest dramatically exceeded the boundaries of authority granted to police by the law. The facts of the case demonstrate that the police force is prepared to employ even illegal means to deter Arab schoolchildren from exercising their right to freedom of political expression," Attorney Bassam explained.
"It is patently illegal for police to summon school principals to a police station in order to pressure them to order their teachers and students not to participate in a protest. It is not within the authorized role of a school principal, or any other figure in an educational institution, to prevent, limit, warn, or punish students seeking to exercise their civil rights outside the schoolyard or regular school hours."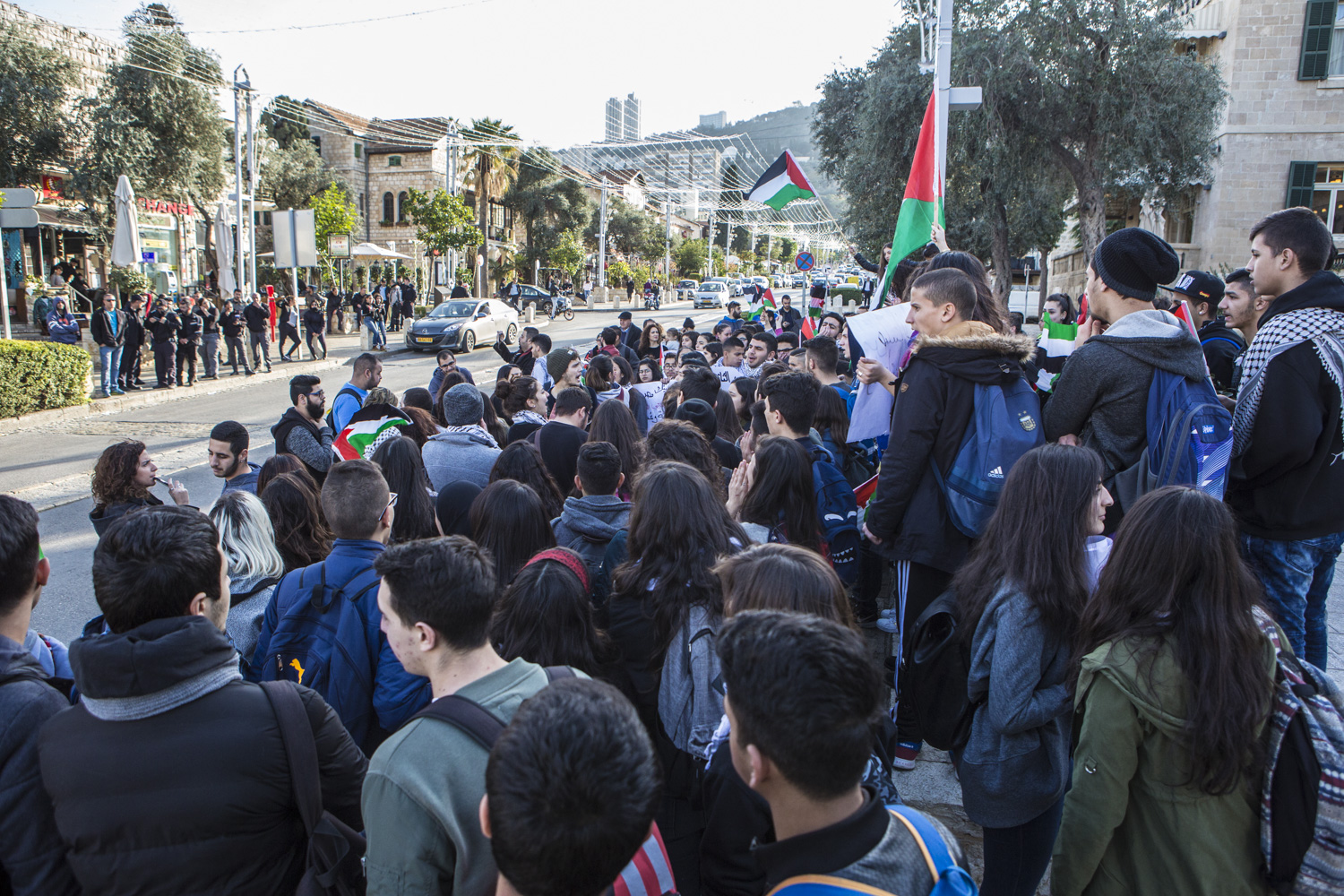 Students standing opposite police officers during the Haifa protest on 24 January 2017. (Photo by Mati Milstein)
Adalah also emphasized that claims made by police that the protest was illegal were false: "The protest did not require a permit as it was a gathering (as opposed to a march) at which no political speeches were made… Again, contrary to repeated police interpretations, the chanting of slogans during a protest does not count as a speech that would… – were a series of other conditions also simultaneously met – require a police permit."
Israeli police responded to Adalah's letter on 5 February 2017, stating that "Police are authorized to appeal to relevant figures [school principals] in the event that it believes an event might take place that could endanger the public, including the protesters themselves."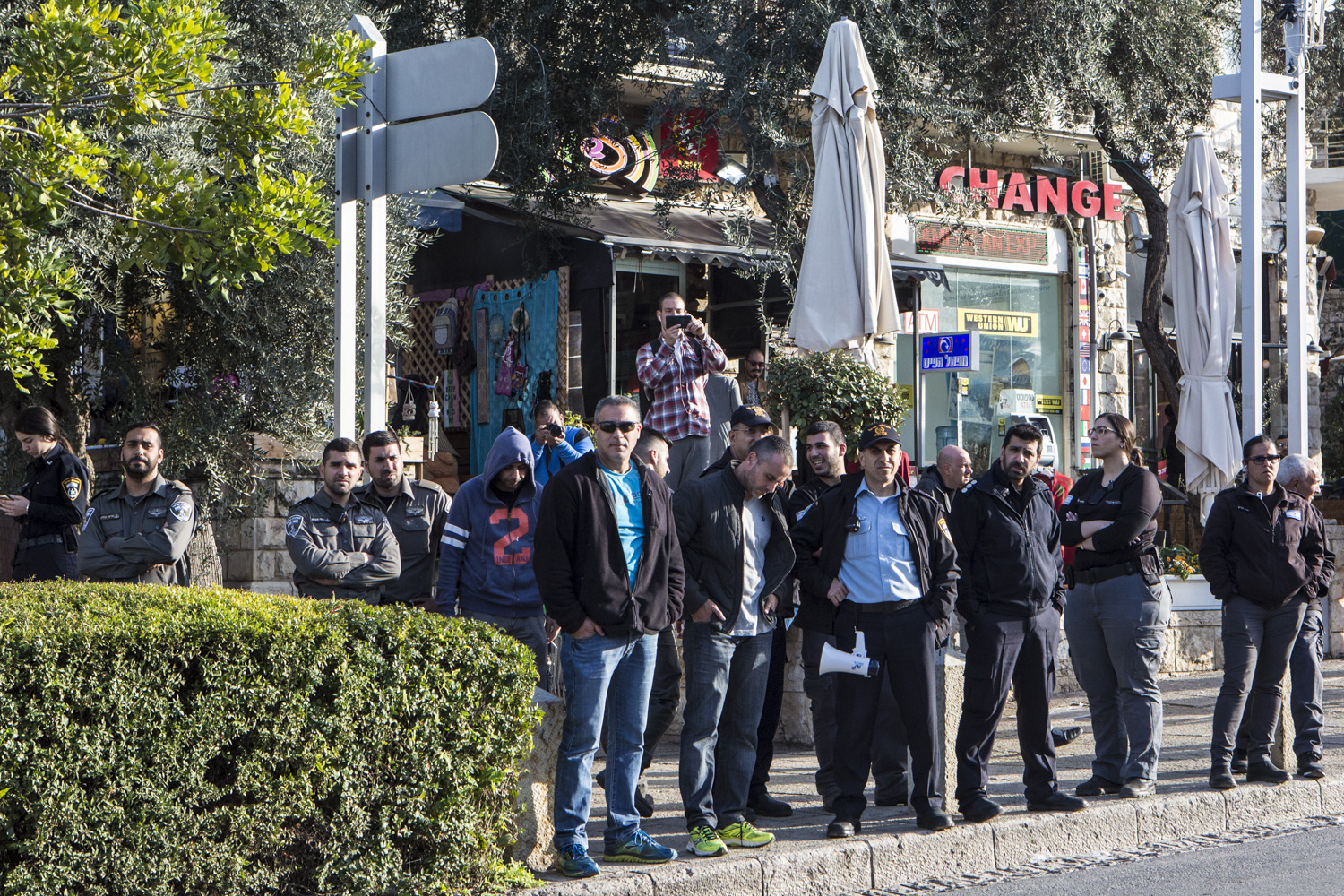 Uniformed and plain-clothes police officers supervising the students' protest in Haifa on 24 January 2017. (Photo by Mati Milstein)
Adalah stated in response that, "It is unclear on what information police based their assumption that any element of the demonstration might endanger public safety, or that the demonstration was illegal. According to this logic, the police would be authorized to prevent any form of student protest on the pretext of maintaining public order. We therefore believe that, in this case, police acted to prevent legitimate protest using illegitimate means, thereby exceeding the bounds of its authority."
BACKGROUND
In October 2016, Adalah sent a letter to Attorney General Mandelblit demanding he issue new orders to the police to refrain from impinging upon the rights of Palestinian citizens of Israel to free political expression and protest.
In the letter, Adalah Attorney Bassam detailed a series of five illegal practices and operational tactics employed by the police over the last year that constitute harm to Arab citizens' rights to freedom of expression and protest.

Adalah stressed that "the practices described above – back by testimony from a slew of Arab citizens – paint a most troublesome picture regarding the systematic pattern of police operations when it comes to Arab citizens who seek to exercise their right to free political expression. The police approach – treating protest events organized by Arab citizens as events which inherently threaten state and public security – is an approach that stands in direct opposition to the very essence of the right to free expression, as well as to the police's obligation to refrain from limiting this right except in cases where there is an immediate probability of real and serious danger posed to public security and peace."
READ: Adalah's letter [Hebrew]
READ: Israeli police response [Hebrew]
READ: Adalah Report: Silencing the Opposition - Israeli Law Enforcement's Restrictions on Freedom of Expression in Israel during "Operation Protective Edge" in Gaza, 8 July – 26 August 2014, Issued 11 August 2015
Read more: