Adalah: Private security guards at Tel Aviv's central bus station racially profiling, illegally detaining Palestinians
Illegal detention constitutes assault; Israeli law doesn't permit guards to detain passenger unless a weapon is found, there is suspicion of weapon, or passenger is about to use weapon.
Adalah – The Legal Center for Arab Minority Rights in Israel has obtained evidence confirming that private security guards at Tel Aviv's main public transportation hub have received an illegal directive to detain Arab passengers who are not carrying identification and hold them until the arrival of Israeli police officers.
Adalah sent a letter on 17 June 2017 to Israeli Public Security Minister Gilad Erdan, Attorney General Avichai Mandelblit, and to officials at Tel Aviv's central bus station demanding they act to stop the policy of racial profiling and detention carried out by the station's private security personnel.
Security guards employed by the Avidar company received a verbal directive from company management to detain Arab passengers entering the bus station who are not carrying identification, on suspicion that they are "illegal aliens", i.e. Palestinians from the West Bank in Israel without Israeli-issued entry permits. According to Avidar's regulations, guards are ordered to detain the passengers until Israeli police arrive: "The directive is that every M ["minority" – a euphemism used to specify Palestinian Arab citizens of Israel] without identification is detained until police arrive."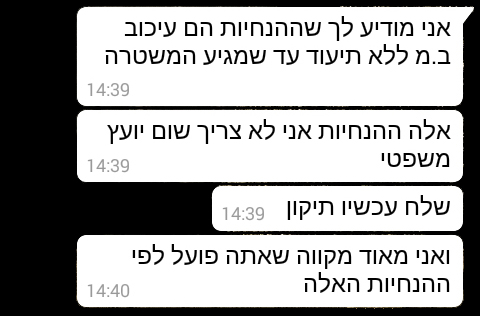 Translation of Whatsapp messages from Avidar supervisor to security guard: "I am informing you that the directives are detention of M [minorities] without identification until police arrive. These are the directives. I don't need any legal advice. Send the correction [of the directives] now. I really hope you operate according to these directives."
In his letter, Adalah Attorney Fady Khoury stressed that Avidar's policy is illegal:
"The detention of passengers and the demand that passengers produce identification in order to enter the station – even when a check reveals that the passenger is not carrying a weapon – constitute an extreme deviation from the authorities provided by law intended to ensure public safety… The authority of security guards to detain is limited to cases in which, during the course of a check of a passenger at the central bus station entrance: a weapon is discovered; there exists reasonable suspicion that the concerned individual is carrying an illegal weapon; or the individual is about to use a weapon. There is no law that authorizes station security guards to detain for anything other than these reasons."
Attorney Khoury further emphasized:
"The denial of an individual's liberty via detention without legal authority is tantamount to assault."
Adalah's letter also noted the racist nature of the practice:
"The demand for passengers to provide identification is not universal but rather stems from a policy of national [ethnic] profiling based upon the physical appearance of those passing through the station's gates. This policy is fundamentally unacceptable as it uses ethnic/national affiliation as an indication of increased suspicion rather than the characteristics of individual passengers… This policy – and the resulting practice – is racist in nature."
The Avidar security company responded to Adalah's letter on 26 June 2017 as follows:
"Avidar rejects your claims regarding (alleged) racist or discriminatory conduct on the part of its employees directed at the Arab public or minorities in general at the central bus station site."
Attorney Khoury said in response to Avidar's denial:
"Avidar's denial of this policy – despite the evidence we have produced – is surprising. The company must act immediately to clarify procedures and direct its guards to act in accordance with the law."
CLICK HERE to read Adalah's letter [Hebrew]
(Photo by David King/Flickr Creative Commons)
Read more: