Adalah director Hassan Jabareen: Election disqualifications reflect McCarthyist persecution of those unacceptable to Israel's political right
Israel's elections committee disqualifies Dr. Ofer Cassif (Hadash) and Balad–United Arab List from participating in 9 April national elections; Adalah represents Cassif and Balad-United Arab List.
Attorney Hassan Jabareen, general director of Adalah – The Legal Center for Arab Minority Rights in Israel, who is representing both Knesset candidate Dr. Ofer Cassif (Hadash) and the National Democratic Assembly (Balad) – United Arab List (Ra'am), responded from the Knesset late Wednesday night, 6 March 2019, immediately following the decision to disqualify them from running in Israel's 9 April national elections.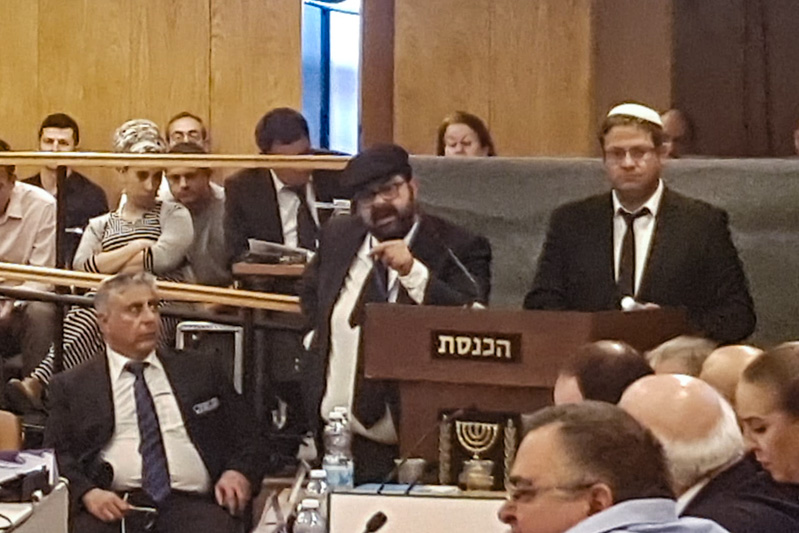 Adalah General Director Hassan Jabareen (center) argues during the Israel Central Elections Committee hearing at the Knesset in Jerusalem on Wednesday night, 6 March 2019. (Photo by Rami Haider/Adalah)
"Israel's Central Elections Committee is a political body that operates in overt contradiction of law and court rulings in order to humiliate Arab candidates. The petitioners against Dr. Ofer Cassif made false claims that do not qualify for any of the grounds for disqualification as stipulated in Israel's Basic Law: The Knesset. The rejection of his candidacy for the Knesset was based on statements in a single interview in which he reiterated that he opposes any and all forms of violence and supports an egalitarian state.
"The disqualification of Balad-Ra'am was likewise politically motivated. The elections committee rejected the candidacy of Dr. Cassif – an individual who supports equality for all – while simultaneously approving the candidacy of Michael Ben-Ari, a racist individual affiliated with a racist movement that has been recognized as a terrorist organization. It is clear that the committee's decisions are strictly the result of political considerations reflecting the McCarthyist persecution of those whose views are not acceptable to Israel's political right."
Adalah will continue to represent Cassif and Balad-United Arab List throughout the disqualification process.
CLICK HERE to read the disqualification decision [Hebrew]
Related Press Releases: