Adalah to UN experts: Israel's COVID-19 response denies basic human rights to Palestinians in Israel and OPT
Israel left Palestinian communities exposed to pandemic through substandard protection and limited access to testing, emergency medical services, and social welfare benefits – particularly in unrecognized Bedouin villages.
Adalah – The Legal Center for Arab Minority Rights in Israel submitted a 30-page report to the United Nations Office of the High Commissioner for Human Rights for Special Rapporteurs and Independent Experts on 16 July 2020 detailing Israel's response to the COVID-19 pandemic and its negative impact on human rights.
CLICK HERE to read Adalah's full UN report
From the start of the COVID-19 outbreak, the Israeli government acted in a discriminatory manner in making interventions to protect people's lives and wellbeing, such as equal access to health/medical services, distance learning, and economic financial support. This discrimination deepened the reality of structural discrimination in all fields of life faced by vulnerable groups, primarily Palestinian citizens of Israel, including the Bedouin, Palestinian residents of East Jerusalem, Palestinian workers from the West Bank, and Palestinian political prisoners incarcerated in Israeli prisons.
Adalah presented 11 major findings in its report to the UN experts:
Excessive use of government-decreed Emergency Regulations (ERs): In its response to the COVID-19 pandemic, the Israeli government decreed dozens of ERs, without the parliamentary oversight required by law. Many of these decrees – often based on a national security rather than a public health approach – led to violations of human rights, especially of vulnerable groups. Examples of ERs include authorization: to the Shin Bet to engage in massive surveillance by the tracking and monitoring of citizens' cellphones, both corona patients and those who may have come in contact with them; to Israeli employers to dismiss pregnant women without special permission from the Ministry of Labor, harming the rights of thousands of women; and to the public security minister, at the recommendation of the Israel Prison Service (IPS) director or the Israeli police commissioner, to ban visits of families and lawyers to prisoners and detainees.

Discrimination in access to medical services, education and economic financial support: Israel acted in a discriminatory manner in making interventions to protect people's lives and wellbeing, such as equal access to medical services, distance learning, and economic financial support.

Lack of available data on COVID-19 and Palestinian citizens of Israel: Since the beginning of the COVID-19 crisis, Israel has not collected or published comprehensive disaggregated data on COVID-19 and Palestinian citizens of Israel, and much of the data it has provided contains inaccuracies and omissions.

Delayed, limited health-related information in Arabic: Israel continues to fail to provide essential, real-time COVID-19 updates and public health information in Arabic, which is of grave danger to the public.

Large gaps in access to COVID-19 testing, emergency medical services, appropriate isolation centers for Palestinians: Major gaps were found in access to emergency medical services, COVID-19 testing, and isolation facilities for Palestinian citizens of Israel in general, including Palestinian Bedouin in Naqab, as well as Palestinian residents of Occupied East Jerusalem compared with Jewish Israelis.

Denial of access to online distance learning for Bedouin children lacking electricity and/or Internet connections: As a result of the nationwide closure of schools in Israel on 15 March 2020, around 50,000 Bedouin children in unrecognized and recognized villages in the Naqab were unable to participate in online distance learning during the government-enforced lockdown, because they live in villages that the state has not connected to the electricity grid or the Internet, and most lack access to home computers.

Insufficient economic measures taken to help Palestinian citizen workers, households, businesses: The economic measures taken by Israel to date have not been effective for Palestinian citizens of Israel, for workers or for households, due to existing structural discrimination and large socio-economic gaps.

Exploitation of West Bank Palestinian workers in Israel: Israel has issued various decisions aimed at keeping the Israeli economy from collapsing. Palestinian laborers from the West Bank were the primary victims of these policies, compelled, if they wanted to work, to live in inhuman and degrading conditions in Israel.

Lack of representation of Palestinian citizens in Israel's National Emergency Committee: Israel failed to include any Palestinian experts in its National Emergency Committee, and had no clear plan to combat the spread of COVID-19 among Palestinian citizens based on their particular circumstances and needs.

Israeli Supreme Court failed to provide remedies and/or entrench and guarantee rights: The Supreme Court of Israel failed to provide remedies to different Palestinian groups that demanded equal access to health services and protective measures, distance learning, and more.

New process of legislating Emergency Regulations threatens rights and the rule of law: The Israeli Supreme Court's reluctance to deliver substantive rulings that uphold rights and check the accruing of excessive powers to Israel's government, has opened the door to a legislative process that is currently underway in which the government is transforming the Emergency Regulations decreed during the first wave of the virus into a dozen of bills and – potentially – laws. Such legislation, if passed, will have a limiting effect on the freedoms and human rights of various groups during the second wave of the virus and thereafter.

Adalah's report was provided to the UN experts to inform their upcoming thematic reports to the UN Human Rights Council or General Assembly sessions on the coronavirus and human rights issues.
CLICK HERE to read Adalah's full UN report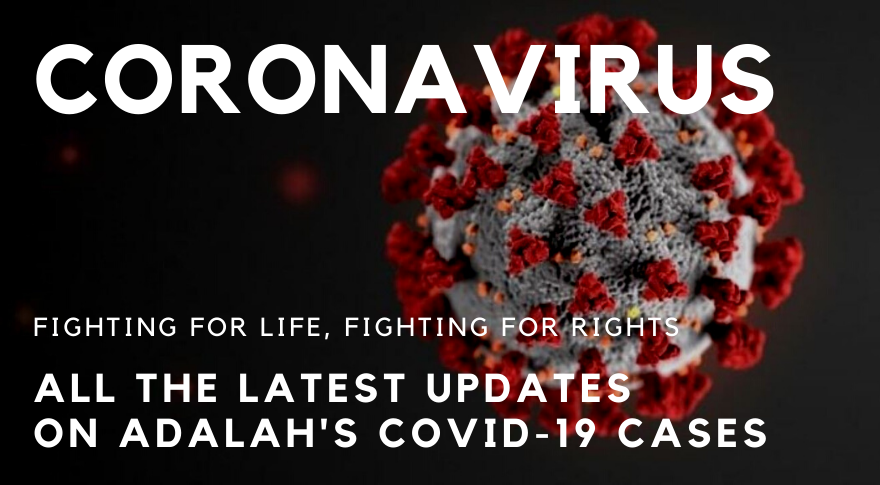 (UN Photo/Jean-Marc Ferre)