Adalah, PCATI demand urgent Israeli Supreme Court hearing on petition seeking reversal of state attorney's decision to close probe into police killing of Bedouin math teacher
In 2018, Adalah called on Israel's attorney general to intervene and order an independent investigation into the killing of Ya'akub Abu al-Qi'an due to fears of fatal flaws, conflicts of interest, and obstruction of justice.

In light of recent media reports presenting alleged new evidence regarding the Israeli Justice Ministry's Police Investigations Department (PID) closure of its investigation into the January 2017 police killing of 50 year-old Bedouin math teacher Ya'akub Abu al-Qi'an, Adalah – The Legal Center for Arab Minority Rights in Israel and the Public Committee Against Torture in Israel (PCATI) submitted an urgent motion to the Israeli Supreme Court on Sunday, 13 September 2020, demanding an order nisi and requesting an immediate hearing on the petition the two organizations filed in February 2020.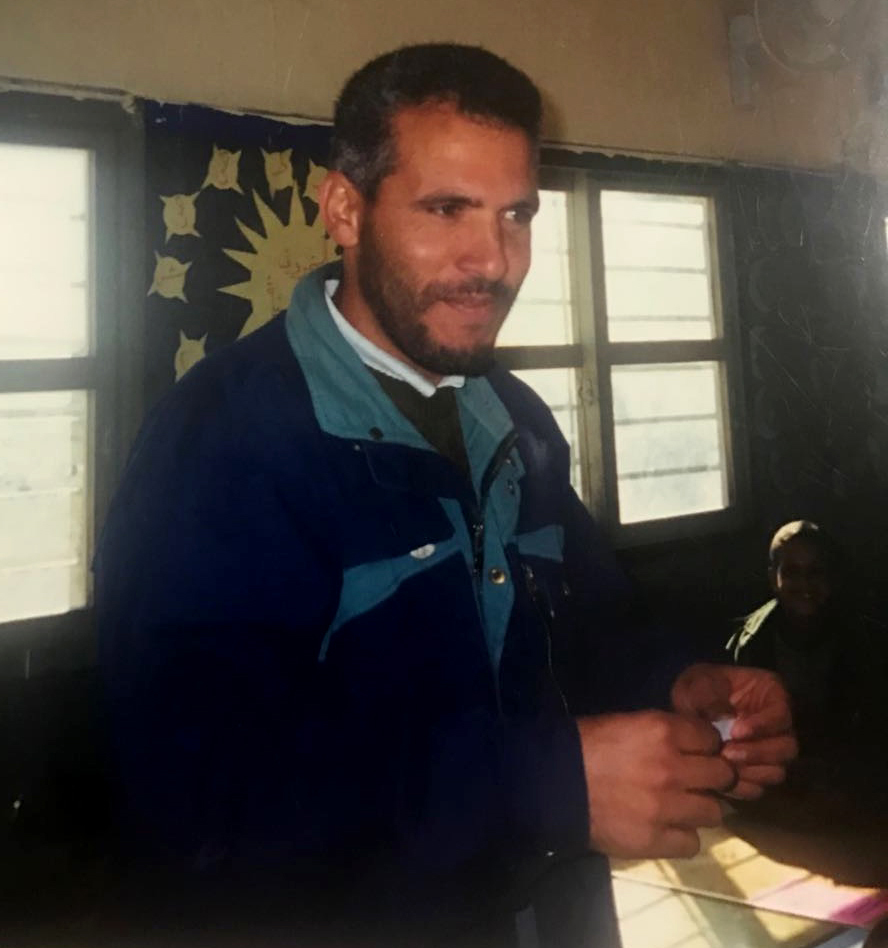 Ya'akub Musa Abu Al-Qi'an (Photo courtesy of Mossawa Center)
The petition, filed on behalf of the Abu al-Qi'an family, demands that the Israeli Supreme Court order the annulment of the decision of former-State Attorney Shai Nitzan to close the PID probe into the killing of Abu al-Qi'an, to reopen the investigation and to criminally indict all those responsible for his death.
Israeli police shot and killed Ya'akub Abu al-Qi'an during a large-scale, heavily-militarized operation to demolish homes in the Naqab (Negev) village of Umm al-Hiran in January 2017.
In the urgent motion filed Sunday, Adalah and PCATI stress that correspondence between Nitzan and the PID, released several days ago by Israeli Channel 12 News journalist Amit Segal, seems to provide new evidence of a conflict of interest on the part of then-state attorney Nitzan. This strengthens the position Adalah presented to Israel's attorney general after PID closed its investigation in 2018.
Adalah clarified its position to the attorney general after coverage in Haaretz newspaper revealed that a representative of the Shin Bet internal security agency had in fact ruled out the possibility of a "car-ramming attack". This position stood in stark contrast to Shai Nitzan's justifications for closing the investigation: he stated that it was not possible to determine whether or not Abu al-Qi'an had intentionally killed Israeli police officer Erez Levy.
With its 2018 appeal, Adalah called on Israel's attorney general to order an independent investigation into the events in Umm al-Hiran due to deep suspicions of conflicts of interest, possible external considerations influencing the closure of the PID probe, and interference with investigation procedures.
Two days after the Channel 12 report, Haaretz published a letter issued by the Shin Bet's legal counsel dated 30 November 2017, which clearly stated "we have no evidence, reasonable explanation, or information indicating that Ya'akub Abu al-Qi'an either planned a terror attack or prepared for such an attack". However, the State Attorney's Office at the time claimed that there were no materials from any investigation conducted by the Shin Bet examining Abu al-Qi'an's involvement in an alleged terrorist attack – in contradiction to statements made at the time by the Israeli police commissioner and the minister of internal security.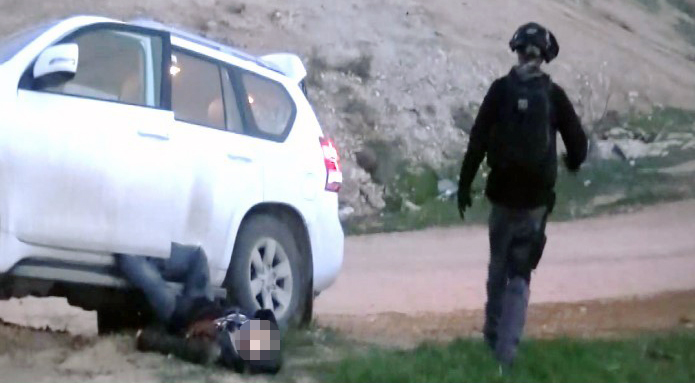 A video screengrab shows an Israeli police officer walking past the body of Ya'akub Abu al-Qi'an after he had been shot by officers and left to bleed to death.
Adalah and PCATI argue that the failure to reveal the Shin Bet document to the petitioners may indicate that Shai Nitzan's decision to ignore such a key position invokes serious concerns that his decision was tainted by a conflict of interest, and was influenced by apparent external considerations.
The two organizations are therefore now demanding that the Israeli Supreme Court order an urgent hearing on the petition and issue an order nisi.
Adalah and PCATI issued the following statement to journalists on Sunday, 13 September 2020:
"The alleged new evidence published in the media

–

and the concealment of the Shin Bet document indicating that this was not a planned attack – raise serious concerns of a conflict of interest on the part of Israel's state attorney in his decision to close the investigation into the killing of Ya'akub Abu al-Qi'an in Umm al-Hiran. Time and again, it is revealed that the Israeli State Attorney's Office makes decisions based not on the pursuit of justice and accountability, but rather with the intention of shielding Israeli law enforcement authorities at the expense of Palestinian Arab citizens of Israel. We will continue to work to bring to justice those responsible – at all levels – for the criminal acts that led to the killing of Ya'akub Abu al-Qi'an".
Adalah & PCATI: PM Netanyhayu, police apologies no replacement for investigation, prosecution of those responsible for killing Ya'akub Abu al-Qi'an
Adalah and PCATI issued a press statement on 9 September 2020 after Israeli Prime Minister Benjamin Netanyahu and the Israeli police apologized for the police killing of Ya'akub Abu al-Qi'an:
"Apologies are not sufficient penance for criminal actions that resulted in the death of an innocent man. We will continue our struggle to re-open the investigation and bring to justice all those responsible for the killing of Ya'akub Abu al-Qi'an: the senior police command, the officers who opened fire on him, and the police and medical staff who left him to bleed to death on the ground. Twenty years after the October 2000 killings, Israel continues to employ the same patterns of police violence, cover-ups, and militarized force against Arab citizens. The Israeli political echelon, headed by Prime Minister Netanyahu, is directly responsible for Ya'akub's death, and tonight's apologies are not enough. Real action needs to be taken to ensure that justice is served."
Read more: