Israeli police using secret system to monitor internet activities of Israeli citizens; Adalah demands immediate freeze
Exclusive Haaretz coverage reveals: Israeli police require internet and mobile phone providers to grant access to online data of any website or individual user in Israel.
Adalah – The Legal Center for Arab Minority Rights in Israel sent an urgent letter to Israeli officials on Monday, 14 December 2020, demanding that they freeze the use of a secret police system for monitoring the online activity of any website and citizen or resident in Israel.
According to exclusive new coverage from Haaretz journalist Oded Yaron: "To follow users' online activities, the [Israeli] police demanded in recent years that providers integrate another system into their networks to divert the data of specific users to the police-controlled system. In this way, specific individuals' activities – be it on their computers or cellphones – passed, unbeknownst to them, to the police's oversight system. The police could thus effectively track the online activity of any Israeli citizen on their radar."
Haaretz quoted ethical hacker Noam Rotem from the CyberCyber podcast, which simultaneously broke the story together with Haaretz:
"This system allows authorities to follow everything someone does online, and even permits them to manipulate the website these users visit. This system allows tracking of each and every citizen or resident of Israel."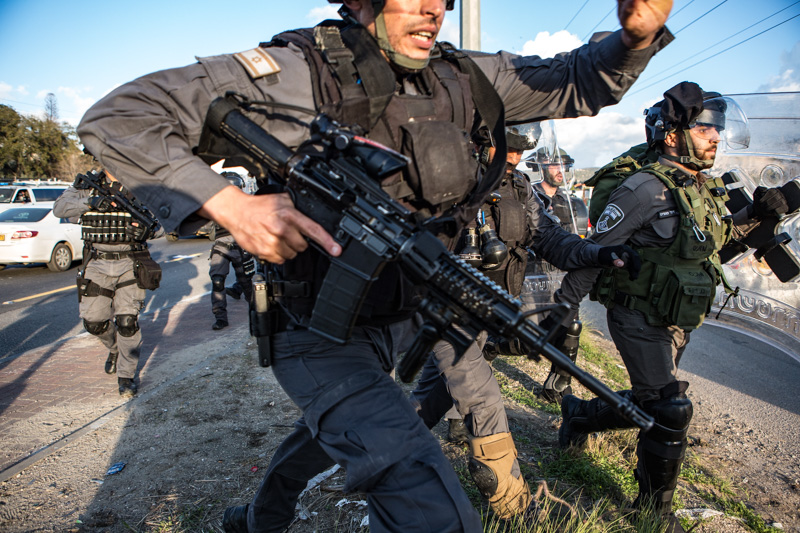 Israeli police forces at a Palestinian protest in the Wadi Ara region (File photo: Mati Milstein)
In his urgent letter to Israeli Attorney General Avichai Mandelblit and Internal Security Minister Amir Ohana, Adalah Attorney Rabea Eghbariah argued that the Israeli police's use of this system for widespread, unchecked monitoring of online activity is illegal and violates the constitutional right to privacy.
Adalah demands that the attorney general and internal security minister: 1) immediately freeze police use of the secret monitoring system; 2) clarify the legality of the system's establishment and use; and 3) specify its purpose and mode of operation.
Adalah Attorney Eghbariah also called on Israeli authorities to provide the actual order that allowed the establishment of the secret online monitoring system.
Adalah Attorney Rabea Eghbariah comments:
"It is slowly becoming clear that Israel – operating in the shadows – has established new and complex mechanisms that monitor the activities of web surfers and websites in violation of the basic constitutional right to privacy. This combination of mechanisms for monitoring online content and website data amplifies the violation of rights and casts a heavy shadow over the legality of the online censorship and monitoring actions of both the Israeli police and the State Attorney's 'Cyber Unit'."
Cyber Unit censoring social media posts
In a related case, the Israeli Supreme Court on 3 August 2020 ordered Israeli state authorities to explain the legal authority under which the state's "Cyber Unit" conducts online censorship of user-created content in collaboration with social media giants such as Facebook and Google.
The court issued its decision following a hearing on a petition filed by Adalah and the Association for Civil Rights in Israel (ACRI) against the Israeli state attorney's office Cyber Unit and its "alternative enforcement" model of censoring social media content.
Israel's Cyber Unit uses an "alternative enforcement" mechanism to essentially censor social media platforms and muzzle users: it flags and submits social media posts – without legal proceedings and often without even the knowledge of the individual user – to social media giants and requests their removal.
This state practice is aimed at clamping down on social media dissent, and frequently even results in the suspension or removal of users.
Similar units are generally known internationally as Internet Referral Units (IRUs).
CLICK HERE to read the letter [Hebrew]
Read more: