Israeli Supreme Court rejects Adalah's petition against COVID-19 fines issued to 77,000 individuals under emergency regulations
Court accepts state's claim that delays in enacting ordinary legislation were result of exceptional circumstances of global epidemic and political instability; court refuses to cancel fines issued under emergency regulations.
The Israeli Supreme Court rejected on 10 January 2121 a petition filed by Adalah – The Legal Center for Arab Minority Rights in Israel demanding the cancellation and return of all fines levied against Israeli citizens under the terms of the COVID-19 emergency regulations.
The petition also called for the cancellation of all proceedings for criminal and administrative offenses commenced in accordance with the terms of the emergency regulations.
Adalah Attorney Sawsan Zaher, who filed the petition, argued that the use of emergency regulations to determine criminal offenses violates the first section of Israel's Penal Code which provides that offenses and punishment shall be determined solely through their enactment in law.
The petition also provides ample evidence that the lack of clear guidelines has resulted in a phenomenon of selective and arbitrary enforcement of the emergency regulations.
In the court ruling, Supreme Court Justice Yitzhak Amit detailed that there is no problem with the establishment of criminal offenses via emergency regulations since such regulations supersede legislation so long as there exists no provision in Israeli law blocking these regulations.
Although the Israeli attorney general repeatedly warned the government that once the 23rd Knesset convened there would no longer be any legal justification for using means to confront the COVID-19 pandemic other than regular legislation, four months passed before the enactment of the new Major Coronavirus Law in July 2020.
This delay was criticized by Israeli Supreme Court Chief Justice Esther Hayut in the ruling in Adalah's petition against the continued governmental decree of emergency regulations (HCJ 2399/20 Adalah v. Israeli Prime Minister):
"It must be said – and the attorney general insisted on this point in his appeals to the government and the Knesset in its preliminary response of 21 April 2020 – one would have expected that the proposed laws intended to replace the temporary emergency regulations would have been granted a faster legislative timeline following the swearing in of the 23rd Knesset and the establishment of the [concerned] parliamentary committee."
Case Citation: HCJ 5314/20, Adalah v. Israeli Attorney General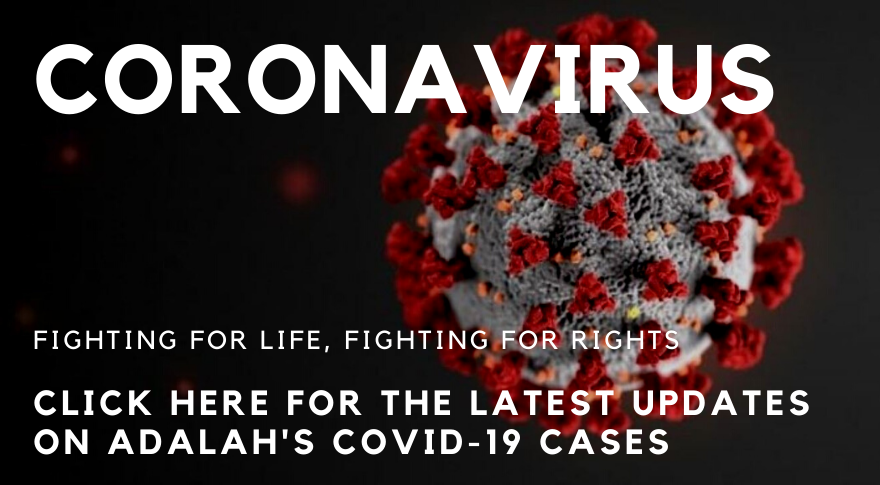 (Photo: Israel Police)
Read more: