Adalah participates in ESCR-Net's Global Strategy Meeting in Argentina
Adalah Attorney Sawsan Zaher joins NGOS, civil society organizations, and advocates from more than 70 countries to confront global systems perpetuating inequality, impoverishment, and dispossession.
Adalah Attorney Sawsan Zaher is in Argentina this week to participate in the Global Strategy Meeting of the International Network for Economic, Social and Cultural Rights / ESCR-Net together with over 270 NGOS, civil society organizations, and advocates from more than 70 countries.
The meeting, held 15-19 November in Buenos Aires, will confront global systems that perpetuate inequality, impoverishment and dispossession, explore alternatives that ensure collective well-being and build a global movement to make human rights and social justice a reality for all.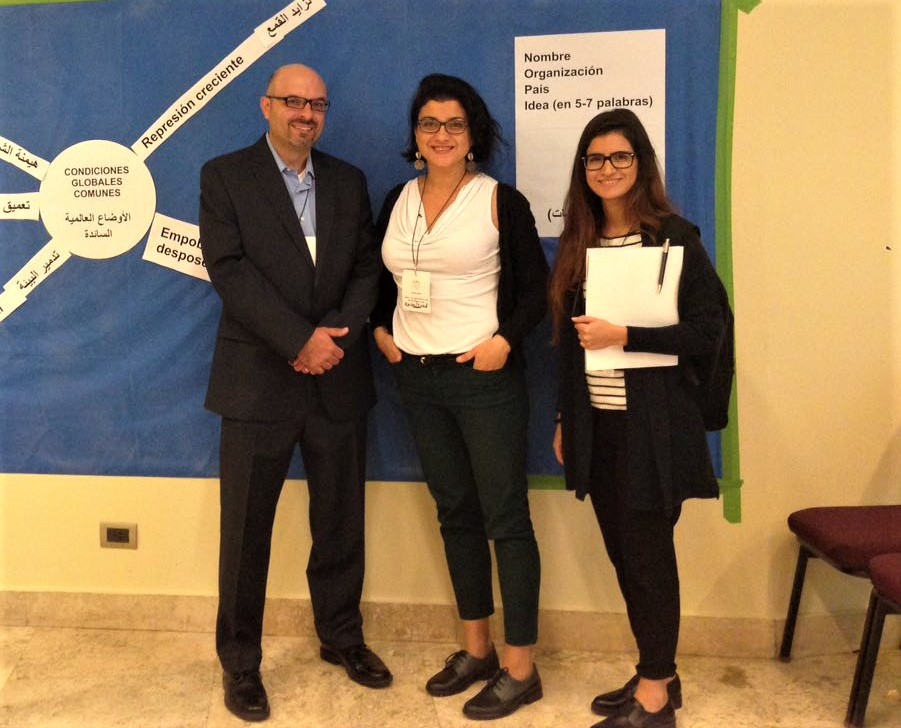 Attorney Sawsan Zaher of Adalah (center) with fellow GSM participants Wesam Ahmed from Alhaq (left) and Maryam Tibi from Democracy and Workers Rights Center in Palestine (right) in Buenos Aires on 16 November 2016. (Photo courtesy of Sawsan Zaher)
"The Global Strategy Meeting is a space for members to assess the current social-economic-political-legal landscape, deepen our shared understanding of the global connections between localized challenges, and agree on collective strategic objectives for the next five years. While the issues faced and the work of members across the Network are diverse, these objectives are intended to represent an aligned vision of specific ways in which we can make real change in the world over the coming period. Through facilitated discussion, we will consider how these objectives can be realized through and across ESCR-Net's working groups and in other collaborative ways, such as Network-wide campaigning."
RELATED LINKS:
Read more: