Knesset approves law that lets Israel expropriate vast tracts of private Palestinian land
Adalah to file Supreme Court petition against 'sweeping and dangerous' Validation Law that violates international law and Palestinian property rights in West Bank.
The Israeli Knesset voted on Monday, 6 February 2017 to approve the Validation Law, which allows the state to expropriate private Palestinian lands in the West Bank for the purposes of settlement construction.
Adalah intends to file a Supreme Court petition in the coming days against the Validation Law, according to which Israeli settlements built on private Palestinian land in the West Bank can be "legalized" or "regularized" via retroactive expropriation, planning, and zoning regulations.
Attorney Suhad Bishara, director of the Land and Planning Unit of Adalah – The Legal Center for Arab Minority Rights in Israel, warned against the consequences of the new law:
"This sweeping and dangerous law permits the expropriation of vast tracts of private Palestinian land, giving absolute preference to the political interests of Israel as an occupying power and to Israeli settlers living in the Occupied Palestinian Territory (OPT). It violates the property rights both of resident and refugee Palestinians."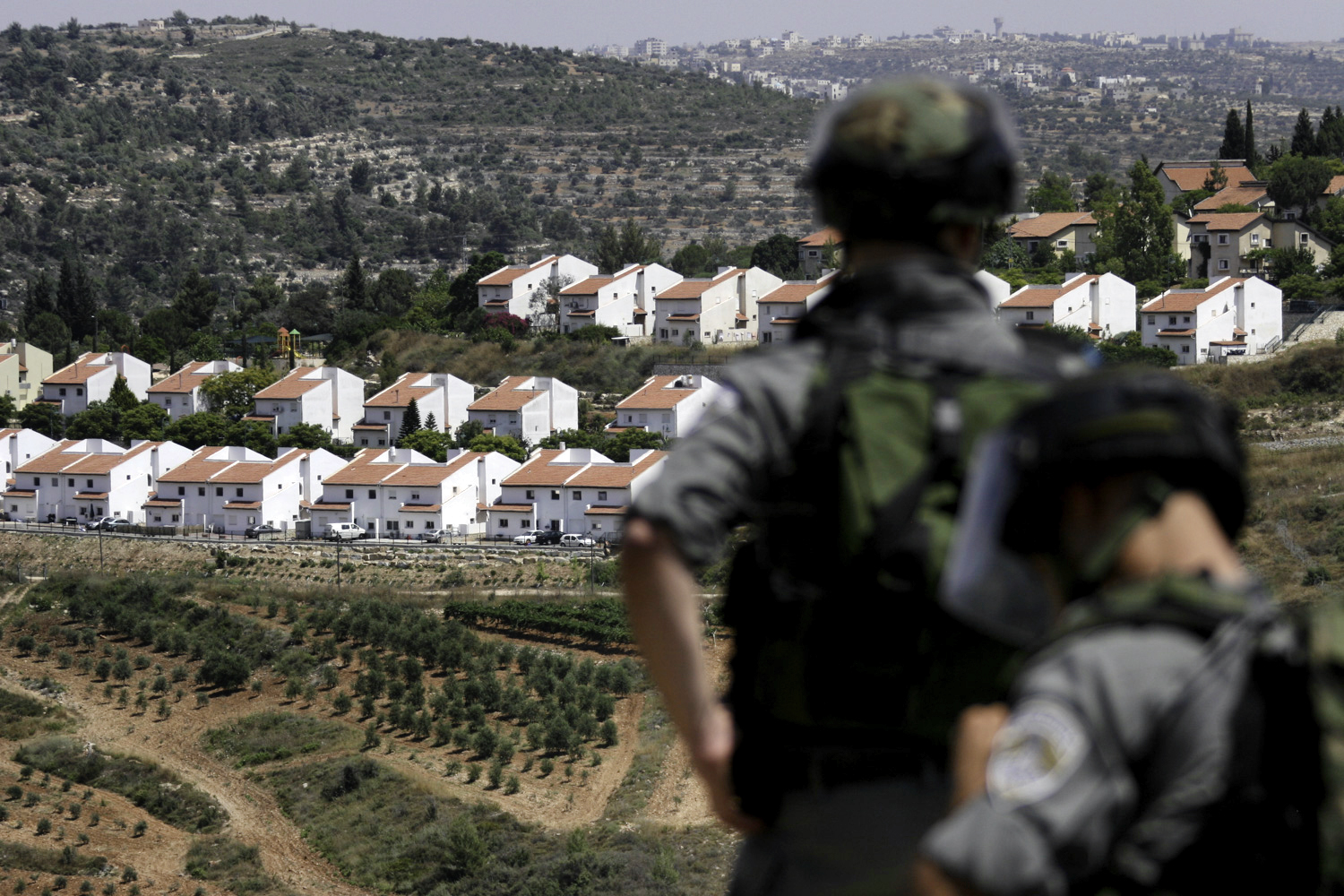 Israeli Border Police officers stand in front of an Israeli settlement in the West Bank. (Photo by Mati Milstein)
Attorney Bishara also emphasized that the Validation Law constitutes a violation of international law and the most recent United Nations Security Council resolution against the settlements.
"The primary aim of this law is to 'validate' more illegal settlements in the West Bank. These political considerations directly contradict the UN Security Council Resolution passed on 23 December 2016, which re-confirmed the illegality of Israeli settlements. Further, the transfer of the occupying power's civilian population into occupied territory is a war crime, according to the Rome Statute of the International Criminal Court. Moreover, the application of this Israeli law on the OPT is a violation of international law."
Israeli Attorney General Avichai Mandelblit has also previously stated that the law would violate both Israeli and international law and would not survive the test of the Israeli Supreme Court.
International condemnation
The European Union strongly criticized the law in a December 2016 statement: "Recalling that settlements are illegal under international law, constitute an obstacle to peace and threaten to make the two-state solution impossible, the European Union reiterates its strong opposition, in line with the position of the Middle East Quartet, to Israel's settlement policy and all actions taken in this context."
The administration of former United States president Barack Obama also strongly opposed the bill.
Deputy State Department Spokesman Mark Toner said on 6 December 2016: "This legislation, if it is enacted, would be a dramatic advancement of the settlement enterprise, which is already greatly endangering the prospects for a two-state solution." He added, "We have also been troubled by comments from some political figures in Israel that this would be a first step toward annexation" of the West Bank to Israel.
White House Press Secretary Sean Spicer noted in a 2 February 2017 briefing that: "The American desire for peace between the Israelis and the Palestinians has remained unchanged for 50 years. While we don't believe the existence of settlements is an impediment to peace, the construction of new settlements or the expansion of existing settlements beyond their current borders may not be helpful in achieving that goal. As the President has expressed many times, he hopes to achieve peace throughout the Middle East region. The Trump administration has not taken an official position on settlement activity and looks forward to continuing discussions, including with Prime Minister Netanyahu when he visits with President Trump later this month."
Read more: