Adalah calls for immediate probe of police killings of Al Aqsa Mosque shooting suspects
Video of Israeli police shooting of one individual appears to indicate he posed no serious immediate danger that would have justified the use of intensive and fatal gunfire.
Adalah – The Legal Center for Arab Minority Rights in Israel sent letters to the Justice Ministry's Police Investigations Division (Mahash) yesterday, 15 July 2017, demanding that it open immediate investigations into the police killings of three Palestinian citizens of Israel involved in a shooting attack in the Old City of Jerusalem at the Al Aqsa Mosque. Two police officers were shot dead in this incident, allegedly by the three men.
Adalah sent the letters on behalf of the families of the deceased alleged assailants Mohammed Ahmed Musa Jabareen, 29, Mohammed Hamed Jabareen, 19, and Mohammed Ahmed Mfadi Jabareen, 19. All three were residents of the Arab town of Umm al-Fahem located in central Israel.
Adalah is also demanding that Mahash order autopsies of the three bodies of the Umm al-Fahem men before their burial.
The men allegedly shot and killed two police officers in the Old City before fleeing into the Al-Aqsa mosque compound.
Israeli police said officers pursued the suspects into the mosque compound and shot them dead.
However, video filmed inside the compound appears to indicate that, when Israeli police officers opened fire on Mohammed Ahmed Mfadi Jabareen, he posed no serious immediate danger that would have justified the use of intensive and fatal gunfire.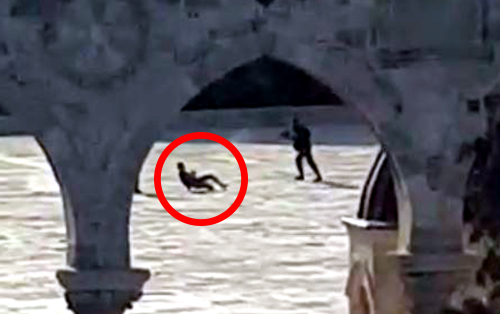 (Screen grab from video by Kamil Abbadi Photography)
Adalah Attorney Mohammad Bassam wrote in the letters that "the incident raises serious questions regarding police personnel's compliance with very detailed open-fire regulations. Police orders regulate all situations in which officers have an option to make use of firearms including when seeking to make an arrest and to prevent immediate harm to human life. In all situations, use of firearms is permitted only when there is a real and immediate danger to human life and as a final option when all other options to prevent this harm have been exhausted."
Adalah demands that Mahash investigate the circumstances of the shooting deaths of the three men and act immediately to order autopsies to be performed before burial.
VIDEO: Israeli police shooting of Mohammed Ahmed Mafdal Jabareen
CLICK HERE to read Adalah's letters to Mahash [Hebrew]
Related Press Releases:
Read more: