Adalah, Al-Marsad demand Israel remove army outposts and minefields from occupied Syrian town on Golan Heights
Minefields pose serious danger to Majdal Shams as explosives drift beyond marked areas towards homes. Since 1967, 18 Golan locals – half of them children – have been killed by mines.

Adalah – The Legal Center for Arab Minority Rights in Israel and Al-Marsad Arab Human Rights Centre in the Golan Heights sent a letter to senior Israeli officials on 30 July 2017 demanding that they evacuate Israeli military outposts and minefields from the occupied Syrian town of Majdal Shams located on the Golan Heights.
The military outposts, constructed after Israel occupied the Golan Heights in 1967, are situated on dozens of acres belonging to Majdal Shams residents. The outposts, and the associated minefields which surround the outposts and the town itself, are located directly adjacent to residential homes and the some 11,000 civilians who live there (Israeli Central Bureau of Statistics, 2015).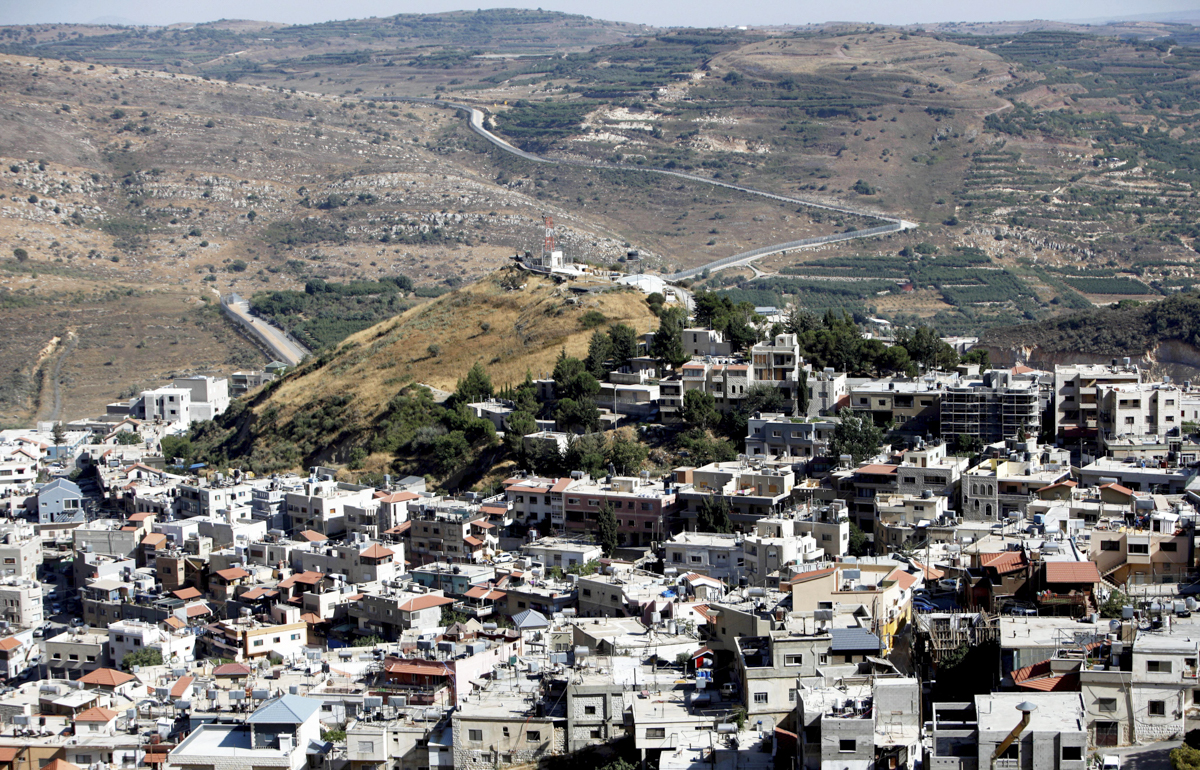 An Israeli military outpost situated amidst civilian homes in the Golan Heights town of Majdal Shams.
Adalah and Al-Marsad sent their letter to Israeli Defense Minister Avigdor Lieberman, Military Advocate General Sharon Ofek, and head of the Israeli military's Northern Command Yoel Strick.
Adalah Attorney Muna Haddad and Al-Marsad Attorney Karama Abu Saleh wrote in their letter that the military outposts and minefields present a direct danger to Majdal Shams residents.
"Their very presence near the town endangers the lives of town residents in an illegal manner… Fields of anti-personnel landmines have been placed around the outposts and the town itself. These mines pose a most serious danger to the residents as they cannot be easily identified, they drift beyond the [marked] minefields particularly during the winter months, and move towards the town's homes and orchards. Some of the mines even explode as a result of summer heat. Over the years, many village residents – particularly children – have tragically been harmed by exploding mines."
Israel's failure to remove the minefields and the military outposts is a violation of international humanitarian law, Adalah and Al-Marsad said.
"Israel's actions on the Golan Heights are subject to international humanitarian law. Article 43 of the Hague Convention stipulates that an occupying force's primary factor when considering any action is its benefit to the local civilian population, and [this article] obligates protection of the residents of the occupied territory. Article 46 further requires protection of the lives and property of the local population."
Al-Marsad appealed more than four years ago to the Israeli Defense Ministry which committed at that time to removing mines from the area. In 2013, Israel began to clear mines on Al Rihani hill in Majdal Shams but stopped before the work was completed and Israeli authorities have since failed to respond to further appeals from Al-Marsad.
Israel has occupied Majdal Shams since 1967. In 1981, Israel annexed the village, along with the other small Syrian villages of Ein Qiniyye, Mas'ade and Buq'ata, under the Golan Heights Law. Most inhabitants of Majdal Shams hold permanency residency status in Israel, as do Palestinians residents of East Jerusalem.
Since 1967, it is estimated that at least 69 civilian residents of the Golan Heights have been wounded by land mines. Among these, 18 died, half of whom were children. Israeli civilians, Israeli soldiers and tourists have also been victims of landmines, however, accurate figures on casualties are difficult to obtain.
More than 9,000 acres – the equivalent of over 6,000 soccer fields – are suspected to be mined in the Golan Heights, distributed over around 2,000 minefields that vary greatly in size. The mines are mostly found in grazing areas, agricultural land, along the ceasefire border, and in nature reserves. There are two mine fields within Majdal Shams itself.
Adalah and Al-Marsad demand the immediate removal of Israeli military outposts and minefields from Majdal Shams and its lands.
CLICK HERE for more details from Al-Marsad on land mines in the Golan Heights [English]
CLICK HERE to read Adalah and Al-Marsad's letter [Hebrew]
(Thumbnail photo courtesy of Aocrane/Flickr Creative Commons)
Related Press Releases: