Adalah to Israeli Finance Minister: Reject request to expand ultra-orthodox Harish planning area in Arab Wadi Ara
Expansion would add 640 acres to the Israeli Jewish town, a move that would come at the expense of surrounding Arab communities and limit their future growth.
Adalah – The Legal Center for Arab Minority Rights in Israel sent a letter to Israeli Finance Minister Moshe Kahlon asking that he reject a Ministry of Construction and Housing request to expand the planning area of the Jewish town of Harish in the Triangle area of Israel at the expense of the lands of adjacent Arab villages.
The letter sent on 23 October 2017 on behalf of the Public Committee Against Home Demolitions and Land Expropriations in Wadi Ara – a region overwhelming populated by Palestinian Arab citizens of Israel - protests the plan to add 2,589 dunams (approx. 640 acres) to Harish. Such a move would affect the future growth of surrounding Arab villages.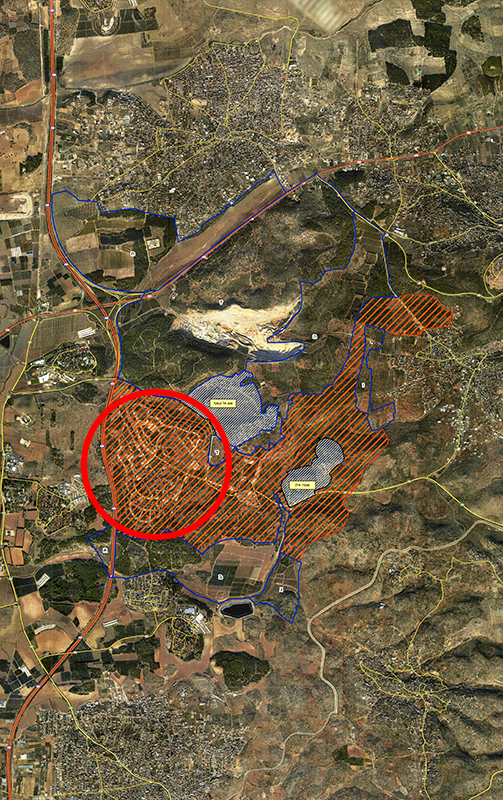 Map illustrating the current inhabited area of Harish (circled in red) and request land expansion (outlined in blue) in relation to neighboring Arab communities. (Map courtesy of Israeli Ministry of Construction and Housing)
Adalah also demanded that Kahlon establish a new consultation procedure and refrain from making any decisions on the request until the interior minister and his office's investigative boundaries committee, charged with researching the implications of the expansion of Harish's jurisdiction, reach their conclusions.
Adalah Attorney Myssana Morany noted in her letter that the boundaries committee is now considering requests to alter the boundaries of a number of local authorities in the area, including Harish itself (pop. 969 in 2015).
Given these circumstances, it would be unreasonable to give a green light to the expansion of the Harish planning area while the boundaries committee is still considering the issue, particularly given its impact on the requests of Arab local authorities in the region.
In the letter to Kahlon, Attorney Morany wrote: "A decision on the alteration of the planning area is liable to restrict the consideration of the boundaries committee via the establishment of new facts on the ground, thus damaging the committee's professional independence and the available underlying facts."
Adalah also stressed that the expansion of the planning area violates Israel's Planning and Building Law.
Attorney Morany further noted serious flaws in the consultation procedure: The national Sub-Committee for Basic Planning Issues' decision to recommend that the finance minister allow the alteration of the Harish planning area was made less than 24 hours after the District Committee had made the opposite decision. The national sub-committee gave no consideration to the professional opinion of the district committee.
Related Press Releases: