Israeli Supreme Court issues order in MK Jabareen Jewish Voice for Peace travel case
Court orders Knesset to provide survey of countries' restrictions on parliamentarians' travel; precedent: first time Ethics Code used to overtly restrict MK's freedom of expression & movement.
The Israeli Supreme Court convened this morning, Monday, 4 June 2018, for a hearing on a petition against the Knesset Ethics Committee decision barring Knesset Member Dr. Yousef Jabareen from participating in a series of lectures in the United States sponsored by Jewish Voice for Peace (JVP) due to the organization's support for a boycott of Israel.
Adalah – The Legal Center for Arab Minority Rights in Israel and MK Jabareen (Joint List) filed the joint petition on 22 April 2018 against the committee's 13 March decision.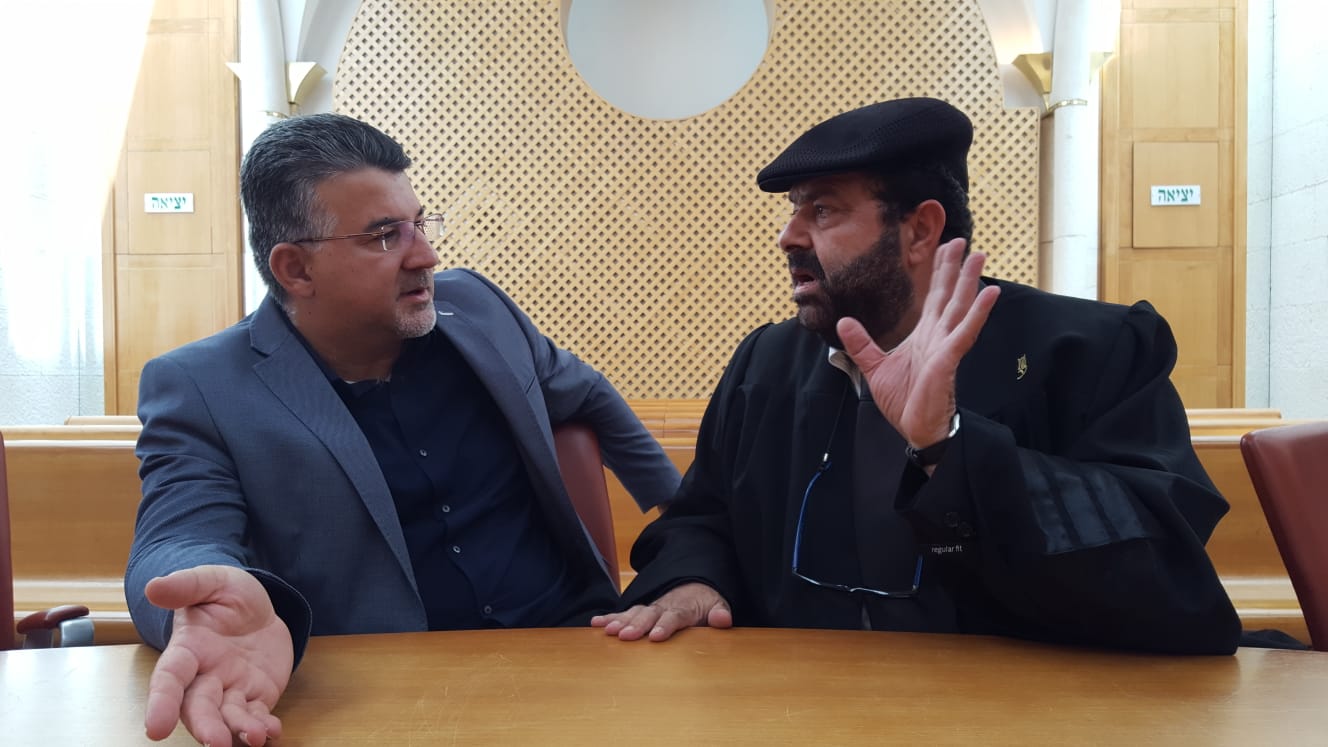 Knesset Member Dr. Yousef Jabareen (left) with Adalah General Director Hassan Jabareen in the Israeli Supreme Court in Jerusalem on Monday, 4 June 2018. (Photo by Mati Milstein)
This decision was the first implementation of a new amendment to the Knesset's Code of Ethics that gives the ethics committee the power to forbid a Knesset member from traveling overseas if funding for the trip is provided by a body that knowingly publishes a call to boycott the State of Israel or participates in such a boycott.
Adalah Attorneys Hassan Jabareen and Myssana Morany, who represented MK Jabareen today in court, stressed that the amendment to the Code of Ethics constitutes an exceptional precedent: this is the first time that the code is used – with no authority – to overtly restrict the political freedom of expression and movement of a member of Knesset.
Further, such a restriction, imposed only upon those with a particular political position, is lacking proper purpose and disproportionately violates the right to freedom of expression in a preemptive manner – despite the fact that the positions in question have not even been expressed by MK Jabareen.
At the conclusion of today's hearing, the Israeli Supreme Court ordered the Knesset Ethics Committee to submit a comparative study within 45 days that examines restrictions that may have been implemented by other parliaments around the world regarding parliamentarians' travel funded by external sources.
MK Yousef Jabareen responded to the Supreme Court's order:
The Knesset's representative admitted that this restriction is intended to serve as part of a government system designed to confront the boycott of Israel, which the government believes is damaging to the state. This means that the Knesset Ethics Committee has become a tool in the hands of the right-wing government and an instrument meant to silence the voices of critical MKs. We will not yield to the dictates of a far right government."
Adalah General Director Hassan Jabareen:
"This new amendment – aimed specifically at stifling Arab members of Knesset – directly harms political freedom of expression and the right to free movement for Knesset members. It prevents Arab MKs from carrying out their duties as the elected representatives of their constituency. The Knesset has no authority to intervene in the legitimate political activities of an MK, especially when these activities involve pure political speech. The visit of an elected, sitting MK to the United States to discuss the rights of the Palestinian minority in Israel falls far beyond the power of the Knesset to regulate."
Jewish Voice for Peace Executive Director Rebecca Vilkomerson also responded to the order:
"It should not have taken the court any time at all to overturn the Knesset's un-democratic restrictions on MK Dr. Yousef Jabareen's travel. There is no doubt that in a truly democratic country this law would never have been passed."
Related Press Releases: