Israel's Jewish Nation-State Law
In 2018, the Israeli parliament approved the Jewish Nation-State Basic Law that enshrines Jewish supremacy over Palestinian citizens. The law has distinct apartheid characteristics and requires racist acts as a constitutional value.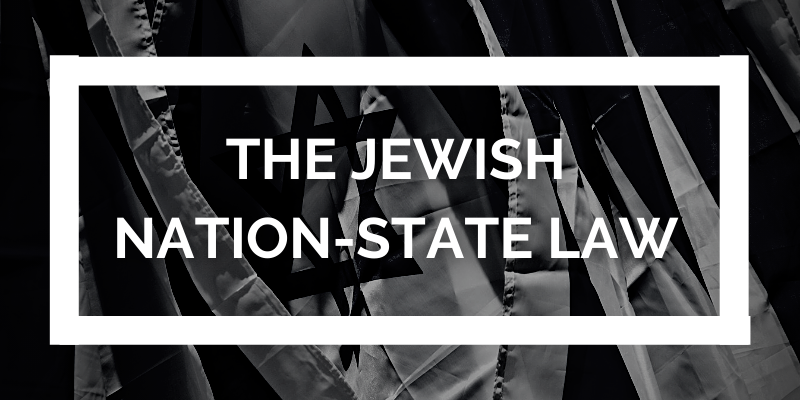 The Israeli Knesset voted on 19 July 2018 by a margin of 62 to 55 to approve the Jewish Nation-State Basic Law, constitutionally enshrining Jewish supremacy and the identity of the State of Israel as the nation-state of the Jewish people.
This law – which has distinct apartheid characteristics – guarantees the ethnic-religious character of Israel as exclusively Jewish and entrenches the privileges enjoyed by Jewish citizens, while simultaneously anchoring discrimination against Palestinian citizens and legitimizing exclusion, racism, and systemic inequality.
Adalah – The Legal Center for Arab Minority Rights in Israel filed a petition against the Jewish Nation-State Basic Law on 7 August 2018 at the Israeli Supreme Court in Jerusalem. The petition was submitted on behalf of the Arab political leadership in Israel – the High Follow-Up Committee for Arab Citizens of Israel, the National Committee of Arab Mayors, the Joint List parliamentary faction, and in the name of Adalah – against the Knesset. On 22 December 2020, The Israeli Supreme Court held a hearing on 15 petitions against the law, and on 8 July 2021, the Israeli Supreme Court rejected the petitions in a 10 to 1 decision. The only dissenting opinion was issued by the only Arab justice on the court, Justice Kara.
Israel's Jewish Nation-State Law is the "law of laws", capable of overriding any ordinary legislation. It alters the constitutional framework of the state, making changes that violate established international norms: there is no democratic constitution in the world that designates the constitutional identity of the state on racial grounds, as serving one ethnic group.
Palestinian members of Knesset protesting Israel's Jewish Nation-State Law on the day of voting in 2018. (Screengrab: Knesset Channel)
While Israel's state policy of discrimination against Palestinians has existed since 1948, there is a major difference between discriminatory practices and the codification of these policies in a new Basic Law with constitutional status. The law lends discriminatory policies against Palestinians greater legitimacy and requires the executive, judiciary and other authorities to implement them under the rule of law.
Despite the foundational nature and far-reaching scope of the Jewish Nation-State Law, however, it contains no commitment to democratic norms, or a guarantee of the right to equality, or a prohibition of discrimination on the basis of race, nationality, ethnicity or any other category for all people living under Israeli sovereignty.
This law denies the collective rights of Palestinian citizens of Israel, who comprise 1.5 million people or 20 percent of the population Israel and constitute a homeland minority group under international human rights law.

Click below to read the full text of Israel's Jewish Nation-State Law

Click below to read Adalah's Supreme Court petition against the Jewish Nation-State Law

Click below to read Adalah's short summary of the law

Click below to read Adalah's position paper on the law

Click below to read Adalah's position paper "Illegality of Jewish Nation-State Law's Article 7: Promoting Jewish Settlement as a National Value"
CLICK HERE to read the full transcript of the 22 December 2020 Israeli Supreme Court hearing on petitions against Israel's Jewish Nation-State Law [Hebrew]
CLICK HERE or above for the full video of the hearing [Hebrew]
CLICK HERE or above for a video excerpt of Adalah General Director Hassan Jabareen's response to the state during the hearing [Hebrew]



Click below to read the Israeli attorney general's press release regarding his response to the Jewish Nation-State Law, 3 December 2020
Click below for a full list and description of all 15 petitions filed to the Israeli Supreme Court against the Jewish Nation-State Law
Read more: