Israeli Supreme Court rejects Adalah, rights groups petition demanding COVID-19 isolation options for Bedouin women
Justices insist petition is too 'theoretical' for them to consider; Adalah: people are facing immediate danger to life and health.
The Israeli Supreme Court on 11 June 2020 rejected the petition that Adalah – The Legal Center for Arab Minority Rights in Israel filed together with nearly a dozen women's and Bedouin rights groups demanding suitable isolation conditions for female Palestinian Bedouin citizens of Israel suffering from COVID-19 in unrecognized villages in the country's southern Naqab (Negev) region.
The court dismissed the petition on the grounds that the petitioners' concern was too theoretical in nature.
While the Israeli Supreme Court is certainly fully aware that the concerns highlighted by the petition could imminently devolve into a dire crisis, this fact was nevertheless not sufficient grounds for the justices to consider the petition or even to hold a hearing. They demanded that, amongst the petitioners, there must be included a woman already facing this situation and seeking this remedy.
Adalah maintains that the petition cannot be considered "theoretical" because:
It demands a very concrete, practical solution;
It does not deal with a legal question or a question of principles, but rather with the immediate needs of a distinct sub-group of people whose rights are being violated and who are facing danger to life and health.

Particularly in the midst of a global pandemic, such judicial logic is nefarious and runs contrary to the logic of preventive medicine. This case is comparable to a situation in which civilians are demanding that state authorities provide them with bomb shelters for community protection and the state responds: When the bombs start falling on you, we will build bomb shelters for you.
Furthermore, Israeli authorities possess no data or statistics on the extent and impact of COVID-19 in unrecognized Bedouin villages in the Naqab which have been de facto abandoned as no local authority is responsible for their welfare.
ORIGINAL PRESS RELEASE [11 June 2020]:
Adalah, together with nearly a dozen women's and Bedouin rights organizations, has filed a petition to the Israeli Supreme Court demanding suitable isolation conditions for female Palestinian Bedouin citizens of Israel suffering from COVID-19 in unrecognized villages in the country's southern Naqab (Negev) region.
Adalah Attorney Myssana Morany filed the petition on 21 May 2020 on behalf of eight women's rights groups, the Regional Council for the Unrecognized Villages in the Naqab, the Negev Coexistence Forum, and the Arab Center for Alternative Planning against the Israeli interior and health ministries and other Israeli state authorities, calling on them to comply with Health Ministry recommendations during the coronavirus pandemic.
The petitioners asked for temporary isolation buildings to be placed in two unrecognized villages: Al Zarnouq, with about 5,000 residents, and Al Za'aroura, with about 2,600 residents, and a plan to meet the needs of other unrecognized villages, home to more than 70,000 additional people.
Adalah argued that:
The women do not have the conditions for isolation in their homes;
Social norms would prevent the women from staying in hotels outside their villages, as the state suggested;
There are no suitable options for isolation in their villages.
Without such isolation buildings, the women and their families remain without protection against the spread of the virus.
The failure of Israeli authorities to provide suitable isolation centers violates the women's constitutional rights to the life and health. Statutory law imposes an obligation on the state to provide preventive health services equally, which in this case mandates that special measures be taken to meet the needs of this distinct sub-group.
The petition included affidavits from two experts: Dr. Rawia Aburabia regarding the rights of Bedouin women and social worker Lyn Hawari who surveyed 67 women from the concerned villages in order to determine their needs.
Dr. Rawia Aburabia wrote in her affidavit:
"Bedouin women suffer from the restrictions imposed upon them by a patriarchal tribal society in the name of culture, tradition and religion – which in practice grant supremacy to men. These restrictions apply to all walks of life and limit women's liberty and freedom, even on issues related to their bodies and health … This is the reality prevalent in all Bedouin society …These social restrictions mentioned affect, amongst other things, a woman's ability to leave her village, and sometimes even her house, and [can impact upon the permitted] length of her journey".
Social worker Lyn Hawari wrote in her affidavit:
"From my acquaintance with the reality in the unrecognized villages in general, any trip out of the village – even to the nearest locality – is not an easy matter. Such a trip requires the availability of vehicles and escort of a man from one's immediate family. Also, the journey itself is not easy in light of fact that the roads are unfinished and there are no shuttles connecting the villages and the main roads".
Case Citation: HCJ 3301/20, Adalah et. al v. Ministry of Interior et al (case pending)
CLICK HERE to read the petition [Hebrew]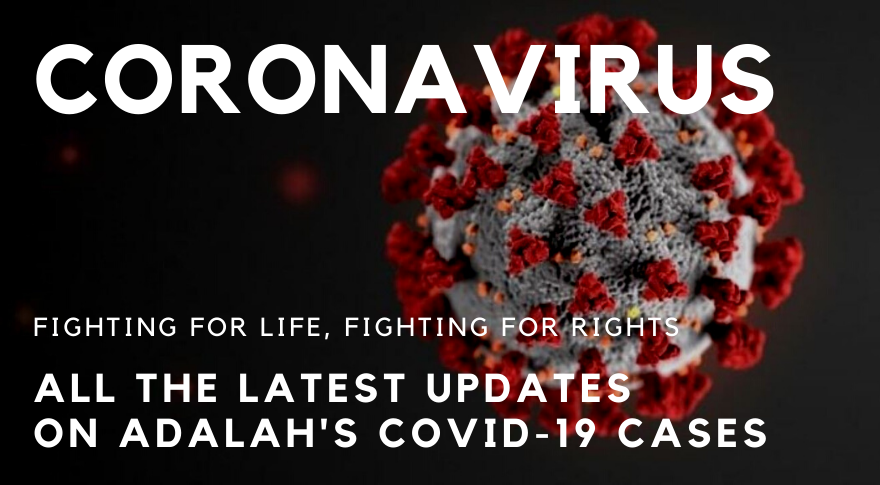 (Photo by Mati Milstein)

Read more: