Israel's plan to distribute computers too little, too late for 150,000 Arab schoolkids stuck at home due to COVID-19
150,000 Arab students in Israel lacking computers, electricity, or internet access are unable to connect to online remote-learning solutions and cannot secure their basic right to education.
Adalah – The Legal Center for Arab Minority Rights in Israel has sent a series of letters to Israeli education and communications authorities demanding they provide computers and internet access so that some 150,000 Palestinian Arab schoolchildren stuck at home due to COVID-19 are able to connect to online remote learning systems together with their peers.
The two letters were sent last week to the director generals of Israel's education and communications ministries.
In the letter sent on 13 October 2020, prepared by Adalah on behalf of the Follow-Up Committee on Arab Education (FUCAE) and parents' committees, Adalah Attorney Sawsan Zaher clarified that the number of computers Israel's Education Ministry had promised to provide to Palestinian Arab schoolchildren so that they might connect to remote-learning solutions during this academic year does not meet the needs or compensate for the shortfall in Arab schools.
Tens of thousands of children still remain without computers or access to remote education.
Surveys conducted this past April 2020 by the FUCAE in 50 Arab municipalities around the country indicated that some 75,000 schoolchildren are stuck at home without the basic technological tools necessary for accessing remote-learning programs. This figure does not include another 35 localities that were not included in the survey or Arab communities situated in "mixed" Arab-Jewish cities.
The Palestinian city of Nazareth, for example, located in northern Israel, lacks about 5,000 computers but Israel's Education Ministry has earmarked only 1,800 computers for the city's kids.
Municipality name

Number of missing computers

Number of computers allocated by Israel's Education Ministry

Nazareth

5,000

1,868

Umm al-Fahem

4,000

1,835

Rahat

17,000 (includes kindergartens)

1,000

Qalansawe

1,961

704

Dir al-Assad

810

100

Iblin

800

257

Rameh

232 (Families without home computers)

35

Tuba

350

105

Daburiyya

350

154

Kuseife

6,000

805

Iksal

950

484

Kufr Qara

800

443

Basma

590

313

Mazra'a

125

66

Al-Qasoum

6,592 (Primary)

3,181 (Preparatory & secondary)

1,086

480

Abu Snan

465

240

Jish

200

45

Majd al-Krum

680 (Includes just 80% of students)

420

Ma'ale 'Iron

950

475

Jisr az-Zarqa

1,750

300

Neve Midbar Regional Council

12,000

2,069

Tur'an

200 (Families)

430

Laqiya

6,592

805

Shibli Local Council

150

124

Jatt

200

60

Kaukab Abu al-Hija

350

128

Zarzir

1,390

144

Baqa al-Gharbiyye

2,450

770

Al-Batuf Regional Council

550

210

Mashhad

330

190

Zemer

350

45

Jadeidi-Makr

700 (Not including kindergartens)

100

Kufr Manda

1,800

720

Bu'eine Nujeidat

750

370

Arrabe

750

370
In addition, another 50,000 Bedouin schoolchildren living in unrecognized villages in the Naqab (Negev) region also lack computers as well as basic infrastructure such as electricity and internet access.
"Between 140,000 and 150,000 Arab students in Israel cannot secure their basic right to education," Adalah Attorney Sawsan Zaher wrote in the letter.
Adalah stressed in its letter that the number of computers distributed to children should be determined by the actual needs on the ground rather than on unbased and unrealistic estimates.
Adalah's second letter of the same date, sent also on behalf of the Regional Council for the Unrecognized Villages in the Naqab, called on Israel's education and communications officials to immediately provide internet access in unrecognized Palestinian Bedouin villages in the Naqab – whether via permanent infrastructure, the distribution of mobile routers, or any other technological alternative – in order to ensure that every schoolchild living in these villages is able to access distance learning solutions. Some 26,000 Bedouin schoolchildren are impacted by the lack of internet access in unrecognized villages.
In April 2020, Adalah had submitted a petition to the Israeli Supreme Court demanding that the Israeli Education Ministry immediately connect Bedouin students in the Naqab to the internet, and/or provide them with alternate means to connect to distance-learning systems.
Adalah Attorney Sawsan Zaher commented:
"Israel's program violates students' basic right to education and marks a continuation of the institutionalized discrimination against Arab society and the state policy of marginalizing and neglecting its basic needs. This blatant disregard of the needs of Arab pupils will widen social and economic gaps between Jewish and Arab citizens. Israel's Education Ministry has failed to offer any solution for schoolchildren in the current academic year, leaving those unable to connect to remote-learning systems in danger of falling far behind."
Follow-up Committee on Arab Education (FUCAE) Director Dr. Sharaf Hassan commented:
"We are employing all means at our disposal to pressure the Israeli government to meet the needs of our students and schools, and we are now moving forward on a legal tack. The Education Ministry did acknowledge in August, in response to our data, the failure of distance-education programs in the Arab community and it did launch a plan to supply computers and to outfit schools for the new reality. Unfortunately, however, these plans are utterly insufficient and do not fill the gaps. Even the computers that the ministry did promise will be delivered only very late in the school year."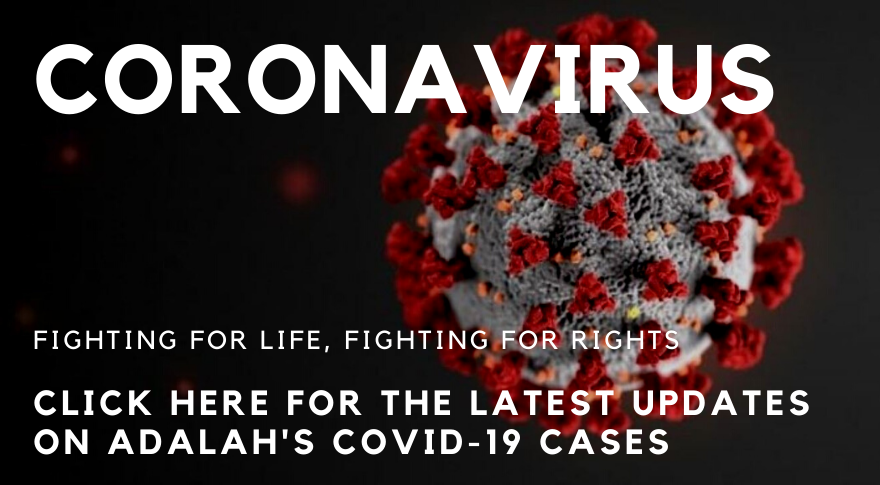 Read more: