Adalah demands Israeli police refrain from using force against demonstrators during tomorrow's Umm al-Fahm protest
As Adalah team gathers testimonies and evidence in preparation for formal complaint to Police Investigations Department, grim picture emerges of police's suspected illegal orders, excessive use of force and deadly weapons during last week's protest.
In anticipation of the mass demonstration planned by Palestinian citizens for tomorrow Friday, 5 March 2021, in the town of Umm al-Fahm, Adalah – The Legal Center for Arab Minority Rights in Israel sent an urgent letter to Israel's attorney general and police commissioner calling on them ensure police forces refrain from dispersing the protest and from using excessive force liable to harm the lives and well-being of participants.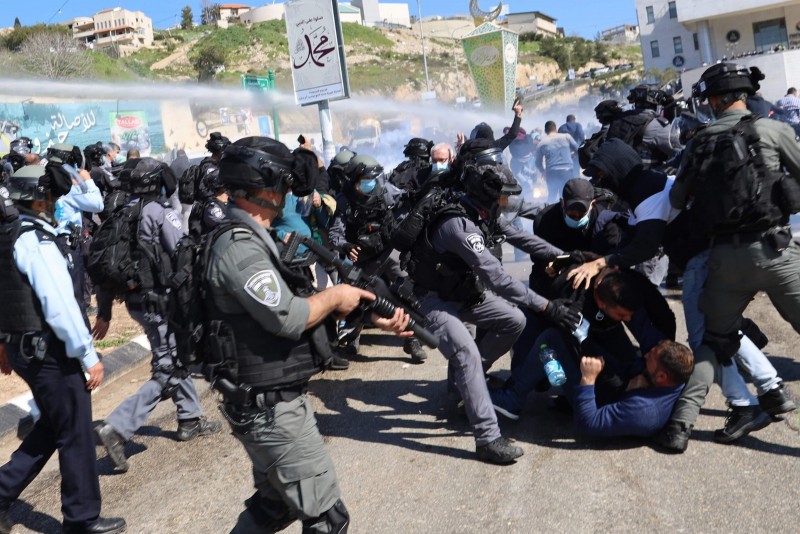 Israeli police operating during Umm al-Fahm protest on Friday, 26 February 2021 (Handout photo)
Today's demand was authored by Adalah Attorney Wesam Sharaf in the wake of last Friday's police violence at an Umm al-Fahm protest that left dozens of participants wounded, 40 of whom required medical treatment.
One man seriously wounded when he was hit in the head by a projectile last Friday remains in Haifa's Rambam Hospital following life-saving surgery.
This past Monday, the Israeli Justice Ministry's Police Investigations Department (DIP) responded to Adalah's demand to investigate the police violence in Umm al-Fahm and announced that it would open a probe into the incidents.
Over the course of this week, Adalah's legal team has worked to gather evidence and testimonies in preparation for filing a formal complaint with the PID. These materials make clear that Israeli police used extreme, life-threatening tactics and weapons – without any violence on the part of protest participants.
Adalah attorneys also suspect that senior Israeli police commanders issued illegal orders to officers on the scene.
Adalah Attorney Wesam Sharaf commented:
"Adalah must once again remind Israeli police that Palestinian citizens have the constitutional right to freedom of expression and protest, and that officers are obligated to protect participants and allow them to exercise their right to protest legitimately. Police must not only refrain dispersing the demonstration and attacking participants, but also ensure that demonstrators can travel freely to Umm al-Fahm from across the country to participate in the event."
CLICK HERE to read the letter [Hebrew]
Read more: