Israeli Supreme Court rejects Adalah, ACRI petitions against Major Coronavirus Law
NGOs: 'Law establishes undemocratic norms'; court rules that ban on participation in protests further than 1,000 meters from one's residence violates freedom of expression, does not pass constitutional test.
The Israeli Supreme Court rejected on 4 April 2021 the petitions filed by Adalah – The Legal Center for Arab Minority Rights in Israel and the Association for Civil Rights in Israel (ACRI) against Israel's "Major Coronavirus Law".
Adalah Israel filed the petition to the Israeli Supreme Court, in its own name and on behalf of ACRI, against the Major Coronavirus Law on 9 September 2020.
The "Law of Special Powers for Dealing with the New Corona Virus (Temporary Order) 5720-2020", known both as the "Special Powers Law" and the "Major Coronavirus Law", which was enacted by the Israeli Knesset on 23 July 2020, authorizes the Israeli government to declare a COVID-19-related state of emergency and to employ sweeping powers that may infringe upon and restrict individual rights and liberties of citizens without parliamentary oversight.
CLICK HERE to learn more about the petition
Israeli Supreme Court President Esther Hayut ruled:
The Major Coronavirus Law "is a specific arrangement in primary legislation designed to authorize the government to act to address a specific medical emergency. It is a detailed arrangement enacted as a temporary provision. This arrangement, in its entirety and the circumstances that led to its enactment, does not in itself cause a disproportionate violation of the rights which may justify its repeal."
Nevertheless, the court ruled that the ban against participation in demonstrations further than 1,000 meters from one's place of residence – in force for the first two weeks of October 2020 – did not pass the constitutional test due to its severe violation of the right to freedom of expression.
There court therefore determined that fines imposed within the framework of this ban are void, and all fines paid shall be reimbursed by the state.
Adalah and ACRI responded to the Israeli Supreme Court ruling:
"
We welcome the Israeli Supreme Court ruling that lifted restrictions on the right to protest that had been imposed by the Major Coronavirus Law. At the same time, we express serious concerns about the court's approval of the law as a whole, and about the undemocratic norms it sets, especially with regard to limitations on the legislature's authority. A situation in which the Knesset is authorized only to retroactively approve or reject regulations
already enacted by the government
jeopardizes the rule of law. We see a danger in the limited way in which the Supreme Court has, over the past year, imposed limits upon the government – which is violating human rights precisely at a time when the system of checks and balances is of paramount importance
."
Case Citation: HCJ 6312/20, Adalah v. The Knesset
CLICK HERE to read the Israeli Supreme Court ruling [Hebrew]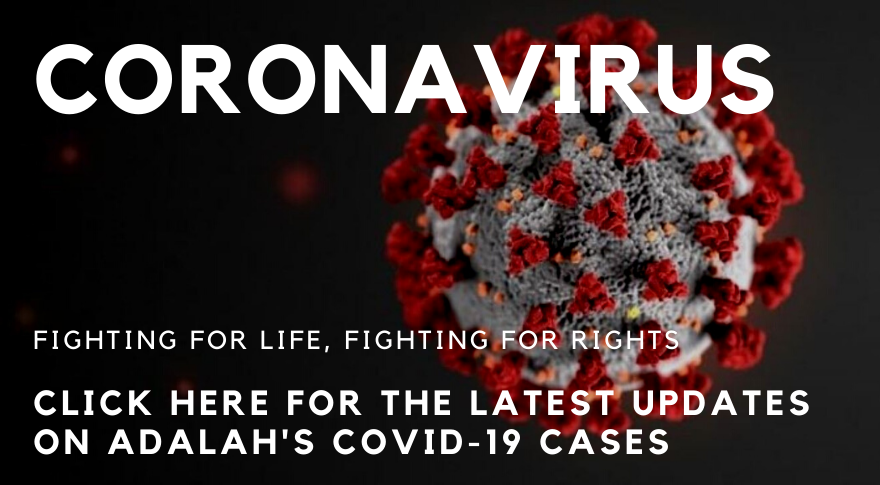 Related Press Releases:
Read more: