Israel's Supreme Court refuses to rule on Palestinian prisoners' right to phone calls with their families when COVID-19 prevents visits
However, following petition of human rights organizations, the Israel Prison Service will grant them a one-time holiday phone call.
Following an Israeli Supreme Court petition lead by the Israeli organization HaMoked: Center for the Defense of the Individual, the Israel Prison Service announced that it will allow Palestinian prisoners and detainees to make a one-time phone call to their families during the month of Ramadan. The decision does not include prisoners from the Gaza Strip affiliated with Hamas, who are also denied family visits.
The petition was filed by eight Israeli and Palestinian human rights organizations: HaMoked, Addameer Prisoner Support and Human Rights Association, Al Mezan Center for Human Rights, Physicians for Human Rights-Israel, the Association of Civil Rights in Israel, the Public Committee Against Torture in Israel, and Parents Against Child Detention.
The petition demanded that Palestinians classified by Israeli as "security prisoners", and detainees, be allowed to maintain telephone contact with their families, given the prolonged cessation of prisons visits due to the COVID-19 pandemic. The original petition also demanded a mechanism for regular family contact for minor detainees – a demand that has been partially met by the IPS allowing twice-monthly phone calls for minors to their parents.
At the hearing, the Supreme Court refused to address the principled issue of the right of all "security" inmates to have regular contact with their families during the pandemic. This in spite of the prevention of all family visits from the West Bank and the blanket prohibition of phone calls for all "security" prisoners – in contrast with criminal prisoners who have regular, even daily access to phone calls. The judges were of the view that the one-time Ramadan phone call and the granting of phone calls to specialized populations of prisoners (minors, women and those hospitalized) was sufficient at this stage, given what they termed "the dynamic situation". In addition, the judges noted that prisoners interested in additional phone calls could request them, and file an individual prisoner petition if they were refused. In this light, the judges compelled the petitioners to withdraw the petition.
HaMoked Executive Director Jessica Montell commented:
"A full year into the pandemic, with rising COVID-19 cases in the West Bank and Gaza Strip, and the Israel Prison Service has failed to ensure regular contact between Palestinian prisoners and their families. Most prisoners have not had contact with their families for many long months, so we are disappointed that the Court refused to address the principle involved. It is unreasonable to put the burden on individual prisoners who will now each have to file a petition to demand their rights to family life and humane treatment."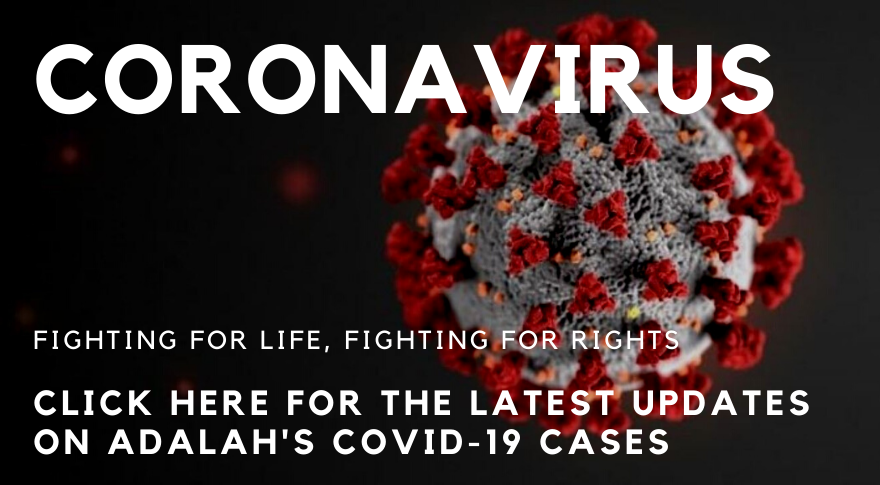 Read more: