Bedouin children in southern Israel have no school bus stops, posing danger to students' lives
Adalah: State must provide school bus stops for Bedouin children in Naqab (Negev); area Jewish kids don't face such safety hazards, indicating blatant inequality in enforcement of law.
Adalah – The Legal Center for Arab Minority Rights in Israel filed a petition in Be'er Sheva District Court on 25 January 2017 demanding that the Israeli Ministry of Education and regional councils build school bus stops for Bedouin children from six villages in Israel's southern Naqab (Negev) desert region.
"Every day hundreds of students gather at informal and unmarked spots, sidewalks, and lean-tos on the shoulders of main highways. The lack of school bus stops and other safety requirements constitutes a danger to the students' life and limb," Adalah Attorney Muna Haddad wrote in the petition.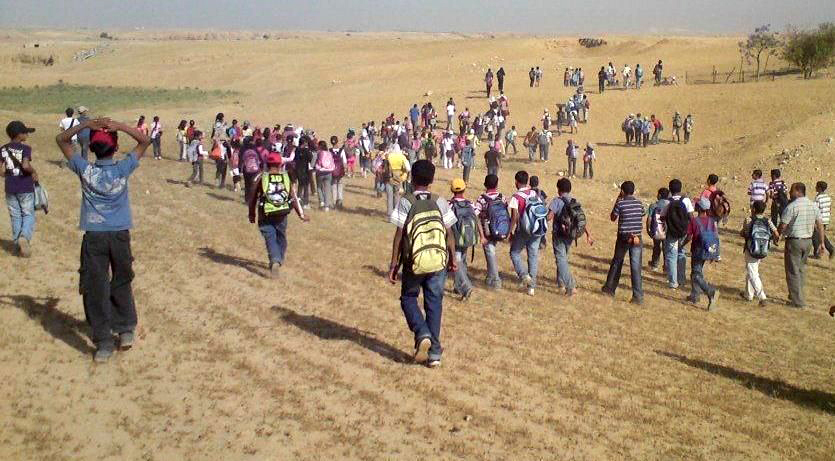 Bedouin children walk to school in the Naqab desert region. (Photo by Adalah)
The petition, filed on behalf of Bedouin residents and the parents of children studying in Abu Tlul, Abu Qrinat, Alzarnouk, Wadi al-Na'am, Umm Batin, and Kuhleh, was addressed to the Israeli Education Ministry and the Neve Midbar and Al-Qasoum Regional Councils.
Adalah also demanded that authorities act to repair safety issues such as missing protective guardrails and missing signs, and to establish designated and marked crosswalks.
Adalah stressed that while state authorities are responsible for building bus stops, the Education Ministry and local councils have failed to fulfill this obligation.
"Contrary to directives from the Education Ministry director general concerning educational facility safety standards, the roads along which schoolchildren gather in the mornings and afternoons are unpaved and covered with rocks and other obstacles, posing a danger each and every time they leave home or school for bus pick-up locations, and while they are waiting for their buses."
Adalah also emphasized that the Neve Midbar and Al-Qasoum Regional Councils, and the Education Ministry, are violating Transportation Ministry regulations:
"In contravention of Transportation Ministry safety regulations, in areas adjacent to schools under the responsibility of the respondents, there are no proper bus waiting spots, no areas for students to wait protected from the dangers of vehicular traffic, no warning or directional signage, nor organization or supervision of school transport. In practice, the buses pick up and drop off children at any possible location and then make U-turns amongst crowds of schoolchildren in order to return to the main road."
Adalah Attorney Haddad emphasized that disregard of safety regulations constitutes harm to the rule of law and to a child's constitutional right to a safe and adequate education, the right to health and life, and the right to equality in education.
"These conditions do not exist in schools in Jewish communities in the Naqab, where authorities take care to establish proper bus stops and to eliminate safety hazards. The failure to establish proper school bus stops [for the Bedouin community] creates a situation of blatant inequality in the enforcement of the law."
Case Citation: Administrative Petition 59348-01-17, Salman Abu Qrinat and others v. The Ministry of Education and Al-Qasoum and Neve Midbar Regional Councils