Joint embassy briefing: Land and housing rights for Palestinian citizens of Israel
Adalah, Negev Coexistence Forum held briefing held for diplomats in Israel highlighting rights violations faced by Bedouin citizens in the Naqab (Negev).

The Embassy of Switzerland hosted a briefing for diplomats with Adalah – The Legal Center for Arab Minority Rights in Israel and the Negev Coexistence Forum for Civil Equality (NCF) on 13 March 2017 focusing on land and housing rights issues faced by for Palestinian citizens of Israel.
The briefing, held at the Swiss ambassador's residence in Tel Aviv, was attended by almost 40 diplomatic representatives from different countries.
Senior Attorney Suhad Bishara, director of Adalah's Land and Planning Unit, provided an overview of the land and planning laws in Israel, particularly focusing on new legal and developments in the southern Naqab (Negev) desert region and the unrecognized Bedouin village of Umm Al-Hiran as well as new proposed land/housing legislation applicable throughout the country.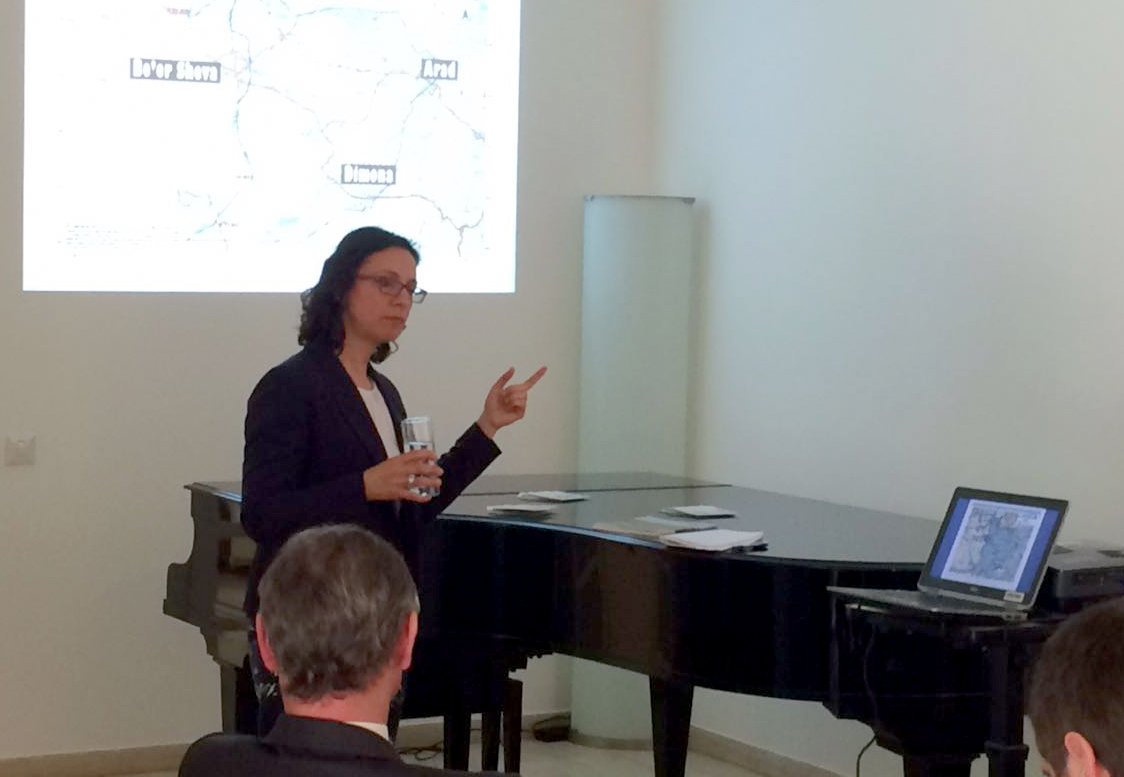 Adalah Senior Attorney Suhad Bishara briefing foreign diplomats in Tel Aviv.
Attorney Bishara focused on the foundations of the Israeli land regime and described the state's fundamental aim to dispossess and forcibly displace 70,000 – 80,000 Palestinian Arab Bedouin citizens of Israel from some 36 unrecognized villages to a segregated, concentrated area in the northern Naqab, in clear violation of their basic rights as citizens of the state of Israel. This state program is detailed in the Israeli government's new plan, known as Prawer II, to forcibly displace and dispossess Palestinian Bedouins in the Naqab.
Bishara also highlighted the case of Umm Al-Hiran and Israeli government efforts to demolish it in order to establish the new Jewish town of Hiran on its ruins. She discussed the implications of the Israeli Supreme Court decisions in 2015 and 2016 regarding Umm al-Hiran and its potential effects on most of the unrecognized Bedouin villages.
Bishara further provided background on the Kaminitz Bill now in legislation, which would expand the use of Israel's administrative powers to implement demolition and eviction orders in Arab communities inside Israel and would increase the severity of financial penalties on homeowners.
NCF Executive Director Haia Noach introduced Israeli state settlement policies in the Naqab and the threats entailed for unrecognized Bedouin villages in this region.
Noach briefly summarized the Israel's reasons for its forced concentration of Bedouin villages and towns in a specific area (known as sayaj). Utilizing a map of the region, she detailed the various impending state plans intended to uproot unrecognized Bedouin villages, including: planned forests, highways, military bases, and newly approved Jewish localities, including the case of Hiran, slated to be built on the site of present-day Umm al-Hiran.
RELATED LINKS:
READ: Adalah's Position Paper on "Prawer II"
READ: The dangerous implications of the Israeli Supreme Court's decision to allow the forced displacement of Atir-Umm al-Hiran for the remaining unrecognized Bedouin villages in the Naqab (Negev)
READ: Adalah's Objections to Discriminatory "Kaminitz Bill" for Harsh Enforcement of Planning & Building Law in Israel