Adalah opposes mandate of Israeli Interior Ministry borders cmte. weighing annexation of West Bank land to settlements
Interior Minister seeks to implement Israeli domestic law on occupied territory, which amounts to a de facto annexation of West Bank land to Israel, in gross violation of international law.
Adalah – The Legal Center for Arab Minority Rights in Israel sent a letter on 9 August 2017 to senior Israeli officials demanding that they cancel or alter the mandate of the Interior Ministry's "borders committee" charged with determining the jurisdictional boundaries of Israeli settlements in the West Bank. The appointment of an Israeli ministerial committee that operates in the Occupied Palestinian Territory (OPT), according to Israeli domestic law, amounts to a de facto annexation of West Bank land to Israel.
The committee, established this past March 2017 by the Interior Ministry's director general, is mandated with evaluating the municipal status and alternations to jurisdictional boundaries of local authorities in Israel. However, this mandate also includes Israeli settlements in the OPT.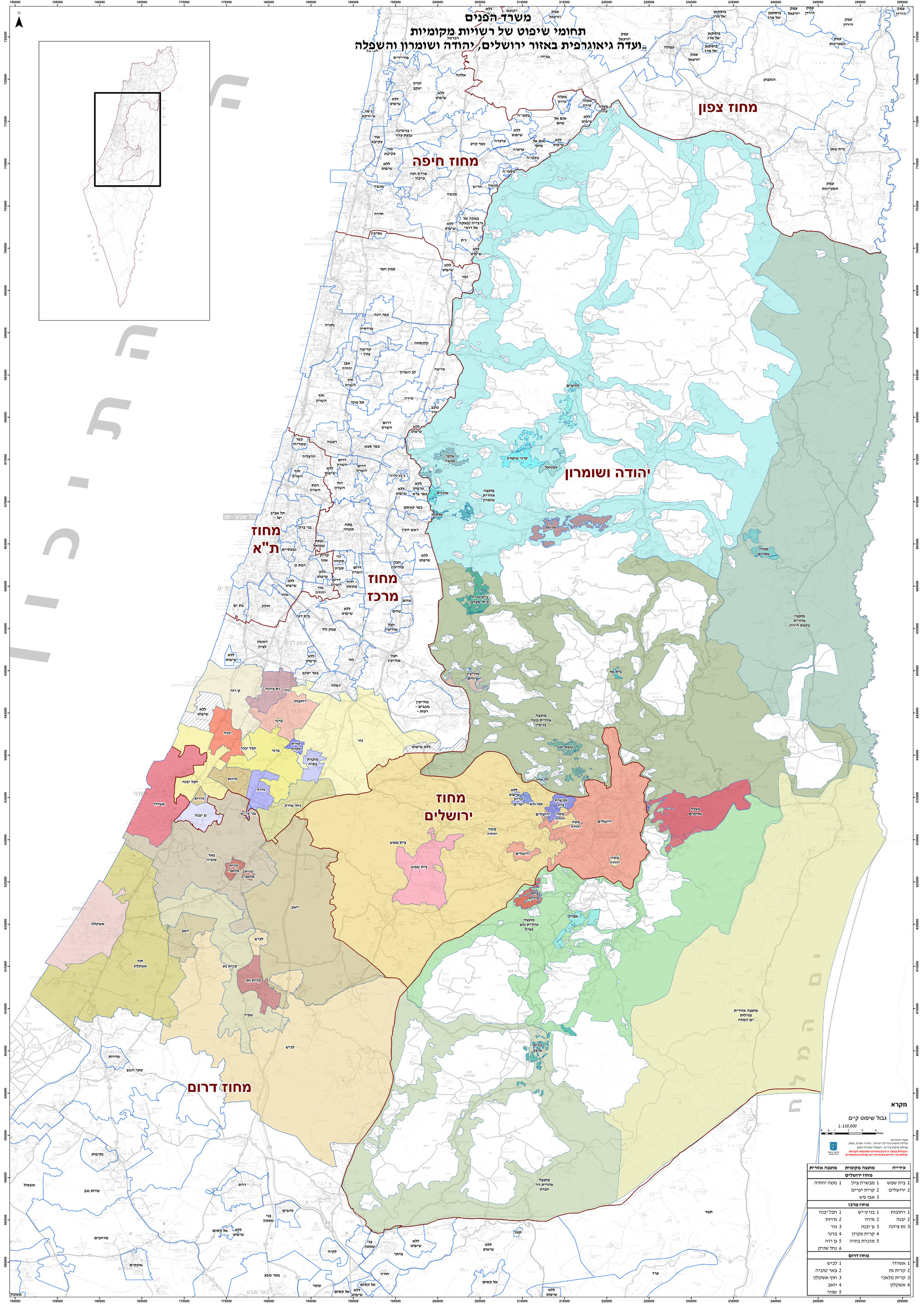 Israeli government map indicating boundaries of local authorities within Israel and in the OPT. (Click map for high-resolution file)
In their letter sent to Interior Ministry Aryeh Deri, Attorney General Avishai Mandelblit, and the Israeli military's Central Command chief Roni Numa, Adalah Attorneys Suhad Bishara and Myssana Morany also demanded that Israel refrain from implementing or authorizing any recommendations made by the committee regarding West Bank settlements.
In the letter, Adalah argues that the committee's mandate gives it the authority to rule on jurisdictional boundaries of West Bank settlements, which violates international law:
"The occupying power is authorized to make use of the public assets it manages – and even the fruits of these assets – in order to fulfill its obligations under the laws of occupation. However, it is not authorized to expand these assets, to transfer ownership of them to others, or to destroy them… There is no doubt that any expansion of the jurisdictional boundaries of local settlement authorities' in the West Bank – like their very establishment to start with – is considered widespread expropriation of property of the protected civilian population, constituting a gross violation of Article 147 of the Fourth Geneva Convention (1949)."
Adalah also stressed that appointing a ministerial committee that operates in the OPT in accordance with Israeli domestic law amounts to the de facto annexation of West Bank land to Israel:
"Some of the lands specified in [the committee's] mandate are located in the territories occupied since 1967 but they are being managed as if they are part of territory of the State of Israel, and as if Israeli domestic law applies to them. This practice therefore constitutes de facto annexation of West Bank territories to the State of Israel. The interior minister, via this mandate, has acquired for himself the authority of Israel's West Bank military commander and is applying municipal and local council ordinances to occupied territories. The interior minister may not apply internal Israeli law to territories in the occupied West Bank territories."
CLICK HERE to read Adalah's letter [Hebrew]
Read more: