Adalah: Proposed 'Jerusalem and its Daughters' law violates international humanitarian law
Law would annex West Bank settlements of Beitar Illit, Ma'ale Adumim, Givat Ze'ev, Gush Etzion, Efrat to Jerusalem, and impose Israeli civilian rule on territory under military occupation.
Adalah – The Legal Center for Arab Minority Rights in Israel has sent a letter to senior Israeli political and legal figures demanding they oppose the proposed "Jerusalem and its Daughters" law, which would annex a ring of West Bank settlements to Israel's Jerusalem municipality and impose Israeli civil law in these occupied territories.
The letter, sent on 29 October 2017 to Israel's Ministerial Committee for Legislation and to Israeli Attorney General Avichai Mandelblit, seeks their opposition to the bill.
The expansion in Jerusalem's jurisdictional territory is intended to include areas that are now under the jurisdiction of Israeli settlements in the West Bank, including the municipalities of Beitar Illit, Ma'ale Adumim, the Givat Ze'ev Local Council, the Gush Etzion Regional Council, and the Efrat Local Council.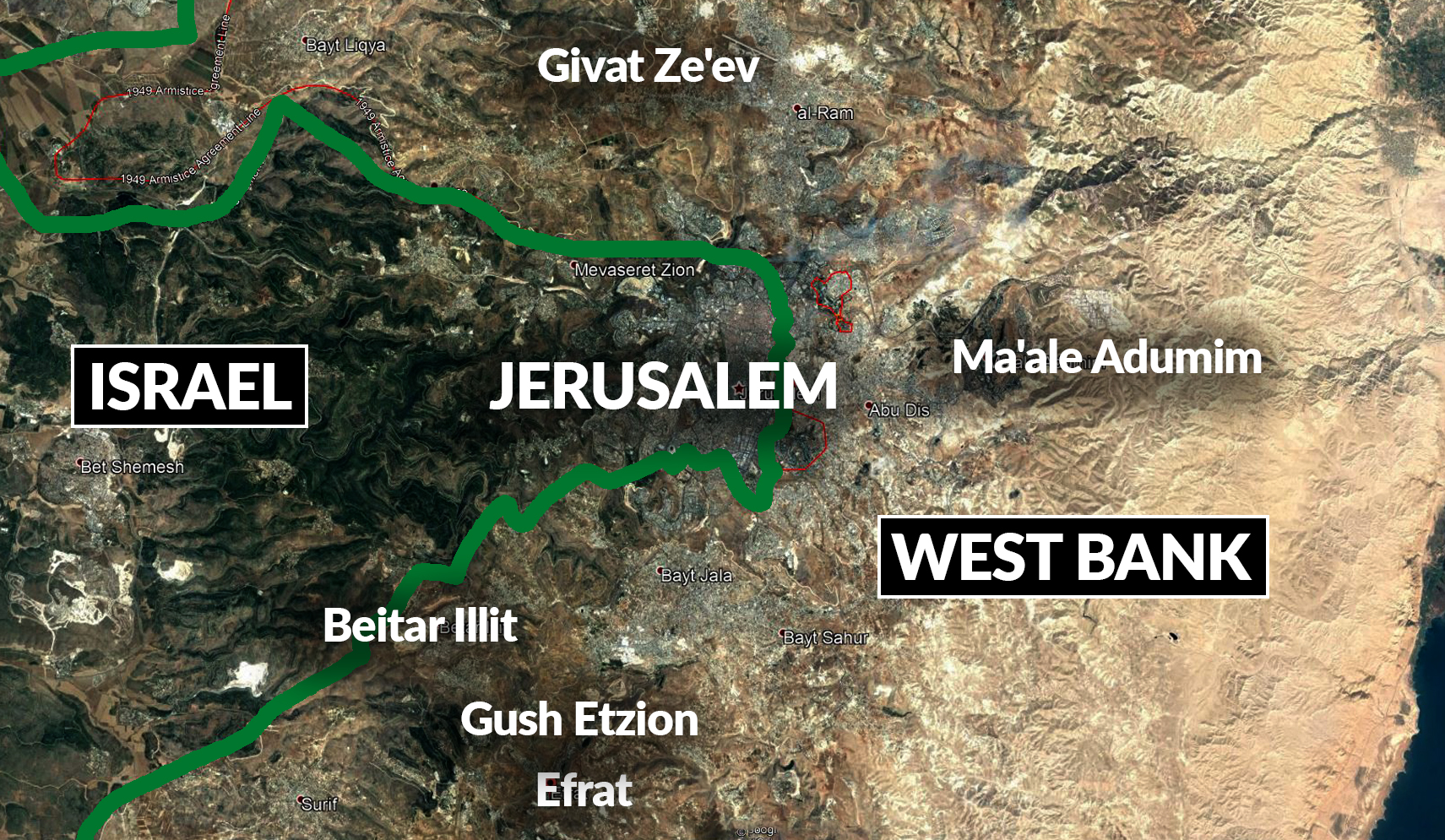 (Google Earth)
In her letter, Adalah Attorney Suhad Bishara stressed that the bill violates international humanitarian law:
This "large-scale confiscation of property belonging to a protected population is a gross violation of the Fourth Geneva Convention. This bill allows the seizure of occupied territory, a change in the designation of this land, and the establishment of new facts on the ground which alter the laws that apply to these areas. It would cut off these areas from the rest of the West Bank, violate the right of Palestinian residents to make full use of their land, and limit freedom of movement and access for Palestinian residents."
Adalah's letter emphasized that the proposed law seeks to install the Israeli civilian legislature as the sovereign power in the occupied West Bank:
"According to international law, sovereignty should remain in the hands of the local population and administration in the hands of a military commander. It is forbidden to violate the integrity of occupied territory and, furthermore, it is forbidden to annex occupied territory and subject it to the civilian rule of an occupying power."
Attorney Bishara noted that a similar action by Israel in 1980 – the annexation of some 75,000 dunams [~18,500 acres] of territory in the occupied West Bank to Israel's Jerusalem municipality – was condemned by the United Nations Security Council. The Security Council found that the Israeli Basic Law: Jerusalem, Capital of Israel violated international law and would not affect the continued applicability of the Fourth Geneva Convention of 1949.
CLICK HERE to read Adalah's letter [Hebrew]