After Adalah petition, Israel to renew school busing for Bedouin preschool kids
Agreement between Education Ministry and local councils allows petitioners' children to return to preschool immediately, provides solution for kids from other unrecognized Bedouin villages.
Dozens of kids from two unrecognized Bedouin villages will be returning to preschool as a result of legal intervention by Adalah – The Legal Center for Arab Minority Rights in Israel.
According to the Be'er Sheva District Court decision of 10 January 2018, issued in response to an Adalah petition, the Israeli Education Ministry and Al Qasoum Regional Council were compelled to reach an agreement that would allow a renewal of transport for preschool-aged children from unrecognized Bedouin villages in the Naqab (Negev) desert region.
In response to an earlier petition filed by Adalah, the Israeli Education Ministry had committed before the court in February 2017 to provide transportation for preschool children ages three and four living in unrecognized villages, including Al-Sira.
The Education Ministry did provide transportation between March through June 2017 in accordance with their court commitment, but ceased to operate the school buses when the new school year started this past September 2017.
The new agreement will allow 32 children from Al-Sira and Al-Jaraf – and from unrecognized Bedouin villages in general – to be bused to preschools close to their homes.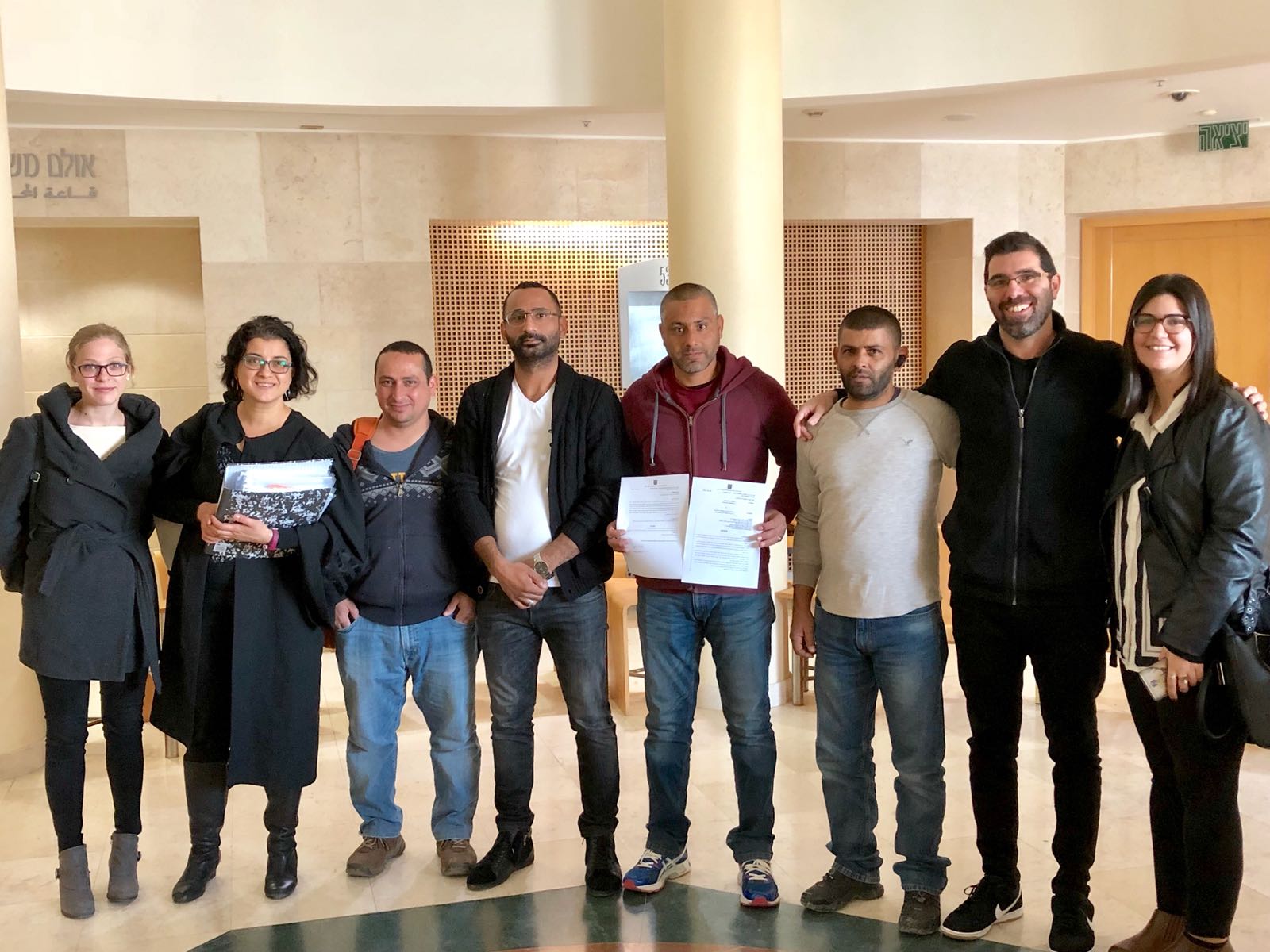 Adalah staff and parents of preschool-aged children celebrate the decision in Be'er Sheva District Court on 10 January 2018. (Photo by Adalah)
At the outset of the 10 January hearing, Education Ministry and Al Qasoum representatives claimed that they were unable to reach an agreement on the amount of funds the regional council would receive from the ministry in order to operate the buses.
However, the judge hearing Adalah's petition demanded the defendants reach an immediate solution and therefore sent the representatives out of the courtroom to negotiate an agreement.
The Education Ministry and Al Qasoum Regional Council reached an agreement according to which school transportation will be provided immediately to the petitioners' children.
In parallel, it was agreed that the Neve Midbar and Al-Qasoum Regional Councils will provide the Education Ministry with a list of preschool children from other unrecognized villages within 10 days. The ministry will then begin transferring to the councils the funds necessary to also provide those children with rides to school.
Adalah Attorney Sawsan Zaher, who is representing the families in this case, said following the decision:
"We are pleased with this solution, but deeply regret that we had to petition the court a second time even after a decision on this case had already been made. The Education Ministry has been violating the kids' right to education for five months – since the beginning of the school year. Adalah will continue to track the implementation of this decision and ensure that the Education Ministry does indeed provide transport for preschool kids from unrecognized villages."
Mansour Al-Nasasra, a petitioner from the village of Al-Sira, also responded to the decision:
"We started our struggle four years ago after one of our children who didn't have access to school was killed by a car while playing outside. We now hope that all of the kids will have access to a positive, experiential, age-appropriate framework so that they may develop and enjoy the company of other children. We did – and will continue to do – everything necessary to ensure that this decision is implemented swiftly and efficiently."
Case Citation: 36246-12-17, Al-Nasasra v. Education Ministry
CLICK HERE to read the court decision [Hebrew]
Related Press Releases: