WATCH: After 20-year legal battle, Palestinian grandmother enters Israeli military base to visit grave of father she never met
After Adalah petitions Supreme Court, Salwa Salem Copty finally allowed to enter base built on ruins of family's village, demolished by Israel in 1948, to visit father's grave for very first time.
Following a 20-year legal battle, Palestinian grandmother Salwa Salem Copty finally entered an Israeli military base on 14 August 2019 to visit – for the very first time – the grave of her father whom she had never met.
Salwa, now 72 years old, was born just months after her father was shot and killed by Israeli troops during the 1948 Nakba. The Israeli military then occupied and demolished the family's Nazareth-area village of Ma'alul and built a base atop its ruins, entirely surrounding the Christian cemetery.
Watch a video of Salwa Salem Copty's visit to her father's grave inside an Israeli military base on 14 August 2019.
Salwa's visit was made possible after Adalah – The Legal Center for Arab Minority Rights in Israel, filed a petition to the Israeli Supreme Court on behalf of her and Subhi Mansour, her 93-year-old uncle, demanding that the Israeli military allow them to the cemetery.
Subhi Mansour was the only living person who could identify the location of Copty's father's grave.
About a week before the scheduled Supreme Court hearing on the case, Israeli military authorities decided they would allow Salwa, Subhi, and two other people up to three visits a year to the cemetery.
Salwa, her uncle, and two additional family members entered the Israeli military base on the morning of Wednesday, 14 August 2019. They were joined by Adalah staff, dozens of friends and family members, former Ma'alul residents and their descendants, and members of the media, who were permitted to accompany them only as far as the base's main gate.
Subhi Mansour successfully located the grave's location and they were able to spend about an hour inside the base before rejoining friends, family, and journalists just outside the base at the Ma'alul church to recount their experience.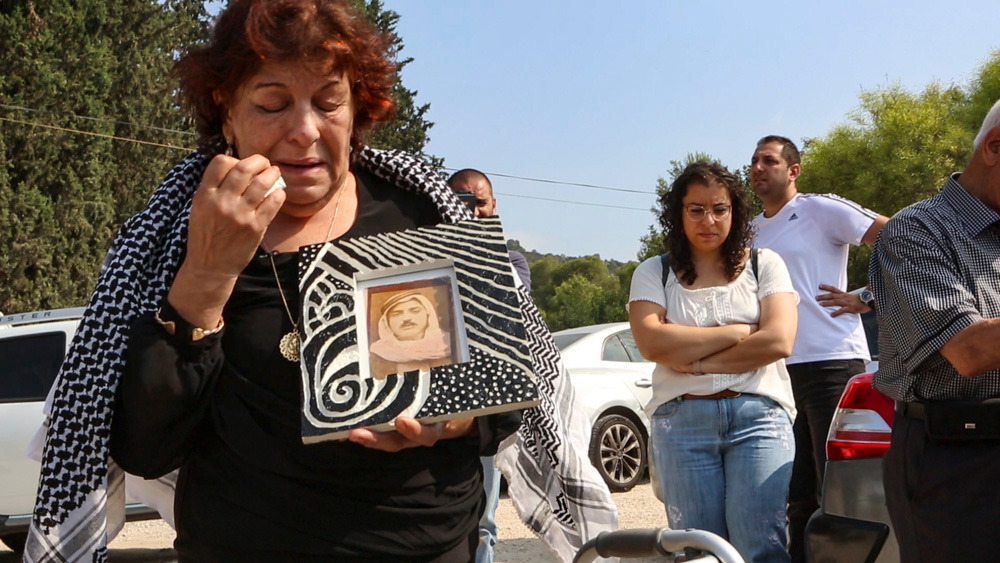 Salwa Salem Copty, accompanied by family members, holds a photograph of her late father just before entering an Israeli military base to visit his grave on 14 August 2019.
HCJ 280/19 Salwa Salem Copty v. Israeli Defense Ministry
(Photo and video by Mati Milstein)
Read more: