In face of coronavirus outbreak, Israeli & Palestinian human rights organizations call for drastic change in Israeli prison policy to save lives
Organizations call for proactive and public involvement by Israeli health authorities in formulating and publishing a strategy to delay COVID-19 outbreak in prisons while protecting basic rights.
In face of the COVID-19 outbreak, Israeli and Palestinian human rights organizations call for a drastic change in Israeli prison policy to promote health and save lives.
The undersigned organizations express grave concern for the health and life of prisoners and detainees in Israel. Specifically, we call for proactive and public involvement by the Ministry of Health (MOH) in formulating and publishing a strategy to delay a COVID-19 outbreak in prisons while protecting basic rights. The Israeli Prison Service (IPS) and the MOH must practice increased transparency as to current and future plans in the likely scenario of an outbreak.
Due to prison congestion, emphasis must be placed on releasing as many prisoners as possible. The prison population, numbering around 14,500, is particularly vulnerable, with roughly 6,000 prisoners suffering from chronic health conditions and hundreds of elderly prisoners. Meanwhile, prisoners have few means to maintain high standards of personal hygiene due to IPS restrictions, prison cells suffer from poor ventilation and overcrowding is rife, with less than three meters on average per prisoner.
Special steps must be taken to guarantee the rights of "security prisoners", due to the current suspension of lawyer and family visits to the prisons without alternatives. Roughly 4,500 Palestinian prisoners designated by the IPS "security prisoners", including minors, are particularly vulnerable, especially as they are forbidden from using telephones, resulting in their total isolation from the outside world. As such, they cannot advocate for themselves should they have medical or other concerns. Moreover, at this time - with COVID-19's impact in the West Bank and Gaza - communication with lawyers and family members is of particular medical and psychological importance. The suspension of lawyer visits except for urgent procedural matters deprives prisoners of a crucial safeguard against torture and ill-treatment, and leaves them without recourse should they wish to raise concerns. We emphasize that depriving detainees of all access to their lawyers on any issue violates the law.
The authorities must publish their COVID-19 containment plan: The IPS has not made its protocols of COVID-19 prevention and containment in the prisons publicly available. While several of its statements deviate from those issued by the MOH, others, like the recommendation to maintain a two meter distance from other individuals, are impossible to follow in a prison setting. Some, such as the MOH directive for isolation of people returning from abroad or having had contact with a COVID-19 patient, are taken to the extreme, such as the IPS isolation of all new prisoners for a 14-day period, without the MOH ascertaining whether it is indeed necessary.
Access to healthcare must be increased: Within prisons, access to healthcare is limited to General Practitioners and Emergency Medical Technicians while secondary care is accessed by specialist doctors' visits to prisons or through prisoner referral to hospital. However, prisoners in certain prisons report that these doctor visits have been drastically limited. Outside of prisons, meanwhile, Health Maintenance Organizations have continued to provide medical services in clinics and electronically to the general population, an alternative that while the IPS declares it provides, it is not clear in which prisons the service is actually available.
To promote the health and safeguard the lives of prisoners, various organizations and bodies have taken the steps below:
Supreme Court petition to allow Palestinians classified by the IPS as security prisoners, including minors, to access telephones within the prisons for the duration of the Covid-19 (Hamoked, PCATI, PACD, PHRI, ACRI)
Supreme Court petition against emergency regulations preventing lawyers and family members from visiting individuals classified as security prisoners by the IPS, and to allow the families and the lawyers to speak with them via telephone (Adalah, Addameer)
Joint appeals to the Minister of Public Security, the Attorney General and the Head of the Amnesty Department at the Ministry of Justice to reduce the inmate population through early release and alternatives to detention, while prioritizing the safe release of high-risk groups. (Hamoked, PHRI, PCATI, ACRI, The Hotline for Refugees and Migrants, Al Mezan Center for Human Rights)
Outreach to the MOH and IPS, including a legal petition urging them to lead health-policy in the prisons, including publishing procedures for preventing outbreaks and enabling specialist visits. (PHRI)
A letter to the IPS and the MOH demanding accessible information and medical treatment for prisoners; a change in the physical conditions of the cells, according to MOH guidelines (e.g., ventilation); providing special measures and treatment for at-risk groups and for prisoners in quarantine, among other demands (Adalah)
Legal petition to release migrant workers and asylum seekers (The Hotline for Refugees and Migrants)
A legal petition to release prisoners older than 60 and those with chronic health conditions and/or underlying health conditions to their home, to remain there in accordance with the MOH's guidelines for the general population (Israeli Bar Association)
During this critical time, the under-signed organizations request that the international community urge the Israeli Ministry of Public Security, Ministry of Health and Israeli Prison Service to undertake the aforementioned steps, including maximum prisoner release, continued contact with families and lawyers by telephone, guarantees of confidentiality and access to lawyers, and the establishment of a strategy to protect prisoners' health and lives by the Ministry of Health, including access to specialist doctors.
Adalah – The Legal Center for Arab Minority Rights in Israel
Addameer - Prison Support and Human Rights Association
Association for Civil Rights in Israel
HaMoked: Center for the Defence of the Individual
Physicians for Human Rights Israel
The Public Committee against Torture in Israel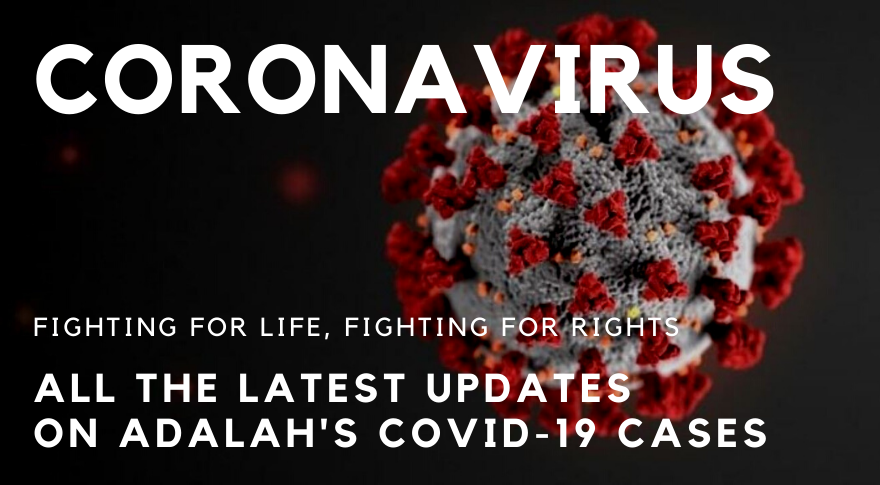 Read more: