Following Adalah legal action, Israel expands eligibility for emergency COVID-19 food stamps program
Interior Ministry revises policy that excluded at-risk populations – notably Bedouin citizens from unrecognized Naqab (Negev) villages – from receiving COVID-19 food security grants.
Israel's Interior Ministry responded to urgent requests made by Adalah – The Legal Center for Arab Minority Rights in Israel to change its policy of conditioning eligibility for food security aid on payment of municipal property tax (arnona).
Adalah sent letters to Israeli Interior Minister Aryeh Deri on 8 October and 15 November 2020 demanding that he revise a policy that excludes at-risk populations – notably Bedouin citizens of Israel living in unrecognized villages in the Naqab (Negev) – from receiving COVID-19 food security grants.
On 22 October 2020, the Interior Ministry released a NIS 700 million (approximately US$208 million) tender for a food distribution system, part of a special government aid program instituted in response to the COVID-19 pandemic.
The aforementioned policy made qualification for the food stamps conditional on an individual's receipt of a 70 percent rebate in municipal property tax, regardless of their actual level of poverty or food insecurity. According to the policy, only "households entitled to a tax deduction" are eligible to receive emergency COVID-19 food security assistance.
Adalah stressed that the criteria were not sufficient to accurately determine a family's socio-economic status, never mind its food security situation.
The policy therefore did not result in the fair and equal distribution of food assistance and, in fact, excluded at-risk populations most vulnerable to food insecurity, including the residents of unrecognized Bedouin villages in the Naqab.
An estimated 90,000 people live in these villages. They are among the poorest citizens in the country, and have been significantly impacted by COVID-19.
Since these villages are not affiliated with any municipal authority – as a a result of Israel's refusal to recognize them – their residents were previously left ineligible to receive emergency food stamps.
Adalah therefore demanded that the Interior Ministry replace this condition with other criteria based on the principle of equality.
In early December 2020, Adalah was informed by the Interior Ministry that it would revise criteria for receiving the food stamps. The revised criteria, which were published on 24 December 2020, are broader and include the overall income of the family. They also no longer exclude people who are not affiliated with any local authority, who may now submit an application for food stamps directly to the Interior Ministry.
The food stamps are supposed to be distributed in three rounds, the first round from 28 January 2021. Adalah will closely monitor the distribution process.
In addition, on 28 December 2020, Adalah demanded that public information about the distribution of food stamps should be made available in Arabic, alongside Hebrew, to make it more accessible to needy Arab citizens of Israel. Israel's Interior Ministry complied with this demand shortly afterwards, making its website accessible also in Arabic.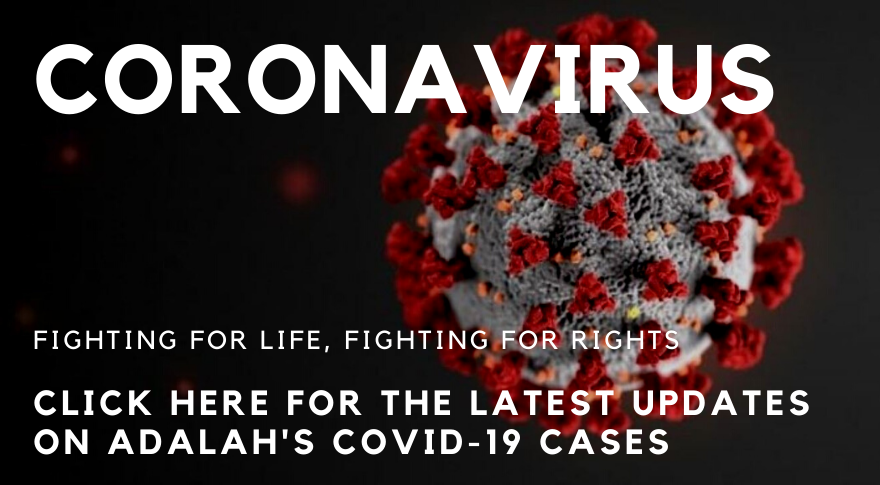 Related Press Releases: