Israeli Supreme Court OKs ban on Knesset member's trip to U.S. funded by Jewish Voice for Peace
Court rejects petition filed by former MK Yousef Jabareen and Adalah against Knesset ethics code that blocked Jabareen from U.S. trip funded by group endorsing call from Palestinian civil society for BDS; Adalah: Supreme Court decision silences the Palestinian minority.
The Israeli Supreme Court rejected a petition on Tuesday, 22 June 2021, filed by former Knesset Member Dr. Yousef Jabareen (Joint List-Hadash) and Adalah – The Legal Center for Arab Minority Rights in Israel against a move by the Knesset to block MKs from overseas trips funded by organizations that endorse the call from Palestinian civil society for Boycott, Divestment and Sanctions (BDS).
Adalah and Jabareen filed the petition in April 2018 after the Knesset Ethics Committee rejected Jabareen's request to travel to the United States for a series of lectures commissioned and funded by Jewish Voice for Peace (JVP).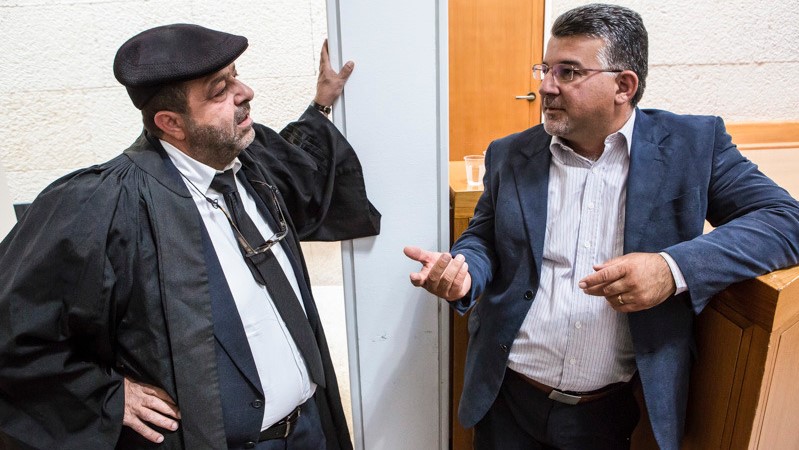 Adalah General Director Attorney Dr. Hassan Jabareen (left) and then-Knesset Member Yousef Jabareen at the Israeli Supreme Court in Jerusalem (Handout photo courtesy of Adalah)
The committee rejected Jabareen's travel request after Israel's Ministry of Strategic Affairs placed JVP on its "blacklist" of pro-boycott organizations. This decision to block his travel relied upon a new clause in the Knesset's Code of Ethics added to the January 2018 bylaws, stating that the committee could consider rejecting foreign travel requests for trips funded by bodies calling for boycott, as defined in Israel's 2011 Boycott Law.
Adalah responded to the Israeli Supreme Court decision:
"The Israeli Supreme Court's decision to grant a stamp of approval to the Knesset Ethics Committee's role as a government tool used to silence the political positions of Knesset members is another step in the political repression of the Palestinian minority in Israel. It also further restricts the parliamentary activities of the minority's elected representatives. In making this decision, the justices actually ignored a Knesset study that the Supreme Court itself requested, which found that there is no parliamentary body in the world that vets the foreign travel of its members according to the political positions of sponsoring organizations."
Former Knesset member Dr. Yousef Jabareen responded to the Israeli Supreme Court decision:
"The Knesset – controlled by a clear right-wing majority – has been trying in recent years to rein in Arab Knesset members in an illegal and patently undemocratic manner, and it is most unfortunate that the Supreme Court has today approved these dangerous moves. This decision, in line with previous similar Israeli Supreme Court moves
to approve the Expulsion Law
and
to block MKs from visiting political prisoners
, is deepening the tyranny of a majority seeking to prevent elected Arab representatives from effectively representing their constituencies. The fact that there are no similar restrictions imposed by other parliaments around the world only reveals the intensity of the violation of the political freedom of Knesset members. It is ironic that I can now travel to participate in a conference in the United States as a private citizen whereas I was blocked by the Knesset from effectively fulfilling my parliamentary duties."
Jewish Voice for Peace Executive Director Stefanie Fox responded to the Israeli Supreme Court ruling:
"It is disappointing, but not surprising, that the Israeli Supreme Court supports a ban prohibiting MK Yousef Jabareen, an elected member of the Knesset, from attending a speaking tour in the U.S. sponsored by Jewish Voice for Peace. This endorsement of political censorship is the latest addition to the Israeli government's atrocious record of rights violations and assaults to democratic norms. MK Jabareen's voice, which speaks for the full equality of all people in Israel, is one that Americans very much need to hear."
CLICK HERE to read the Israeli Supreme Court decision [Hebrew]
Case Citation: HCJ 18/3201, MK Dr. Yousef Jabareen, et. al. v. The Knesset Ethics Committee
Read more: