Adalah petitions Supreme Court: Israel's emergency medical service must make vital COVID-19 information available in Arabic
Magen David Adom's website provides the public with essential public health information relating to the COVID-19 virus – but none of it is in Arabic.
Adalah – The Legal Center for Arab Minority Rights in Israel petitioned the Israeli Supreme Court on 7 January 2021 demanding that the country's primary emergency medical and ambulance service provide urgent, essential COVID-19-related public health information in Arabic.
Currently, Magen David Adom (MDA)'s website provides information and updates only in Hebrew and English.
In the Supreme Court petition, Adalah attorneys Sawsan Zaher and Aiah Haj Odeh stress that MDA is legally obligated – just like any government body – to make its services accessible to all residents of the country in an equal manner.
As Arabic is the mother tongue of Palestinian citizens of Israel – who make up over 20 percent of the total population – the non-accessibility of the MDA website in Arabic constitutes a gross violation of the rule of law and of the right to equality that should be enjoyed by all citizens.
Despite the implementation of Israel's Jewish Nation-State Law, prior Israeli Supreme Court rulings require state authorities to make all such services accessible in Arabic.
Adalah stresses that the accessibility of Arabic-language information on the MDA website is critical as the COVID-19 virus continues to spread at a dizzying rate. The MDA plays a critical role in providing emergency medical care, in advocating for the prevention of COVID-19 infection, and in the publication of public health guidelines.
MDA's website provides key information, for example, regarding: the spread of the virus; whom to contact for a COVID-19 test; the detailing of circumstances in which doctors may conduct home testing for the virus; instructions on how to make use of "drive in" testing sites; when it is permissible to leave isolation; and guidelines for parents of infected children.
However, all this essential information is available only in Hebrew and English. Nothing is available for the Arabic-speaking public.
This is not the first time during the COVID-19 pandemic that Israeli authorities have failed to make essential public health information accessible to the Arabic-speaking public.
In March 2020, Adalah, on behalf of Knesset Member Sami Abu Shehadeh (Balad/Joint List), sent an urgent letter to Israeli Health Ministry officials demanding that the ministry provide all real-time COVID-19 updates and information also in Arabic.
Adalah attorneys Sawsan Zaher and Aiah Haj Odeh commented:
"One would think that, after nearly a full year of confronting a pandemic that doesn't discriminate between race, religion, or ethnic group, Magen David Adom would provide emergency medical services equally accessible to all citizens. The fact that essential public health information is not available in Arabic – but is provided in English, a language which has no official status in Israel – sends a clear message to 20 percent of Israel's population that they are inferior. It is unthinkable that we are forced to turn to the Supreme Court just to ensure that information on basic life-saving medical services related to COVID-19 are available to all. "
Case Citation: HCJ 105/21, Adalah v. Magen David Adom
CLICK HERE to read the petition [Hebrew]
RELATED PRESS RELEASES
Israel fails to provide real-time coronavirus updates in Arabic for Palestinian citizens, 10 March 2020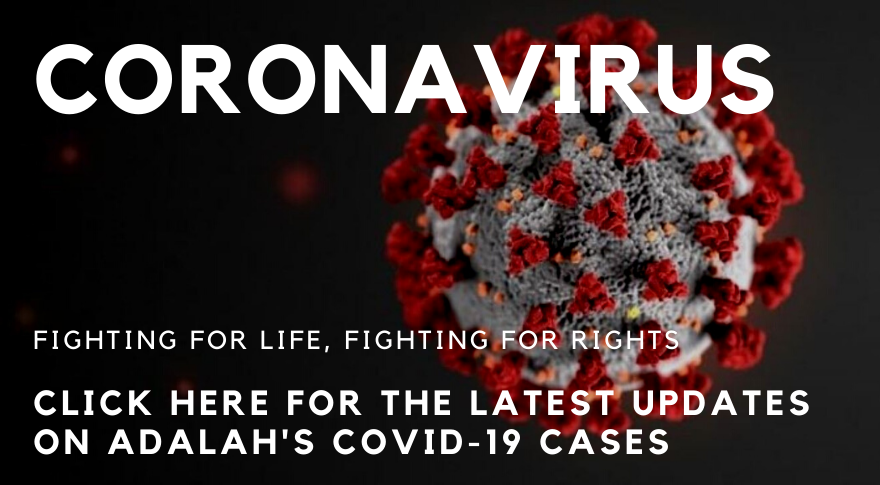 Related Press Releases:
Read more: