Israeli military recruiting Shin Bet agents to gather intelligence on Arab communities in 'securitized' effort to halt COVID-19
Israeli news report reveals army's Home Front Command seeking current and former security agents with expertise in 'Arab society and culture'; Adalah warned: Use of secretive security agencies in civilian crisis pushes us down very short road to repression and violation of basic rights.
Adalah - The Legal Center for Arab Minority Rights in Israel sent an urgent letter today, 5 October 2020, to the Israeli prime minister, attorney general, and commander of the Israeli military's Home Front Command demanding that they block the military's recruitment of current and former agents from the Shin Bet security agency in order to gather intelligence on Palestinian citizens of Israel as part of efforts to combat the spread of COVID-19.
Adalah General Director Attorney Dr. Hassan Jabareen, who sent the letter, issued a statement to the media:
"The Israeli military's recruitment of former members of the Shin Bet security agency to gather intelligence on Arab citizens not only exceeds the legal powers and authority of the military's Home Front Command, but also proves once again that Israel continues to view us as a hostile security threat – just as it did decades ago when Arab citizens were subject to military rule between 1948 and 1966. If Israel's government really wants to stop the spread of COVID-19 among Arab citizens, it must see us as equal citizens. At the very start of this crisis, Adalah warned that when the government involves security institutions in a civilian emergency, it pushes us down a very short road to repression and violation of basic human rights."
Walla News reported yesterday, 4 October 2020, that the Israeli military's Home Front Command is recruiting Shin Bet veterans to a military body charged with "formulating courses of action, content, and messages for the various sectors, as part of the COVID-19 messaging efforts corona amongst the Arab and Druze sector."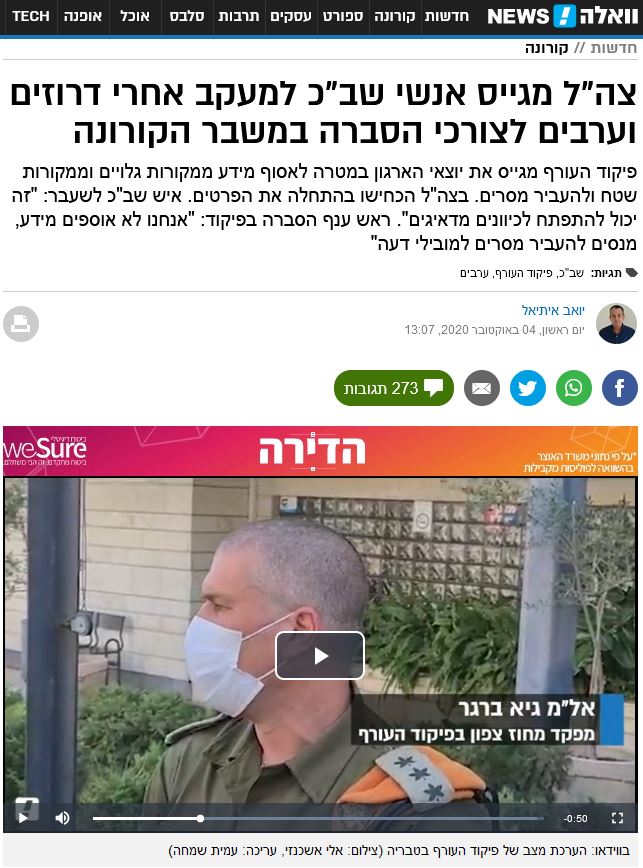 According to the report, the military's Home Front Command is seeking former Shin Bet agents "with experience and specialization in Israeli Arabs," as they put it, with a regional emphasis on the Galilee, Golan Heights, Wadi Ara area, Triangle, and East Jerusalem areas. The military's call specified that the intelligence gathering will, according to the article, be entrusted to current and former Shin Bet staffers, be focused on visible sources of information and "field sources", and that "acquaintance with Arab society and culture is required."
This news report – if proven to be accurate – describes illegal actions.
The employment of current and former Shin Bet agents for the purpose of gathering intelligence exceeds the powers of the military's Home Front Command as defined in Israel's 1951 Civil Defense Law. Needless to say, this law does not mention the Shin Bet as a body authorized to gather information or operate in civil matters among country's Arab citizens.
More critically, the military's recruitment and deployment of former Shin Bet agents highlights Israel's hostile and unequal treatment of Palestinian Arab citizens. The "securitization" of the Israeli government's response to the COVID-19 pandemic amongst the country's Arab communities is unacceptable as it is both discriminatory and racist.
The COVID-19 crisis is a strictly civilian matter and does not concern Israel's security agencies. Israeli Supreme Court President Esther Hayut, in her ruling on the government's use of the Shin Bet to track and surveil suspected COVID-19 patients:
"The choice to use the country's preventive security organization for the purpose of monitoring those who do not seek to harm it, without the consent of the objects of surveillance, is extremely difficult. The exceptional measures taken here have been taken in relation to a crisis situation, exceptional and rare on any scale. We must be careful that the exceptional events we face these days do not leave us with a slippery slope of using exceptional and abusive measures without justification."
This latest involvement of the Shin Bet in a strictly civilian matter is not unique. In addition to the COVID 19 surveillance case, it also recently became clear that, despite Adalah's 2004 Supreme Court petition against the Israeli Education Ministry's practice of consulting with Shin Bet officials in the appointment of teachers to the Arab school system, the ministry nevertheless continues to do so. State authorities had committed to the court on that occasion that the Shin Bet would no longer intervene in the appointment of teachers in Arab schools.
CLICK HERE to read the letter [Hebrew]
CLICK HERE to read: Adalah's initial analysis of the Shin Bet ("Shabak") Coronavirus Cellphone Surveillance Case, 4 May 2020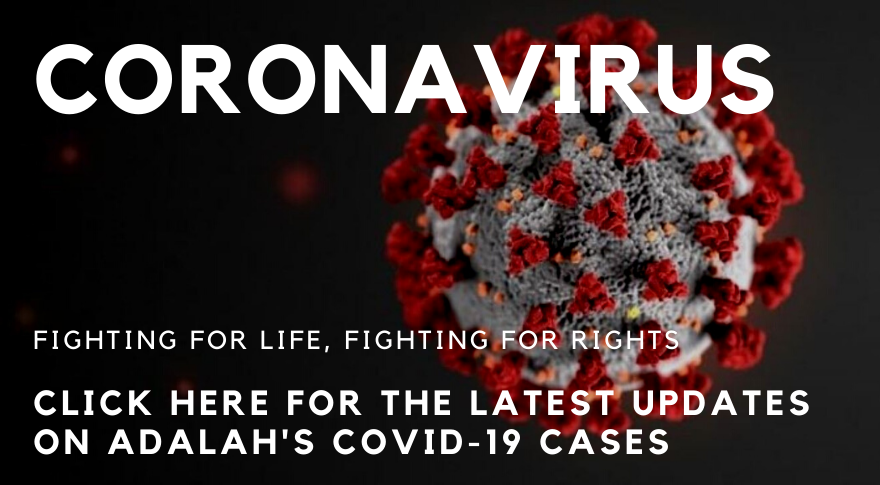 (Photo: GSS/YouTube)
Read more: